The second matchday after returning from the winter break is a must-follow for all women's soccer fans, because the Allianz Frauen-Bundesliga offers the creme de la creme. In this week's preview we will take a closer look at the fixtures and elaborate on what to expect. Also, make sure to read our round-up of matchday 13 in case you haven't already!
Clash of the titans: first versus second
VfL Wolfsburg and Bayern Munich will kick off matchday 14 on Saturday, the 20th of February at 11:15 GMT. It's the top game this weekend, which means that Eurosport and DFB-tv will broadcast the game live.
The game might be Wolfsburg's last chance to join the title race again, but die Bayern already have a comfortable advance of 12 points in the table. There's a relatively small chance that the reigning champions will ruin their title defence. Bayern would have to lose at least four matches while either Wolfsburg or Frankfurt win all of their remaining games in the Rückrunde. Is it possible? Never say never in the world of football.
Frauen-Bundesliga newcomer 1. FC Köln made things a little more difficult for Bayern last weekend, who had trouble breaking through Köln's defence. Bayern's conversion of chances was also a little bit sloppy and Wolfsburg have been dealing with the same problem for a while now, even though they started into the Rückrunde with a comfortable 3-0 win against Werder Bremen.
Wolfsburg's head coach Ralf Kellermann, who just extended his contract until 2019, took the time to speak about the game on the club's official homepage. The successful manager said the Wolves want to "claim the second place" and want to "be there" whenever Bayern falter. According to Kellermann it's "impossible" to "make up the leeway."
Vanessa Bernauer is questionable for the game, after she got her wisdom teeth removed. Other than that all Wolfsburg players are cleared to play.
Bayern defender Nora Holstad remains optimistic ahead of the game, but warns her teammates. The 28-year-old said that "90 or 95 percent won't be enough" and believes that "Wolfsburg are stronger than in the Hinrunde." The Norwegian also mentioned that die Bayern have the upmost respect for the Wolves and even if they win, it doesn't mean they are through.
The never ending rivalry
The second treat for the eyes on this matchday will be the clash between Turbine Potsdam and 1. FFC Frankfurt. It's a never ending rivalry.
Potsdam's season has been full of ups and down so far. They win, they lose and everyone continues to wonder why. What's there left for die Turbinen? Bernd Schröder's team are down to the eighth position in the table with only 16 points, which also makes them even with FF USV Jena, who are ninth.
Potsdam don't have to fear a relegation spot at all, but they have been eliminated by Wolfsburg in the DFB-Pokal and are not present in continental tournaments. The club has to do whatever it takes now to at least climb up in the table again. SC Freiburg beat them fair and square last weekend and the issue with Potsdam was the lacking drive towards the goal and a defence that was still in the winter break, it seems.
Frankfurt are currently third in the table, level with second placed Wolfsburg. It's a battle for the second place and the current Champions League title holders have been in strong shape lately. Goal machine Mandy Islacker scores when she wants and the defence is becoming more and more solid.
It will definitely be an interesting game. Potsdam already smashed Wolfsburg in December. Will they be able to turn around their season now, or will Frankfurt march on and continue the battle with Wolfsburg for the second place?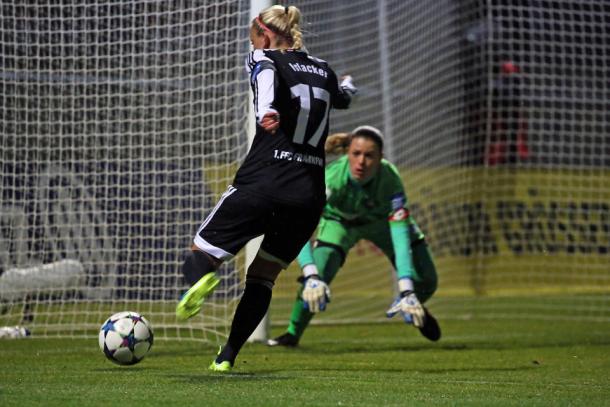 Köln welcome Freiburg
1. FC Köln will welcome SC Freiburg this weekend. Freiburg's development over these past few years is finally paying off and they are now one of the strongest teams in Germany, and with Lina Magull also returning to the squad again it will be a difficult game for Köln. The newcomers will most likely play with defensive tactics again while Freiburg will have to remain patient and make use of every possible chance.
You should never underestimate the smaller teams; as Köln have already proven what they are capable of. The young squad can make life hard for every team out there. Will they be able to collect their second win of the season? Or is Freiburg's emerging troop too strong?
Freiburg have the chance to climb up to fourth place if SC Sand lose. Köln can make their way out of the relegation battle if Werder Bremen and Bayer Leverkusen both parallel end up loosing their games.
Bremen fight Jena
The second newcomer of the season, Werder Bremen, will take on FF USV Jena on matchday 14. While Bremen's situation is similar to Köln's, Jena can actually climb up to the top half of the table if they collect another three points. After last week's impressive win against Bayer Leverkusen, Daniel Kraus' team will be even more confident and ready to attack. Jena's new experienced goalkeeper Kathrin Längert has made the defence a lot stronger.
But the young Werder team can defend well. They forced a draw against Frankfurt on matchday six. But the girls are still chasing their first win of the season. Maybe they will be able to celebrate their first clear victory against Jena?
Leverkusen ready to finally unleash full potential?
It's also a never ending story with Leverkusen; the squad is full of talented players, but they still fail to unleash the full potential of it. This weekend Bayer Leverkusen will travel to Essen and face off with SGS Essen, who are in sixth position in the table. Leverkusen are close to joining the relegation battle again with only nine points in tenth position.
Leverkusen's defence is the weakest out of them all. The club has already conceded 34 goals in 13 games. In return they have only scored 11. It will be interesting to see how they cope against Essen, whose forward Charline Hartmann is on a roll lately. The 30-year-old has scored eight goals already and joins Frankfurt's Mandy Islacker on top of the scoring list.
Sand are ready to establish on top?
The biggest surprise of the season are definitely the girls from SC Sand. They have played a fantastic season so far and are hungrier for even more now. The game against TSG Hoffenheim could take them further up the table. Or be a dampener.
Hoffenheim have brought themselves into a comfortable position at seventh in the table. Sand are currently fifth and can still climb up even further to maybe battle Frankfurt or Wolfsburg for a Champions League spot. Forwards Nina Burger and Jovana Damnjanovic are in good shape and will give it their all to score even more goals. Hoffenheim has a strong and talented squad as well and it will be interesting to see what tactics they will use.