That's all from us at VAVEL tonight. I've been your host, Jonathan Walsh - I do hope you enjoyed our coverage and will stay here for the report and reaction to a cracking game in Turin. Good evening and goodnight.
FT - A fantastic game, played in the right way. As Bayern go over to thank their fans, it's fair to look at the result as the right one.
FT - Well, all that game needed was to open up and boy did it pay off. Both sets of fans rise to their feet to applaud the players on the pitch, as the players greet each other with hugs, handshakes and shirt swaps.
FULL-TIME - Juventus 2-2 Bayern Munich. (0-1, Müller 43'. 0-2, Robben 55'. 1-2, Dybala 63'. 2-2, Sturaro 76'.)
90+2' There have been three minutes added on, by the way.
90+1' Neuer punches clear but it's only as far as Bonucci, but his strike is straight at the 'keeper. Ribery breaks and fires just wide at the other end. Guardiola looks as tired as his players.
90' Final few minutes now, and Vidal is booked for bringing down Morata cynically.
89' Chance for Bayern! They're finishig stronger, as a wonderful ball in by Ribéry narrowly misses the outstretched leg of the visiting attackers. Benatia heads over from a corner that followed.
87' Robben makes one of his driving, darting runs forward and whips in a cross with the outside of his foot, although he can't quite find Lewandowski. Cue a wide smile, probably of sheer exhaustion.
84' Second Bayern sub - Costa off, Ribery on. A fine shift from the Brazilian, who was tireless the entire evening.
83' Bayern and Juve fans can barely watch as the game comes to a close, with the hosts heading narrowly over from a corner. Can the Bavarians hang on?
79' Yellow for Juve - Morata. He hacks fown Arjen Robben as the midfielder moves forward, stopping any potential Bayern counter.
That was far from the situation that Benatia wanted to be thrown in to! A poor pass gives Juve the ball back deep in Bayern territory and Morata flicks on to Mandzukic out wide, who heads a pass into the path of Sturaro. He isn't picked up and Kimmich can't react quickly enough as a result, leaving the midfielder to slam home off the bar.
76' STURARO! JUVE ARE LEVEL!
76' Morata is involved immediately but his shot is poor and straight into the arms of Neuer.
75' And Juve will make their final change. Goalscrorer Dybala is replaced by last season's Champions League hero, Morata.
74' Bayern make their first sub - Bernat is off for Benatia; a solid night's work from the Spaniard.
73' The game has settled again after a rather manic 10-15 minute spell. The last quarter of this game is set up to be massive.
70' Lewandowski picks up a yellow as Cuadrado, for the second time, goes down after kicking the ground. Bayern, understandably, annoyed.
69' Second Juve sub - Khedira comes off for Sturaro.
68' Chance! The hosts are right back in this game and a lovely, flowing move almost gives them a perfect opportunity to get back into the game. Mandzukic plays in Cuadrado, but his shot is saved. Pogba pops up on the edge of the box from a corner, and curls just over the crossbar.
66' A clash of heads between Mandzukic and Lewandowski, though it's an aggressive one as the former leans into the Pole. Not necessary, odd from the Croat.
The increased amount of freedom for both sides has made this a much better game! Juve knew they had to come out and attack and a lovely through ball sends Dybala one on one with Neuer, and he finishes with aplomb.
63' Dybala! Juve have a way back into this one!
60' A lot more space in the game now and a wonderful cross from Mueller picks out Lewandowski's run to the near post. His diving header is well over, however.
58' Juve try to respond and earn a free-kick just outside the area, though that is deflected well over and the resulting corner brings nothing.
Bayern break with speed and purpose through Lewandowski, who sifts the ball wide to Robben after Mueller makes the space. He cuts isnide onto his left foot and sends the ball curling into the far corner. Trademark Robben.
55' STUNNING STRIKE FROM ROBBEN!
53' Bayern make moves forward with Bernat but his clever run isn't matched by the pass, and the ball is cut out. Juve head up field but an equally poor decision sees their break come to an end.
52' A comfortable start to the second half, with very little to saw other than a midfield battle. Neither team have been able to impose themselves, not that Bayern will mind.
47' Juve come forward immediately down the left and try to get a cross towards the lonely figure of Mandzukic, but it's claimed by Neuer.
Second half - We're back underway in Turin! Just one change, as Hernanes comes on for Marchisio.
HT - Mueller's goal at the break gave his side the lead at the break, and it is nothing less than they deserve, Juve have struggled and have Buffon and lady luck to thank for not being further behind. An interesting second half is sure to follow!
HT - Juventus 0-1 Bayern Munich.
45' One minuted of added time will be played.
Thomas Mueller has given the Bavarians a deserved lead after an excellent recovery by Costa on the by-line, who just about keeps the ball in play from a poor cross. It comes back out to Mueller, and he makes no mistake from 10 yards, slamming low and hard into the net.
43' Breakthrough! Bayern lead!
42' Juve finally come forward through Dybala down the left but the ball is cut out by Alaba at the near post. The resulting corner is dealt with by Lewandowski in a similar area.
41' Bayern increasing the pressure late on in the half, as Costa's cross is punched away by Buffon. The ball scrambles around in the Juventus area and they give away a corner. Costa takes again and he picks out Robben, though he heads over.
37' Not long until half time, and going on the past 10 minutes a break will do the game the world of good. Juve aren't offering anything in attack and the tired Juve legs mean they're camped in their own half and regimented. A battle of attrition.
33' To and fro, to and fro. The clock almost ticks with every Bayern pass, but they just can't get a clear cut chance. Organisation proving key for Juve.
30' Save! Buffon just about denies a bouncing Bernat effort from the edge of the area and Barzagli clears. Those long periods without the ball are starting to have an effect, it seems.
27' Midway through the half and Bayern are stuck against all 11 Juve players behind the ball. The Bavarians will do well to find a breakthrough like this.
25' The customary dander to the half way line sees Manuel Neuer collect a pass from Alaba before passing on to Kimmich. Germany's number one has enjoyed a quiet evening so far.
24' A long ball over the top very nearly catches Bayern out, though Dybala can't control. It was asking a lot of the youngster.
23' Strong strike from Robben! An inventive ball over the top from Lahm finds the Dutchman free on the right, who cuts inside and shoots just over.
21' The free-kick is met by Bonucci at the back post, but he can't get a clean contact and the ball falls to Neuer.
19' Juventus have seemingly halted the Bayern tide and now have a free-kick in a promising position after Costa tripped Cuadrado. The Brazilian gets a yellow for his troubles, only after Cuadrado asked for it.
17' A powerful, curling pass from Costa almost finds Lewandowski on the run, but it's just a little too hard for the striker to control and the ball bounces out of play.
15' Bayern have enjoyed a staggering 77% possession so far. The Juve forwards have barely had a sniff, can the hosts get back on the bal and back on track?
13' Glorious chance for Bayern! A lovely piece pass by Kimmich sees Lewandowski sneak in behind the Juve defence. He squares for Mueller, but the forward can't put the ball into the open net and falls to the floor.
10' Costa again whips a dangerous ball into the near post and - only for Barzagli's last-ditch intervention - Lewandowski was mere inches from getting on the end of it.
8' Douglas Costa seems to be Bayern's main outlet early on, with the left hand side proving fruitful. He has fired in a few dangerous crosses, but no-one has met them as of yet.
7' Bayern deepest outfield player is Kimmich on the edge of the centre cirle on Juve's side. Supreme confidence from the Bavarians.
5' Robert Lewandowski went down appealing for a penalty as Robben fired a cross in from Vidal's strike, though it was only minimal contact between the Pole and Leonardo Bonucci.
3' Great save! A loose ball rebounds out to Vidal 20 yards from goal, and he hits a snapshot volley that forces Buffon into a reaction stop.
2' Bayern playing keep-ball just inside the Juve half, although Bernat is eventually robbed of the ball. Nothing doing so far.
1' Chance for Mandzukic inside the first minute! A long clearance forward finds the Croat as Alaba seems to misjudge where the ball is heading, though the former Bayern man hits a tame half-volley at Neuer.
19:45. Team photos are finished as a smoke bomb goes off in the Juve end. We're underway!
19:44. A wonderful choreo englufs the ground, with 'Be Heroes' in capital letters in the stand behind the dug-outs, while the Juventus ultras unfurl a gladiators banner. We're about to get underway!
19:40. The Stadium is a wash with red, black and white as the players meet in the tunnel. Lahm, Neuer and Buffon share a handshake and chat beforehand as the Italian stopper humours the young mascots.
19:35. The final preparations are over on the pitch and the players are heading back down the tunnel to take care of the final pre-match business before we get underway.
19:30. Just 15 minutes to go until we're underway in Turin. Be sure to follow our Twitter, @VAVEL, for updates of Barcelona's trip to the Emirates Stadium to face Arsenal.
19:25. Franz Beckenbauer, while talking to Sky Germany, added: "I think it will be a quite balanced game. The tie won't be decided tonight. It will only be decided in the return leg in Munich."
19:20. Speaking to DeinSkySport, Andre Schubert, Borussia Mönchengladbach coach said: "Juventus is able to change tactics in the course of the match. But if you prepare well, you can beat them. I believe Bayern will be able to do that."
19:15. Just half an hour until kick-off and the Juventus Stadium is starting to fill up. According to UEFA's website it's 10 degrees celcius this evening, although it is far from that in Germany. It's been snowing in Sandhausen, not too far away from Bavaria.
19:10. Further to his comments on the game, Trappatoni feels that Sami Khedira will be crucial to Juve's hopes of claiming a results: "For the Bianconeri it will be vital to be able to count on the Khedira at his best. With the German in good form, the Juventus midfield assumes a completely different identity."
19:05. There are plenty of match-winners on show tonight, but let us know who you think will make the difference @VAVEL on Twitter.
19:00. Kingsley Coman won't be involved from the start tonight, but the French youngster has been in fine form for Bayern this season and could feature off the bench. He is on loan from Juve and believes Bayern's game suits him more: "The team's attacking style suits me a lot better and I feel like I'm trusted a lot more than I was last season. I think I can exploit my potential better here."
18:56. Aside from all the pomp and circumstance surrounding the game, there is one player who is going under the radar for what is an incredible milestone about to be achieved. Philipp Lahm will make his 100th appearance in the Champions League tonight, can he score his first goal?
18:52. Giovanni Trappatoni, speaking to GOAL, believes that the tie is anyone's game: "Anything can happen really. Both teams have players with great experience who are used to playing these games and, therefore, the emotion will not get to either of them."
18:50. So, all in all largely what we would expect to see from the two sides tonight. It's a massive vote of confidence to see Kimmich starting at centre-back, and it will be interesting to see how he handles Mandzukic with Alaba. No real height in the Bayern back-line.
18:48. Now the hosts, Juventus. (4-3-3) Buffon; Lichtsteiner, Barzagli, Bonucci, Evra; Khedira, Marchisio, Pogba; Cuadrado, Mandzukic, Dybala.
18:47. Starting with Bayern Munich: (4-2-3-1) Neuer; Lahm, Kimmich, Alaba, Bernat; Vidal, Thiago; Robben, Müller, Costa; Lewandowski.
18:45. Here we are, the team news!
Predicted Bayern Munich line-up: (4-1-4-1) Neuer; Rafinha, Kimmich, Tasci, Alaba; Lahm; Douglas Costa, Vidal, Müller, Robben; Lewandowski.
Predicted Juventus line-up: (4-3-3) Buffon; Lichtsteiner, Barzagli, Bonucci, Evra; Pogba, Khedira, Marchisio; Morata, Dyabla, Cuadrado.
The visitors have a much more comfortable lead in the Bundesliga title race, sitting eight points clear of their nearest challengers, Borussia Dortmund. BVB may not deserve to be behind by such a large margin but the impeccable consistency shown by the reigning, record Bundesliga champions has made them impossible to stop. They beat SV Darmstadt 98 3-1 at the weekend after falling behind in the first half. A strong second period showing put paid to any chances of a revival, however.
A draw with Bologna at the weekend ended Juventus' incredible winning run, which has helped propel them back to the top of the Serie A. The 15 game streak sees them two points clear over main title rivals Napoli, although the latter can overtake Juve with a win over AC Milan on Monday evening. Despite the hard-fought 0-0 stalemate, the Old Lady have no fresh injury concerns coming into this last 16 clash. Martin Caceres, Giorgio Chiellini and Alex Sandro may miss the game, in what would be a huge blow.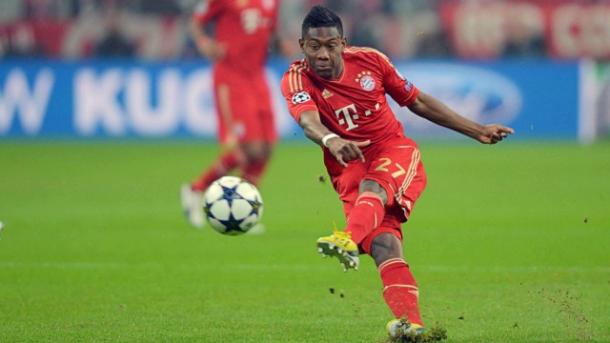 The Bavarians will be without first-choice centre-back pairing Javi Martinez and Jerome Boateng for the game, with doubts over Mehdi Benatia and new signing, Serdar Tasci's fitness. The unlikely hero of the last few weeks, as a result of the injuries, was Joshua Kimmich. The former RB Leipzig midfielder has filled the void with incredible ease. It would not be a surprise to see David Alaba slot in beside him, although Tasci could play in order to curtail Mandzukic's aerial prowess.
These two teams last met back in 2013 in the quarter-final stages of the competition. Bayern opened up the contest with a two-nil win at the Allianz Arena before securing the exact same score-line the following week. Mario Mandzukic was a general handful for the Juve back-line but will now be hoping to fire the Old Lady to glory against his old club.
Juventus reached the final last term and after picking up the pace domestically, they will be keen to replicate that feat in a field that is missing several big name teams. Bayern Munich bowed out in a goal-filled semi-final encounter to eventual winners, Barcelona. With Pep Guardiola leaving the club in the summer without a Champions League trophy to his name, the Bavarians are fighting to give him the best send off possible.
Hello and welcome to VAVEL UK's live coverage of the mammoth UEFA Champions League last 16 first leg clash between Juventus and Bayern Munich. Both sides are in fine form and have a rich history in Europe, although one will be knocked out in what promises to be a pulsating two-legged tie. Kick-off at the Juventus Stadium is scheduled for 1945 GMT, but stay with us as we bring you the news, views and team news as it happens.