Maximilian Arnold has extended his contract by three years, VfL Wolfsburg have confirmed.
The talented central midfielder's contract was set to run out in 2017, though this new deal is a real vote of confidence.
A player to build around
With only Julian Draxler (2021) tied to Wolfsburg for longer than Arnold, it is clear that these are two players that Dieter Hecking and Klaus Allofs see as key cogs in the wheel moving forward.
Arnold has been with Wolfsburg since 2009, when he was just 14. Since then, he has risen through the ranks to claim a full German national team cap and become a key part of the first-team.
However, for a few months it looked like Arnold would move away from the Volkswagen Arena. RB Leipzig and Schalke 04 were both rumoured to be interested, per kicker, but his new found starting spot has changed all that. Allofs said, "For me, when he is fit, he is a starting player for us."
Given Arnold's extension and with Dante and Naldo not getting any younger, it would come as no surprise to see talented centre-back Robin Knoche be offered a similar length of deal.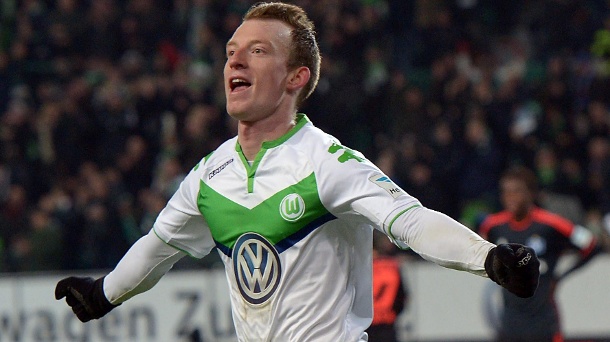 Where will he play?
During his time with Wolfsburg, Arnold has played a variety of positions through the middle.
Comfortable as a six, eight and 10, the 21-year-old gives great flexibility and options to Hecking. However, if he is to truly excel then a definitive role should be nailed down for his, and Wolfsburg's benefit.
Obviously first-team football is the main concern for Arnold at the moment but a regular spot in one position will only make his play better and more confident.
Given his powerful left-foot and extensive passing range, as well as the ability to keep the ball ticking over, a place beside Luiz Gustavo at the base of midfield seems to suit him best.