After a controversial game at the BayArena on Saturday evening, Bayer Leverkusen's Roger Schmidt and Rudi Völler have both been reprimanded by the DFB.
Schmidt refused to go to the stands after referee Felix Zwayer sent him off, while Völler's post-match comments landed him in hot water.
Schmidt absent for three games
Zwayer decided to send Schmidt to the stands after the latter's constant protests about the referee's decision.
There were a few debatable calls in the game, but it seems like the pressure surrounding the clash - which would have opened up some breathing space for Leverkusen over the other teams chasing a Champions League spot - got to the usually calm manager.
For his actions and defiance, Schmidt has collected a three-game ban with a further two matches suspended to June 2017.
To go with the ban, which will mean he is unable to talk to his players half an hour before or an hour after, the coach has also been fined €20,000.
Schmidt has accepted the charge and will take immediate effect, starting with their away game against 1. FSV Mainz 05 on Sunday.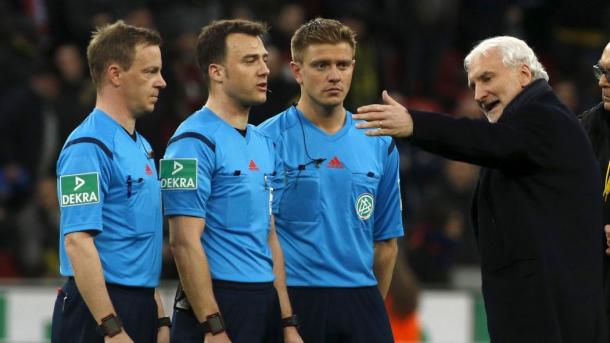 Völler hit with hefty fine
After Schmidt saw red and the ten minute stoppage in play came to a close, Leverkusen continued to come close. However, they were denied a penalty by Zwayer.
Enraged by the proceedings, Völler did not hold back in his post-match interview on TV: "He has definitely got his own back. That's why he didn't give us the penalty."
He was dealt a €10,000 fine for his comments, which he accepted. That will also take immediate effect.
Currently fourth in the Bundesliga, the game against Mainz is massive; defeat could see them slip out of the European places altogether. A win would do them the world of good after a tough week, and possibly take them into third.