Bayer Leverkusen midfielder Kevin Kampl is set to be miss the rest of the 2015/16 season after suffering a fractured leg.
The injury comes at a terrible time for both player and club as he'd been in great form for the Bundesliga side.
Much worse than first feared
The 25-year-old picked up what was thought to be a muscular injury two weeks ago in a 1-0 defeat to Borussia Dortmund and missed one game, the 3-1 defeat to Mainz on Sunday. Since then, tests revealed that Kampl actually has a leg fracture, as well as a muscle problem, and the Slovenia international faces a lengthy spell on the sidelines.
The injury is a devastating blow to Bayer Leverkusen's chances of a top four finish this season. Currently sitting in sixth place, they are just a mere point off of fourth place Borussia Mönchengladbach but without Kampl, their job becomes a lot tougher than before.
While there may be time for a return before the final game of the season and there has been no specific indication from the club on the length of Kampl's absence, it is unlikely he will play again this season due to the severity of the injury. A leg fracture will be taken seriously and he will wear a plaster cast on his leg.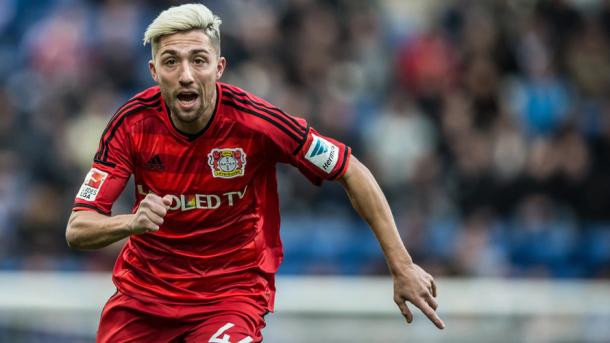 A blow that adds to current woes
Kampl's absence will be noticeable as he has emerged as one of the club's better performers over the course of the campaign. Kampl joined Leverkusen over the summer from Dortmund where he failed to make an impact.
Bayer Leverkusen return to action on Wednesday, welcoming a struggling Werder Bremen side to town. With two losses in a row and currently outside the Champions League places, Roger Schmidt's side will need to recover from the loss of Kampl and bounce back with a win during the week.