TSG 1899 Hoffenheim play host FC Augsburg in a midweek match on the 24th matchday. Hoffenheim's new coach Julian Nagelsmann wants to get another three points in his second home match as a Bundesliga manager.
Kraichgauer want to keep pace
With the coach change from Huub Stevens to Nagelsmann, the club hope to stay up and need to get as many points as possible. Nagelsmann had a good start with a draw against Werder Bremen and a win against Mainz, but a late defeat to Dortmund after Sebastian Rudy got sent off saw his team concede three goals and lose 3-1.
But despite that loss, Hoffenheim led until ten minutes before the final whistle but couldn't quite cope with the wave after wave of Borussia's onslaught. This will be a nervy game for Hoffenheim and especially the fans, who definitely do not want to see their club in the 2. Bundesliga next season.
The Kraichgauer are playing more attacking and impressive football; this is a good signal in the relegation battle as to when a team is on the right track to finding their way out.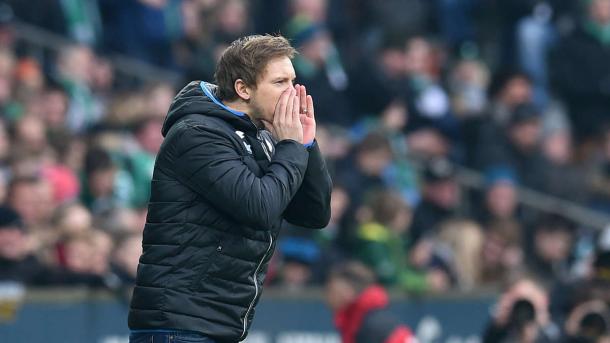 FC Augsburg need points to create a gap
On the other hand, FC Augsburg are currently 13th and only four points above Werder Bremen in 16th. The target is clear for the team which was eliminated in UEFA Europa League against English side Liverpool; create a gap between themselves and relegation battle. To start this mission, Markus Weinzierl's team need three points in a difficult away match against Hoffenheim.
The overall situation for Augsburg is rather bleak. Players have got no rest, because of European ties, and have to go into a midweek match against a rather competitor in the relegation battle.
It's now important for the 41-year-old coach that he finds the best way to give his players enough rest, and even start with a team in the matches which can cope without the regular starters and is able to get a result against their opponents.
In their last match against Borussia Mönchengladbach, where they got a point in a 2-2 draw, they showed that the team can rise to the challenge and fight to stay up.
Prediction
It may be a match on eye level between teams which are currently in almost the same form and both have to win matches as soon and as much as possible to stay in the division. The upper hand might be with Nagelsmann's Hoffenheim, as they are playing attacking football at home.