The second part of the matchday 24, which will take place on Wednesday at 19.00GMT, will see SV Darmsdadt 98 play host to Borussia Dortmund.
BVB are trying to keep pace with Bayern Munich before their last league game against the Bavarians on Saturday afternoon, which could prove crucial to their title challenge.
Big challenge for Dortmund
Despite a late victory 3-1 against TSG 1899 Hoffenheim, who were down to 10 men, Dortmund were quite sloppy and clueless while in the possession of the ball. They have been seemingly 'found out' by youngest coach in the Bundesliga history, Julian Nagelsmann, which is a stark contrast to Hoffenheim's recent record. This come back and this victory was special, according to Thomas Tuchel.
For a few weeks, Tuchel's team have not been in the best of form, but they are still winning. This is proof of their capacities and strengths this season, especially given last season's showing. He still believes in their chances to create a surprise at the top of the table, as he said earlier in press conference: "If we win both games, there will be no decision. Maybe it's currently the best possible situation if we keep this eight point gap."
He added, "You can say that Bayern want this race to be decided as soon as possible." The coach clearly does not want to give up right now.
And the game against Darmsdadt will not be the easiest, especially with the memory of the draw during the Hinrunde. The game will be played on a bad pitch which will not help the build-up. Moreover, the home side are a physical and defensive team and BVB will have to deal with that
That is the reason Dortmund's coach expects a "shock". He said that his team "except an opponent who's willing to fight", but the away side will be able to count on their captain, Mats Hummels, who is back after missing the game against Hoffenheim.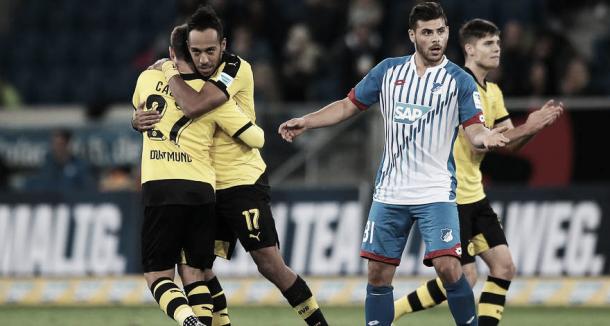 Will Darmstadt's dream season continue?
On the last matchday, the home side which played against Werder Bremen and were made to settle for a draw after a late goal from the great Claudio Pizarro. Darmstadt and the man of the moment, Sandro Wagner, want to continue their good season as a promoted team.
As they probably have secured their place in Bundesliga for next season, they get to enjoy the rest of the season with 25 points after 23 games. At the moment, trying to beat one the strongest teams in Europe is a interesting opportunity for them.
Marcel Heller, the fastest man in the league along with Pierre-Emerick Aubameyang and Leroy Sané, said that during an interview with Ruhr Nachrichten: "We try to win points in every match. That's also the case in matches against Dortmund, Bayern, Schalke or Leverkusen."
He added, "Borussia Dortmund is a tough nut to crack though. But it is nice to demonstrate that we are capable of competing with them."
With their current form, the home side will probably be unchanged from the last game; Dirk Schuster can count on his whole team except György Garics. But the game will be hard for them, they are on a quite bad run at home with three defeats in their last three home games.