That's all from me, Jonathan Walsh. I hope you've enjoyed our coverage this evening and this weekend. Stay with us for all the Bundesliga and 2. Bundesliga news you could desire. Good evening and good night!
A game that deserved a goal, but it never came. BVB and Bayern are still separated by five points, but Buerki's save to deny Vidal was crucial. Both teams had their chances and a draw is fair; nine games to go, can Bayern be caught?
FT - Borussia Dortmund 0-0 Bayern Munich.
90+1' Dortmund also make a change - Sahin on for Guendogan.
90' Alonso down with cramp, so there maybe slightly more added time than previously thought. He'll not be risked for the remainder, as Benatia takes his place.
88' That was the chance! Mkhitaryan threads Aubameyang in down the right and he picks out Ramos at the back post, though he can't find the target with his diving header.
86' Bayern press high again and force Hummels into a mistake, while Mueller can't take full advantage and shoots well over.
84' Unfortunately for the hosts, it can't beat the first man and Guendogan's attempt to put the ball back into the box is poor.
83' BVB break and win a corner from Mkhitaryan's shot.
81' First BVB change - A quiet Marco Reus is replaced by Adrian Ramos. The Colombian managed to net on Wednesday, can he repeat the feat again?
79' Well. Xabi Alonso's done it before, but not quite this time. He shoots from inside his own half of the centre circle, though his effort drifts just wide. That was close.
76' A good move by Bayern is matched by Bender's block, preventing Mueller from finding Ribery.
75' Not long left now, but the first sub has been made. Franck Ribery on for the impressive Douglas Costa.
72' Weigl is too slow in the area, Vidal wins the ball back and feeds Robben but the winger fires well over from the edge of the area.
70' Both teamsing forward at every opportunity though a continued lack of cutting edge is costing both; poor touches and passing especially.
66' Aubaemyang responds! Lovely ball into Reus is flicked on by the forward, and the Gabon international shots into the side netting. Close, but not close enough.
64' CROSSBAR! A corner from Bayern drops kindly in the area for Vidal and he rifles a shot towards goal, only to see Buerki make a spectacular stop to turn it onto the bar. Unbelievable reactions.
62' An hour gone, 30 minutes to go and both sides still haven't found the crucial opening goal. It is becoming increasingly likely that one goal will decide this game.
59' Robben! He does sneak through on goal ahead of the BVB defence, only to shoot high and over the bar. Needs to do better.
57' Chances for both sides to break behind each other, though neither can convert after poor touches from Robben and Aubameyang.
55' Vidal! He rises highest at the back post to meet a back post cross, heading back across goal but it goes wide. Momentary pause as Stieler asks the Bayern subs to switch sides from where they were warming up.
54' Bayern go back to possession to try and kill any momentum and eventually work their way forward, though Robben's shot is tame and easily held by Buerki.
51' CHANCE! Aubameyang is unleashed over the top and Kimmich somehow sticks with him again, but the forward's toe-poke is kept out with Neuer's feet. The rebound falls to Mkhitaryan, and he shoots - similarly to Mueller - off target.
50' BVB are the first to advance but it is limited in success as Schmelzer's touch gets the ball stuck underneath his feet. Hummels made a promising run in the build-up.
48' Very little from both teams early on in the second half, no real intent to go forward and the pair continue to lose possession in midfield.
46' No changes from either side, by the way. Bayern still in possession as BVB continue to hound them.
Second half! BVB are finally here, and Bayern will go us underway for the final 45!
HT - Bayern are back out first to a chorus of boos from the hosts, with the managers following afterwards.
HT - We're back a tad earlier than before, as Thomas Mueller comes into the tunnel and the BVB subs clear off the pitch.
HT - Well, that was superb! Both teams went for it, with neither sitting back and accepting the result. Reus, Mueller, Aubameyang and Costa all had big chances, but poor finishing and good defending has kept them at bay. We'll join you again in 15 minutes for the second half!
HT - Borussia Dortmund 0-0 Bayern Munich.
43' They don't learn from it! Some more sloppy play in defence leaves Robben with the chance to come inside again, and he slides a shot just past the post. Two big opportunities for the Dutchman.
42' Dortmund living dangerously! Schmelzer makes a great tackle to deny Mueller before Robben shoots into the hands of Buerki. Warning for BVB.
40' Crucial clearance! Bayern fileld the box with player to meet Mueller's cross, but Durm gets there just before Vidal can and heads behind for a corner. It comes to nothing.
37' Yellow for Dortmund - Bender goes into the book for a late challenge. 1-1 in that respect.
35' Bayern, for all their recent pressure, have to be careful. The hosts almost create a superb chance for Reus on the break, but his attempts to give BVB the lead are cut shot by the offside flag.
34' Dortmund under pressure! Hummels and co hack clear a long ball into the box and resulting corner. Bayern beginning to build a head of steam.
32' Chance for Lewandowski! A lovely move from the visitors finds the Pole, but BVB deflect his shot behind for a corner.
30' Half an hour gone now and we've had probably the best chances for either side come and go. A fantastic game so far, long may it continue.
28' Buerki with a vital stop! The goalkeeper is faced with Douglas Costa as Bayern break from Dortmund's corner, all on his own the Brazilian shoots low by the hme stopper saves with his legs.
27' What a tackle from Jo Kimmich! This kid has all the potential to be one of the world's best. Of that there is no doubt. He manages to run round Reus after a lovely pass from Aubameyang and clear.
25' Midway through the half and Bayern are starting to make BVB run that little bit more, still very even.
23' Almost! Alaba tries to lift a ball over the top to Mueller but Buerki reacts quickest and takes control.
22' Yellow card for Bayern - Alonso goes into the book for a rather forceful challenge. Some Dortmund fans asking for red, Stieler opts for yellow.
20' Durm, close! Piszczek gives Durm room to run down the right and a one-two with Guendogan sees him in at goal, but the youngster shoots instead of passing to his team-mate and can only find the side netting.
18' Chance for Bayern! Vidal is picked out by a perfect Costa cross, though the Chile international flicks out his left foot instead of his right and puts the ball past the post. He can hardly believe what happened.
17' The game has just showed ever so slightly after a crazy start, as Bayern pass it around the back. A breather for both isn't a bad thing, mind.
15' Pity! BVB play some lovely one and two-touch stuff to get within range of the Bayern box, but one flick too many sends them backwards to build again.
13' Mkhitaryan again looking to feed Aubameyang in behind the defence but this time his pass is too heavy. Great start to the game by both sides.
11' Aubameyang, that was a real chance! Kimmich somehow manages to keep pace with the Gabonese forward and shield him wide after Mkhitaryan's through ball. That makes it a routine save for Neuer, but credit must go to Kimmich - superb pace.
10' Costa shot! The Brazilian takes advantage of a quick free-kick to work a shooting chance, but fires wildly over. Unusually poor from him.
9' Whistles aplenty for Robben as soon as he touches the ball. No prizes for guessing the reasons why.
7' Tuchel's men come straight back up the pitch at Bayern, but some neat play results in a poor cross from the left; the champions mop up comfortably.
6' Nervy Buerki! The BVB 'keeper looks incredibly worried as Lewandowski almost charges down a back pass. A let off for the hosts.
5' MASSIVE CHANCE FOR BAYERN! A cross from Costa is spilled by Buerki and the ball falls straight to Mueller, but he fires over the open goal from the edge of the area.
3' Reus should do better! Alonso's ball into the box is woeful and Mkhitaryan, Aubameyang and Reus all break forward, but the latter can't find an angle to shoot and the ball is cleared.
2' BVB wasteful in possession so far, continually knocking it down the line to no-one. Jo Kimmich gets an early touch to start a Bayern attack, and that forces Piszczek to clear for the first corner of the game.
1' No spectacular early goal, as Bayern come at BVB from the off.
Kick-off! Dortmund get us underway!
17:30. Guardiola and Tuchel emerge to a mass of camera flashes, the players are set. We are ready.
17:29. The players are led onto the pitch by referee Tobias Stieler to a see of yellow, black and red. They've seen this all before, but what a setting for the biggest game of the season.
17:27. Nobby is ramping up the atmosphere even more, the players are in the tunnel - this has the feeling of a special game!
17:25. The stands are packed and the fans are in fine voice! BVB blare out 'You'll Never Walk Alone' - what a sight. Not forgetting the Bayern corner, packed into every corner, they're also making themselves heard.
17:15. Just 15 minutes until we're underway at the Westfalenstadion, and the atmosphere is beginning to build. The noise will be incredibe come kick-off, which will only add to the massive match's build-up.
17:05. The addition of Erik Durm on the right will have puzzled a few fans, as will the change of formation. Will it prove a tactical masterstroke from Tuchel?
16:55. A reminder of the maths behind the game. A Dortmund win closes the gap at the top to two points, while a Bayern triumph would almost seal the title's passage back to Bavaria - the gap would then be eight points.
16:50. It was a stunning afternoon of Bundesliga action with goals aplenty in every game, but will this game continue that trend? Tweet us @VAVEL and give your opinion!
16:45. Now for our hosts, BVB: (4-2-3-1) Bürki; Piszczek, Hummels, Bender, Schmelzer; Weigl, Gündogan; Durm, Mkhitaryan, Reus; Aubameyang.
16:42. Starting with Bayern: (4-2-3-1) Neuer; Lahm, Kimmich, Alaba, Bernat; Vidal, Alonso; Robben, Müller, Costa; Lewandowski.
16:40. Team news time!
Predicted Bayern Munich line-up: (4-1-4-1) Neuer; Lahm, Kimmich, Alaba, Bernat; Xabi Alonso; Robben, Thiago, Müller, Douglas Costa; Lewandowski.
Predicted Borussia Dortmund line-up: (4-3-3) Bürki; Piszczek, Bender, Hummels, Schmelzer; Gündogan, Weigl, Sahin; Mkhitaryan, Aubameyang, Reus.
Sokratis is Dortmund's only absentee for the game, giving them the best chance possible to get the better of Bayern. After resting several key players during the win over Darmstadt, they are likely to be at full strength. The only dilemmas Thomas Tuchel will have are in relation to Mats Hummels' partner and who will start in midfield. Sven Bender seems set to line-up beside Hummels, while Nuri Sahin should slot into the central midfield trio.
All of Bayern's missing players are at the heart of their defence. Javi Martinez, Jerome Boateng and Holger Badstuber are out with injury, meaning Joshua Kimmich and David Alaba should start at centre-half. Arturo Vidal and Xabi Alonso will do battle to start in the holding role, though the latter's success in breaking up the play against BVB previously is likely to give him the nod.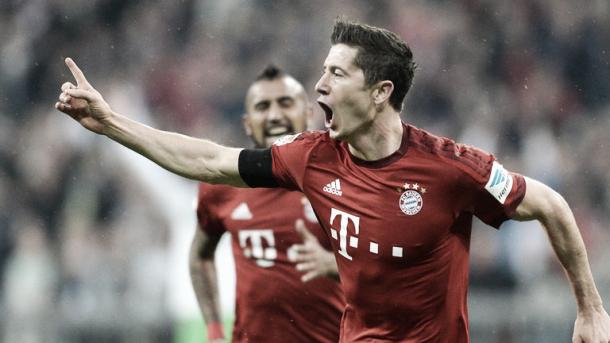 One incredible stat, aside from all the others, is that Borussia Dortmund are the best second-placed side in Bundesliga history. Having taken 57 points from a possible 72, their total would have been enough to sit top of the league in 45 of the previous 52 seasons. Not only does this show how impressive they've performed this term, but also the incredible consistency of Bayern.
The league's two top goalscorers will go head to head on Saturday evening, as Robert Lewandowski and Pierre-Emerick Aubameyang do battle. Lewandowski will be desperate to help his current club to glory over his former employers, and prove that he has the edge over his Gabonese counterpart. Aubameyang is showing just how good he can be this season, and has attracted plaudits from across Europe. The Pole has 23 and BVB's hitman 22, in what is another sub-plot to a facinating game.
Coming into the game, there is just five points between the two teams. In recent years, Bayern have been strolling towards the league title by now. However, Dortmund's incredible turnaround and resulting fom - as well as the reigning champions' rotten injury luck - has helped them to keep pace with Pep Guardiola's side. Whether or not Thomas Tuchel and his men can take revenge for their 5-1 drubbing at the Allianz Arena earlier in the season remains to be seen.
Good evening and welcome to VAVEK UK's live coverage of Bayern Munich's Bundesliga trip to the Westfalenstadion on matchday 25. Borussia Dortmund are the hosts in what looks to be the pivotal game in the title race, with a win either way massively swinging the momentum in favour of the victor. The top of the table clash in Germany's first division kicks off at 1730 GMT, until then stick with us as we bring you the latest news and updates surrounding the game.