On Sunday, Eintracht Frankfurt announced that they had parted company with manager Armin Veh.
In June 2015, he signed a two year deal and lasted nine months in charge.
This was Veh's second spell in charge at the club, after a successful spell previously between 2011 and 2014.
In Veh's successful first spell in charge of the Eagles, he led them to promotion from the 2. Bundesliga, before guiding them to 6th position in the Bundesliga in his following season, meaning they would compete in Europe.
He later moved on and opted to rejoin VfB Stuttgart, who he had previously led to Bundesliga glory.
Second time unlucky
However, his second spell with the club wasn't as successful. The Eagles currently occupy 16th position in Germany's top flight, the relegation play-off spot.
They are just three points above 17th placed TSG Hoffenheim, and with just nine matches left to play, the club decided this was the right time to make the call.
Frankfurt are without a win since January and have just two wins in their last 15 Bundesliga matches.
They have a mixed run-in with a mixture of tough matches and crunch matches at the bottom of the table.
They still have to play both Bayern Munich and Borussia Dortmund, as well as Bayer Leverkusen and Borussia Mönchengladbach.
However, they also have a number of so called "six-pointers" against fellow strugglers Hoffenheim, Hannover 96, SV Darmstadt and Werder Bremen.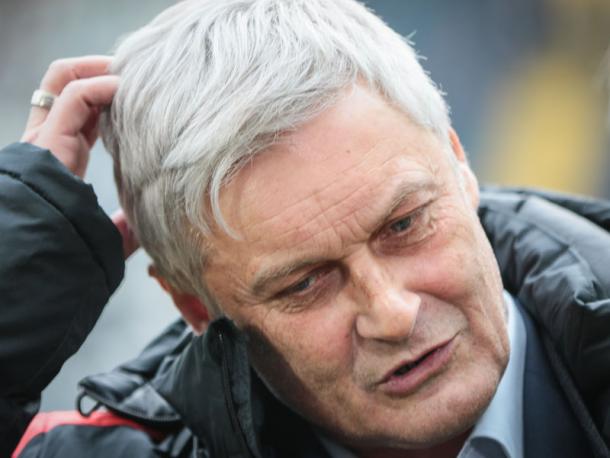 Announcement
The club announced the parting with Veh on Sunday morning and also confirmed that Reiner Geyer will take temporary charge. He was formerly the assistant coach.
They also said in their statement that will decide promptly on their next permanent manager and hope to have the successor appointed in time to be in the dugout on Saturday against Gladbach.
CEO Heribert Bruchhagen said: "The separation was really hard, because Armin Veh had our confidence to the end."
He continued: "Still, we wanted to give the team a fresh boost with a coaching change in the relegation battle so we can secure our survival. Eintracht Frankfurt thanks Armin Veh for his work."