The Europa league, on Thursday as per usual, will be once again quite interesting. Especially at El Madrigal, which hosts the clash between Villarreal and Bayer Leverkusen.
The away side are facing a tough task as they are going to head-to-head against the team which has eliminated one of the competition's favorites this year, Napoli.
A weakened Werkself travel to Spain
Roger Schmidt's side will play their 200th match in European competition after they eliminated Sporting CP. It will be a big challenge for them with their current form. Indeed, in Bundesliga, they are on a bad run, even if they stole a one point in a spectacular game that ended 3-3 against Augsburg on the last matchday. They are quite weak and not playing to the level they were last yeare. But this European adventure can be the ray sunshine their season needs, given everything going on around the club.
The Werkself have been particularly poor in defence, The absence of a number of key players such as Lars Bender, Jonathan Tah, Omer Toprak and Kyriakos Papadopoulos, who are doubtful even if they make the final training session after the press conference on Wednesday. The German coach said earlier on Wednesday afternoon that they "have to wait and see", in regards to their fitness.
But luckily, Javier Hernandez and Stefan Kiessling will be available. This is massively important for the away side given the Mexican striker's form in front of goal since arriving in the summer. Schmidt recognises that it will be a tough task, however: "It will be difficult against a defensively strong team, but we want to score an away goal."
They will do their best, of that their is no doubt, as the coach wants "to continue to grow". The young and promising number 10 of Bayer Leverkusen, Hakan Calhanoglu added: "We want to always compete against strong teams and come out of it the better team." They are ready for the game.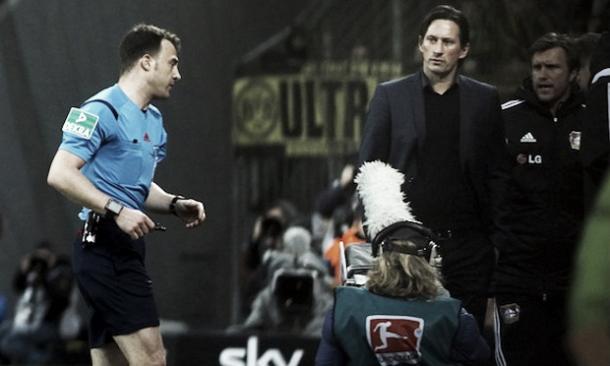 Villarreal vying to fulfill their dreams
The team of Marcelino have surprised many to still be in the tournament, after their superb win over the much-fancied Napoli; who were among the favorites to lift the trophy.
But thanks to an incredible goal from Tomas Pina and the outstanding performance of the French goalkeeper, Alphonse Areola, who is on loan from Paris Saint-Germain, they did just enough at the San Paolo to stay in Europa League.
Despite this impressive performance, the Spanish club fell to a shock defeat 1-0 to Las Palmas which ended a superb run of 14 matches unbeaten in La Liga. It seems like the home side were already focused on the Europa League, which is a huge thing for the team.
Adrian Lopez thinks that "it is crucial to start off on the right foot". He continued, IIt is a beautiful competition and it brings back good memories for me. We're really excited. We thought we had taken a great step forward when we knocked out Napoli, who were one of the strongest teams in the competition."
Adrian also added, "Now another difficult opponent comes our way in Bayer Leverkusen." They are undefeated in their last seven European matches. The striker believes, "It doesn't matter whether you play at home or away, this match is the key."
He feels it is "essential to come away with a clean sheet" and to "do as much as possible to get the win", as the forward thinks it will give his side "a great advantage in the tie". With the strong support of their fans the home team will be keen to get a good start in the tussle, despite the concerns over Matteo Musacchio and Jaume Costa's fitness.