Forward duo, Max Kruse and Nicklas Bendtner have both hit a spot of bother with the Wolfsburg hierarchy; but not referring to their poor campaign.
Kruse-ing for a bruising
Ever since moving this summer from Gladbach, Kruse hasn't exactly set the world alight, to be frank, he's been rather poor.
Such fortunes, however, were reversed one night in Berlin, a day after scoring a hat-trick for his Wolfsburg side whom defeated Hoffenheim. It was just as good a day for the World Cup winner and he was on a hot streak winning a staggering €75,000 in the World Series Poker tournament, as BILD tells it.
That's when his luck ran out. Somehow, Kruse accidentally left ALL his poker winnings in the back of a taxi. Upon realising his catastrophic error, the police were called, but the money is, unsurprisingly, yet to be returned.
As soon as the story was made public, the club immediately reprimanded their new signing with a sobering statement:
'You might be a private person as a footballer when you are in your bed. At any other point, you are also an employee of the club.
We have explained to him what sort of behaviour we expect from our players.
We can only hope that he has been taught a lesson and will change his behaviour.'
Following this, the club followed up on their words by fining the player €25,000 to discourage further antics.
Unhealthy eating habit
Months later, Kruse was in more trouble with the club's hierarchy. According to BILD, manager Dieter Hecking and sporting director Klaus Allofs called the suspect into a meeting during Wolfsburg's winter training camp in Portugal. The topic, this time around, was significantly more obscure. BILD's report suggested both Hecking and Allofs urged Kruse to abstain from ingesting the popular chocolate spread, Nutella.
Despite the report not being confirmed, Allofs told the German paper, "This sort of thing is dealt with internally, I am not confirming this. We speak with all of our players every six months." And added, "The aim is to support them in such a way that will put them in a position to deliver their optimum performance."
However, the sporting director was quoted to have also said "Max needs to correct a few things", no doubt in reference to the earlier story.
Trouble follows Bendtner, yet again
Comedic striker, Nicklas Bendtner, angered Wolfsburg's main backer, Volkwagen, by posting a photograph of himself getting into a luxury Merecedes automobile - a huge rival of the Lower Saxony car company.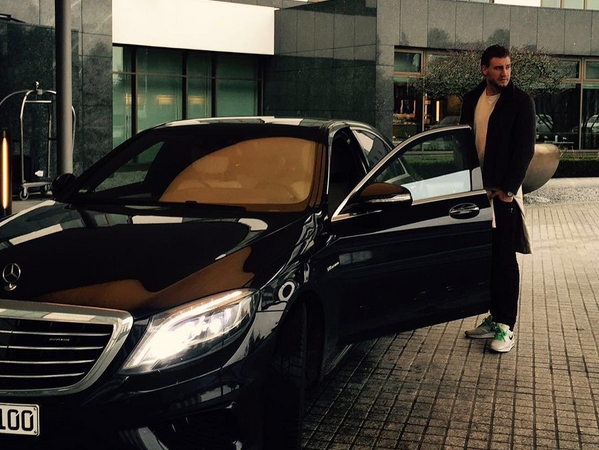 This story will come as no shock, given the nature of the culprit. To many, Bendtner's funny moments overshadow his football career. Memorably blocking Cesc Fabregas' goal-bound shot against Liverpool and THAT miss against Barcelona are scenes we'll never forget. But this ranks alongside his nightclub stunts and infamous quotes.
Bendtner posted the controversial picture on his Instagram account with the caption 'On my way to another session'.
The club states that all employees, players or staff, are prohibited from arriving at the training grounds in an automobile other than a Volkswagen.
Moreover, Bendtner was fined by the club, with Allofs condemning the clumsy error, "We have rules, one of those being that you must pay attention to how you are being photographed in public. The rules are not new. It's misconduct and it's careless, which at the end of the day will cost [Bendtner] money."