Following the Olympic Qualification Games, Algarve Cup and the debut of the SheBelieves Cup, the Frauen-Bundesliga will resume with a programme which will see Bayern Munich striving to edge closer towards a title triumph. Meanwhile 1. FC Koln, Werder Bremen, Bayer Leverkusen and other teams will resume their relegation battle.
Leaders to commence matchday 16
Bayern will be opening matchday 16 with a tie that, on paper, may seem comfortable but which may reserve some surprises, especially following the international break. All internationals will be back for the Bavarian club as they will be striving to edge closer to clinch the title.
USV Jena are at mid-table with a comfortable 19 points. They could possibly leapfrog some teams if they could register a surprising win as they are in good form. However, a loss against the title holders would not compromise their season.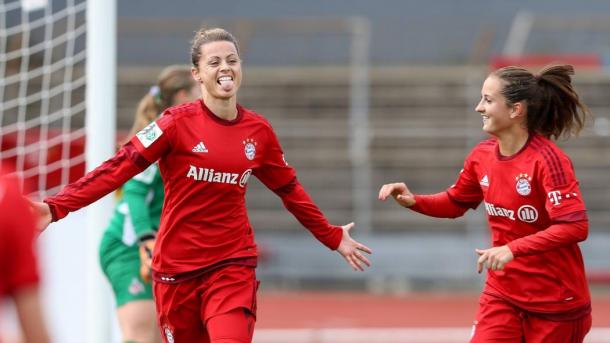 A relegation battle between Turbine and Leverkusen
Undoubtedly, one of the biggest matches of the week is between 1. FFC Turbine Potsdam and Bayer Leverkusen, as it will have a big say on the fate of both teams in terms of their relegation battle. While Turbine are occupying the 9th place at 17 points, Bayer Leverkusen are only two points behind them.
A victory for either side would mean a bit of relief ahead of their final few games, while a loss could put them in a dangerous zone, especially if either Werder Bremen or Koln manage to snatch points from their tough contests.
Frankfurt and Wolfsburg meet in a mouth-watering contest
Another interesting fixture should between the second place and third place, as 1. FFC Frankfurt will host VfL Wolfsburg in a direct battle for the final UEFA Women's Champions League spot.
While the hosts are occupying the second place at 31 points, the away side are behind them with 29 points. The visitors also have a difficult tie ahead in the UWCL next week against Brescia, and their head coach has the task of being able to manage the team well, to keep them competitive on both sides without slipping in form at all.
Bremen with a tough contest against Freiburg
Relegation battlers Werder Bremen will host SC Freiburg in a bid to stay above the relegation zone. With Freiburg having nothing to ask more from this season, the hosts will be striving to move away from their situation and earn important three points - while hoping for a draw between Turbine Potsdam and Bayer Leverkusen.
On the other hand, Freiburg could revive their European hopes with a victory, however at a distance of eight points which makes it a bit difficult to leapfrog giants Frankfurt and Wolfsburg.
Koln also have a difficult tie against Sand
Fellow relegation battlers with Werder Bremen, Koln will be hosting SC Sand who are occupying fourth place with 25 points, six points behind Frankfurt and still mathematically with a chance to earn the second European spot.
The upcoming couple of matches could be decisive for the home side's fate in bid of their relegation battle, as they are occupying the last place with six points, a point behind Werder Bremen while nine beneath Bayer Leverkusen.
Hoffeinhem and Essen clash in a mid-table encounter
With both teams settled at mid-table, the encounter between TSG 1899 Hoffeinhem and SGS Essen has nothing at stake if not to finish the season with the highest amount of possible points.
A loss for Hoffenheim could see them involved in a relegation, but they have a good squad enough to preserve their place in Germany's top tier.