Two-time UEFA Women's Champions League winners VfL Wolfsburg will host ACF Brescia, who are the sole club representing Italy at any UEFA competition (men or women), in the quarter-final stage of the premium European club competition.
Both teams will face each other on 23rd March for the first clash in Germany, with the hosts striving to book their place in the last four by putting in a commanding first leg performance.
However, despite this being their first ever appearance in the quarter finals of this competition, Brescia have already proved that they can provide a hard time to any other opponent in this competition, as they already eliminated Liverpool Ladies and Fortuna Hjørring in the previous rounds.
Both teams are performing well in their respective league, with Wolfsburg leapfrogging 1. FFC Frankfurt into second places, while Brescia are leading the Italian Serie A following their impressive showings.
A win here would mean it is another step closer for the German side to triumph again in Europe, while this presents a golden opportunity for the Italian side to highlight their abilities.
Road to quarters
VfL Wolfsburg: (Round of 32) - Spartak Subotica = 4-0 on aggregate. (Round of 16) - Chelsea Ladies = 4-1 on aggregate.
ACF Brescia: (Round of 32) - Liverpool Ladies = 2-0 on aggregate. (Round of 16) - Fortuna Hjørring = 2-1 on aggregate.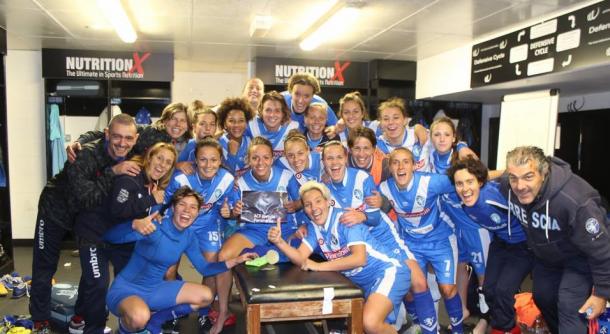 Team News
Coming off the back of an important 3-1 victory over Frankfurt in the Frauen-Bundesliga, the home side will be targeting this match as an opportunity to prolong their form and seek a place in the last four of this major competition.
The likes of Lena Goessling and Isabel Kerchowski will have to raise the quality of their game if they want to overcome the Italian side. However they must pay attention as they have three players who are one yellow card away from having a one-match ban, these are: Ramona Bachmann, Goessling and Alexandra Popp.
Meanwhile, Brescia are undergoing their best period since their foundation and being the only club from Italy in any UEFA competition, they are aware of the importance and responsibility that this match reserves for them.
Paige Williams and Sara Gama have been hugely important for the club throughout their domestic and European journey, and will have to be at their best again on Wednesday to keep a firing Wolves attack at bay.