It was seemingly inevitable, Jürgen Klopp's Liverpool drawing his old side, Borussia Dortmund, a club for whom he served for seven years. Seven very successful years, as it turned out, but there's no promising the fixture will be gold standard.
Klopp revitalising the Yellows
To understand the sheer and understandable hype surrounding Klopp returning to the Westfalenstadion, you must have a good grasp of what he did for the club.
At the end of the 2007/08 season, under manager Thomas Doll, Borussia Dortmund finished their Bundesliga campaign in a disappointing 13th position. Reform was needed and the club's hierarchy chose a young, eager manager to bring much needed relief to the yellow side of the Ruhr valley. Jürgen Klopp was brought in from the club he retired at, 1. FSV Mainz 05.
Immediately, the new manager's charisma rubbing off on his players was evident to see. The following season saw Dortmund climb seven places, the season after saw them go one better and qualify for the Europe League, albeit a Champions League spot was in reach.
The season of 2010/11 was where it really kicked off, however, and Dortmund excelled to a new level not seen in the area for a good many years. Wise investments and the nurturing of youth players saw die Schwarzgelben shake the monkey off of its back as financial debts and relegation woes were left in the dust. Dortmund managed to shrug off the powerhouses of Bayer Leverkusen and Bayern Munich to win their first Meisterschale in nine years.
The season after also saw good fortunes. Dortmund rallied to another Bundesliga title - gaining the highest amount of points by a club in one Bundesliga season, at that time - as well as routing runners-up Bayern in the DFB-Pokalfinale to achieve a memorable double-winning season.
A few good following seasons, where Bayern proved too strong to keep up with, including the 2012 Champions League final, meant Dortmund were among the best of the rest. Despite the disastrous season last time around, the change in fortune surrounding the great historic club was clear to see. Klopp had resurrected a giant.
Contrasting seasons
Suffice to say, Liverpool and Dortmund have partaken in very different campaigns. The Reds have been consistently inconsistent, whereas their yellow counterparts have bounced back from their disappointing seventh place finish.
The tactics of old that had bore fruit were rotting away. Following Klopp's decision to leave at the end of the season, the club's sporting director, Michael Zorc, and CEO, Hans-Joachim Watzke, knew major reform was needed. Under their new coach, Thomas Tuchel, Dortmund aimed to kickstart their faltering engine.
Players like İlkay Gündoğan and Pierre-Emerick Aubameyang have stepped up as well as new signings Julian Weigl and Roman Bürki, brought in from 2. Bundesliga clubs, impressing even the most skeptical of fans.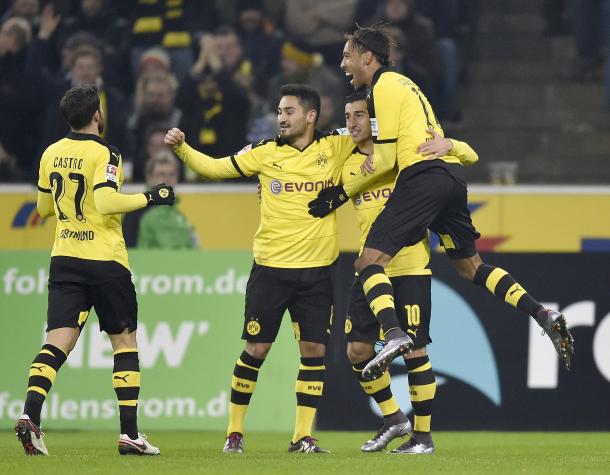 As a result of getting back on track, Dortmund have breathed new life into the Bundesliga with their dominating, entertaining displays while pushing Bayern for a title race as they remain hot on their heels.
It was a similar case of new management needed in Merseyside. The departures of Daniel Agger and, most crucially of all, Luis Suárez had left Brendan Rodgers' side crippled and distraught. The sale of the Uruguayan prompted Liverpool to take action in the transfer market, and it became axiomatic that the signings were, all-in-all, massive failures, with a few exceptions.
There were high hopes Liverpool would reignite their success of the 70s and 80s after coming agonisingly close to winning their Premier League title, or at the very least, become regular top four contenders. These hopes were dashed last season. One step forward and two steps back, saw Liverpool fall back down to sixth, following a disastrous return to the Champions League.
Despite winning the two opening league games, Rodgers was ousted from power following more of the same, and the historic club appointed Klopp to fill the void, much to the delight of the home faithful and envy of rival fans.
Klopp has enjoyed an understandable mixed bag start at Anfield. There have been high points, such as running riot at the Etihad stadium in a vintage Klopp 'gegenpressing' mismatch, and low points: losing to West Ham at Anfield.
Heavy dose of reality
Undoubtedly, this is the match neutral fans will have wanted: two clubs with very similar traits and a man torn between the both fanbases.
Many looked at Dortmund's previous knockout clash with Spurs as an intriguing one, that would have been a close, or close enough, contest between two of Germany and England's finest. It turned out to be anything but, with Dortmund dominating at home and then winning at White Hart Lane, much to the exuberance of the loud traveling fans.
In short, the tie failed miserably in living up to the hype. Spurs manager Mauricio Pochettino's decision to put domestic glory over European ambitions killed off the vibe. Tuchel's well oiled machine made mince meat of a weakened Lilywhites side that, for all their league success, could only muster the one goal.
On the flip side, Liverpool's tie with domestic rivals Manchester United lived up to its potential. It was a similar first leg, with the Red Devils put to the sword at a raucously atmospheric Anfield, albeit David de Gea considerably lowered the scoreline. The second leg at Old Trafford wasn't as one-sided, but Liverpool's first-leg dominance had evidently battered United's morale and despite Anthony Martial's penalty providing hope, Phillipe Coutinho's dink over de Gea ultimately knocked the wind out of the home side's sails. The tie was hotly contested between each set of fans, as always, and the addition of this being the first European fixture between the two added that extra spice on a night where the Reds prevailed.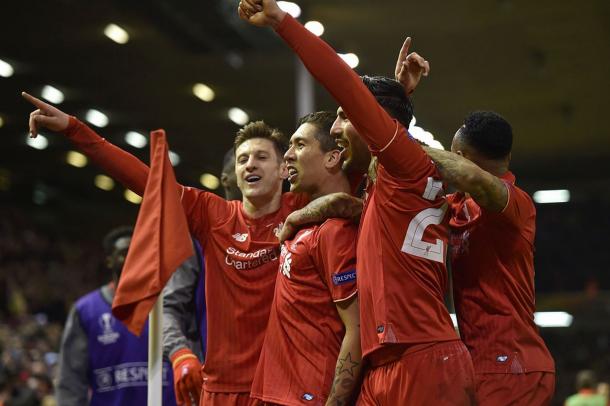 As previously stated, both clubs are going through contrasting seasons and many, myself included, believe Dortmund will go through to the semis.
Der BVB's home record this season is quite simply, incredible, having only drawn and lost once at the Westfalenstadion. By contrast, Liverpool's form at Anfield have been fairly sporadic. This, and the other previous facts, rather ruins the moment for the many hoping for even entertainment.
You look at both teams and, realistically, only a handful of Liverpool players would get into that irresistible Dortmund side. Simply put, Liverpool seem to be outgunned. You could argue the three-time cup winners are in good form, with some impressive wins of late, but so too are their opponents. Many Liverpool fans will fondly look back on their 2-0 aggregate Champions League win over Dortmund back in the 2001/02 season as well as their 4-0 friendly win at Anfield in the summer of 2014, but even the most optimistic of fans know the tables have turned.
Klopp had many great memories in front of the Südtribüne - his entertaining reactions and seemingly slo-mo mid-air celebrations won him many admirers from all over the world. However, as big as the occasion is, don't expect any vintage crazy celebrations, if the away side were to score. Expect a more similar, calmer reaction like Tuchel, and that's presuming he will celebrate against a side for whom respect is a two-way street.
Taking the dampner off of this whole situation, there is one exciting aspect which not one person can fault, and that is quite simply the atmosphere. There are no shortage of flags or banners when it comes to the Yellow Wall and the Kop, each being the pièce de résistance of their respective stadiums, which are widely considered the best in Germany and England.
A modern liaison has blossomed between both sets of fans, one of the reasons being the shared pre-match rendition of the ever popular song "You'll Never Walk Alone". Some in the Gelbe Wand once held up a "Justice For The 96!" in reference to the Hillsborough tragedy and Liverpool fans acknowledged this respect with some appreciative banners in the recent friendly. Mutual respect.
There was much hype for 'Der Klassiker' between Dortmund and Bayern, a matter of weeks ago and although the result soured some people's minds of the match, it was thoroughly pleasing.
Basically, it's up to you on whether to be pulled into the aura surrounding this occasion. There is no guarantee of the football being exciting, but just the thought of these two great clubs meeting is something to savour.