VfL Wolfsburg head to Italy on Wednesday with a comfortable lead in their UEFA Women's Champions League quarter-final, having beaten ACF Brescia 3-0 in their home leg.
It wasn't as easy as the Germans perhaps anticipated though, with it taking a whole 32 minutes for them to break the deadlock via Tessa Wullaert.
They managed two goals in quick succession after the break, Alexandra Popp and Caroline Graham Hansen's strikes coming with less than 10 minutes of each other, but this failed to open the floodgates like one expected and the Wolves had to settle for just the 3-0 win in the end.
Brescia tougher than expected
Despite going 1-0 down on the 32nd minute due to Wullaert's goal, Brescia proved to be a tough opponent as they performed at their highest levels in order to keep the match wide open until the end.
Their constant pressure in midfield on Wolfsburg's back line and flanks was a key point in their tactical system. Moreover, they also had various occasions on goal, with Daniela Sabatino in particular posing a threat.
However, as time went by, Wolfsburg started to implement their game and they became more and more devastating upfront with Popp, Lara Dickenmann and Ramona Bachmann. Brescia's backline resisted well, but Wullaert put the German club ahead just past the half hour mark.
Although they had conceded the goal they feared, Brescia remained spirited and they almost leveled matters, but Paige Williams could not find the net on a couple of occasions. In fact, the English native was one of the players who provided a lot of upfront, but they still struggled to penetrate Wolfsburg's organised defence.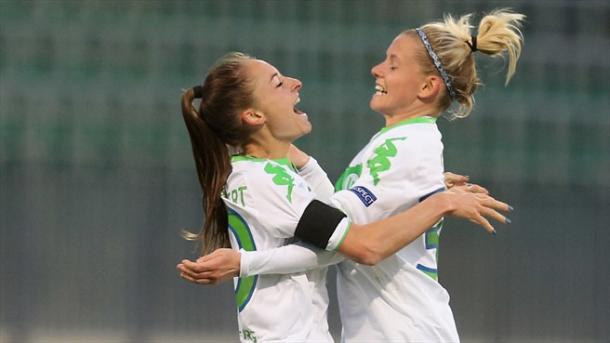 A couple of goals to wrap up the match
Wolfsburg resumed the match with an aggressive approach, seeking other goals to extend their lead and put the qualification beyond them.
A few minutes after the beginning of the second half, Popp doubled the lead and this time, the goal seemed to deal a huge blow for the Italian club. They started to play more defensively, with the aim of protecting the two goal deficit which would still have kept their hopes of a qualification alive.
However, Hansen added another one just past the hour to seal the win for the German side. A comfortable win for the hosts, who were performing very well with the adrenaline cascading through their veins, made a bold statement that they are one of the favorites for the ultimate prize.
It could have been more too as Germany international Isabel Kerschowski, who had replaced Hansen, had another couple of efforts on goal which Camelia Ceaser parried well.
In the final minutes of the encounter, Wolfsburg were still pressing up high, giving no time to Brescia to reply. Dickenmann and Kerschowski worked some wonderful combinations, providing Popp with several goal-scoring opportunities, but the German international couldn't covert.
The Frauen-Bundesliga side now seem on their way to the semi final following their emphatic victory, and it is right to think so as they have recently triumphed twice in this competition and boast a lot of quality.
However, on the other side, Brescia did not disappoint on their first appearance in the final eight of this major tournament as they had several good moments. They might have conceded some soft goals due to their lack of experience, but if the club keeps on investing and bringing in experienced players, while integrating home-grown players, it may not be long before we see them competing in the final rounds fof this tournament.