In the last 16, 1. FFC Frankfurt must have been confident when starting the second leg at home having gained a 2-0 lead in Norway against LSK Kvinner. However, that match ended up going all the way to penalties, and Frankfurt will be eager to learn the lessons from that slip-up here.
FC Rosengård have had a week to lick their wounds and analyse the first leg, and will perhaps look to LSK Kvinner as an inspiration for what they have to achieve with a spot in the UEFA Women's Champions League semi-finals at stake.
Frankfurt edged the first leg 1-0 with a performance that was tactically strong, but uninspired. They took advantage of a Rosengård side that is still in pre-season and yet to reach full match fitness. There were few clear-cut chances for either side throughout the encounter.
Between the games
With the Swedish season yet to begin, Rosengård haven't played since the first leg last week. While that will have given them ample preparation time for this match, it may perhaps leave them still a little rusty.
Frankfurt played out a comfortable 3-0 win against Werder Bremen in the Frauen-Bundesliga at the weekend, a match comfortable enough for the team to cruise through without tiring themselves. Simone Laudehr only played 45 minutes after looking tired lately, and will be fresh and ready for the challenge on Wednesday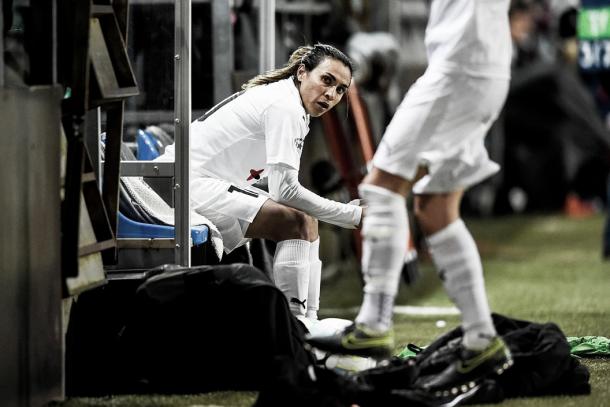 Available players
Dzsenifer Marozsán picked up a booking in the first leg, and will miss this match as a result of that. Her absence will be a large blow to Frankfurt as their main creative outlet, and it will bring a lot of responsibility to the shoulders of Jackie Groenen and Emily van Egmond to make up for her being suspended.
Meanwhile, Ana-Maria Crnogorčević is still a doubt after her head injury.
Rosengård will be without Erin McLeod, who was unluckily injured early on in the first leg. Otherwise they have a full set of players available to them, all of whom will want to make up for their poor performance in the first leg.
Verdict
Frankfurt should be favourites to finish the tie off, coming home with a 1-0 lead, but the tie is far from over.
Rosengård have a strong array of attacking talent, which can cause a lot of damage to Frankfurt's defence if it clicks, so the Germans will need to be solid at the back and take their chances.