One of the quarter final ties from the UEFA Women's Champions League scheduled for Wednesday evening will see German giants VfL Wolfsburg travel to Italy, where they lock horns with ACF Brescia after beating them 3-0 in the first leg.
However, an early goal from the Italians can change it all and we could see a surprisingly classic match that would undoubtedly raise the quality of this competition.
Between the games
Brescia were not involved in any domestic fixtures this weekend, and therefore they could shift their focus entirely on this fixture.
In their previous fixture from the Italian Serie A, they registered an important victory away from home to cement their lead atop the domestic league, with them having a good chance of triumphing in both league and cup.
Still, it will be a tough task to overcome the three-goal deficit. They are striving to do well in front of their own crowd, being the sole club from Italy in any UEFA competition, and so could be boosted by that home advantage.
Meanwhile, Wolfsburg had an exhausting fixture against SC Sand away from home where, despite registering a precious 2-4 victory, it was a very demanding and tough match against a side who have proven to be hard to beat this year. Brescia could have a glimmer of hope of qualifying if they capitalise from the German side's fatigue following their difficult match in the domestic league.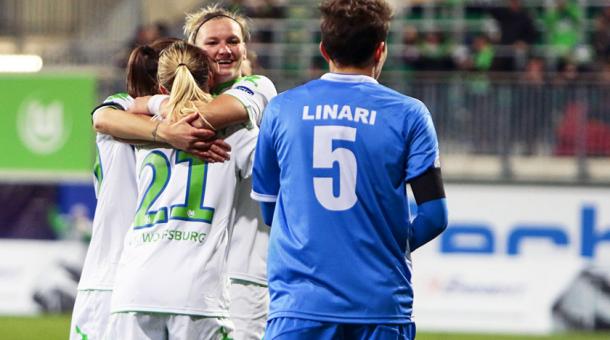 Verdict
Despite being down by three goals, Brescia should honour this fixture and play without any regrets. They are debutants in this competition and every minute is a valuable experience for them, so if they believe in themselves and remain spirited like they were in the first leg, they can give a hard time to their opponents, and why not, maybe also net one goal which would easily open the qualification.
Moreover, Brescia as a football club have been marketing this match from before the first leg and, even despite having lost 3-0 in Germany, the club still resumed its excellent marketing to promote this game and to raise the profile of women's football on the peninsula. A good crowd is expected.
Meanwhile, the two-times European champions shall not underestimate Brescia despite leading by three goals to nil. An early goal for them would wrap up the qualification, while easing back and unexpectedly conceding a goal could put them in serious trouble.
However, this scenario can be easily avoided as, with the huge international experience which most of the players at Wolfsburg have acquired through their careers, one may see it impossible to see the qualification slip from the hands of the Germans, despite this competition having shown us throughout the years that there is never a shortage of surprises.