First versus seventeenth. It's been a tale of two very contrasting seasons for the opposing sides; the Bavarians have been as flawless as ever whereas the Eagles are aiming to stave off a serious relegation threat having recently appointed a new manager in Niko Kovac.
Recent form
Leaders Bayern have been on an expected good run of form, since faltering to Mainz and Dortmund, fresh on the back of a dogged away win to Köln, in which hitman Robert Lewandowski grabbed his 42nd goal of the season in all competitions, the majority coming in the Bundesliga. Pep Guardiola's side remain five points clear at the top with just seven games remaining, four of the matches being at home, and are the strong favourites to win their 4th successive Meisterschale.
It's a complete different story for Frankfurt, however, whose current saga starkly juxtaposes to that of their opponents. The club's hierarchy saw fit to sack Armin Veh, following the home draw to Ingolstadt, who was unable to build on der Launische Diva's impressive ninth place finish last season.
To kick-start their faltering engine, Eintracht appointed Croatia manager and former Bayern midfielder Niko Kovac. Only two games in, the new boss already has a win under his belt, albeit against the only team lower in the table than Eintracht, Hannover. Kovac will be hoping he can emulate new Hoffenheim manager Julian Nagelsmann's form and beat the drop.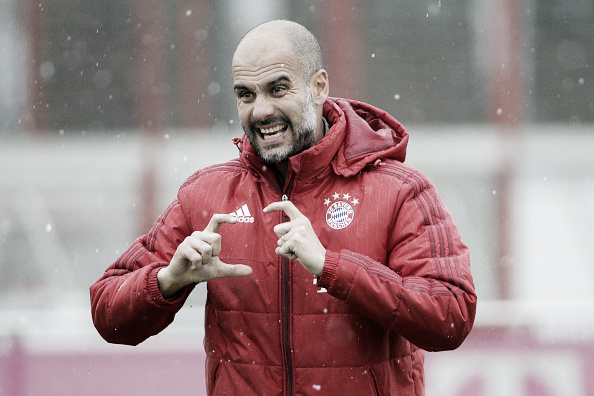 Head-to-head
Like most encounters, the reigning champions dominate the previous ties. Since their return to prominence in 2012, they have lost all but one of their ties against Germany's finest. To make light of the one-sidedness, Frankfurt haven't scored one goal past Bayern in the Bundesliga, since their promotion. Moreover, Bayern have scored sixteen goals in those seven games. A crumbof comfort can be found in the fact die Roten's ten-game win streak was ended at the Commerzbank-Arena in a goalless draw.
Managers voice their opinions and concerns
"We mustn't drop points," declared Guardiola and made known his attention is focused on the upcoming match: "From now on every match is a final. There are no differences in importance between the games any more at this moment the Frankfurt match is most important. We have to be ready."
Kovac rejected the notion of his team entrenching themselves in for a result: "We definitely won't just pack everyone into our own penalty area and park the team bus in front of the goal. We also aim to pose a threat to the Bayern goal." He added, "It'll obviously be a difficult game but we're sports people. And as a sports person you look to win or take points wherever you go."