The first leg matches of the quarter final of the Champions League kick off in Munich as Pep Guardiola's Bayern Munich take on Rui Vitoria's Benfica in what is set to be a thrilling contest.
Previous round
Bayern Munich came from 2-0 down at home to Juventus in the last round, progressing into the quarter finals after two late goals from Robert Lewandowski and Thomas Müller, took the game to extra time as the tie was sealed by Kingsley Coman and Thiago. The game ended 4-2 as Munich lived to fight another round in Europe's most prestigious competition.
Benfica were narrowly victorious over Zenit St Petersburg over the two legs in the previous round; winning 1-0 in Lisbon, and 2-1 in Russia. The first leg came to a thrilling finale, as Gonçalves Oliveira scored to win the first leg in the 91st minute of play, giving the Portugese giants a narrow advantage in the second leg. Their place in the quarter final was decided by a further two late goals coming from Nico Gaitán and Emerson Conceição, ending the tie 3-1 on aggregate.
League form
While we are all aware of Bayern Munich's dominance in the Bundesliga, Benfica possess a similar situation as the German's as they sit five points clear at the top of Primeira Liga, ahead of rivals Sporting Lisbon. Vitoria's team are currently unbeaten in their previous five league fixtures, winning all five and conceding just second goals and scoring 13.
As for Bayern Munich, who are also five points clear at the top of their league, are unbeaten in their last four fixtures, after a shock 2-1 loss to Mainz tinted their almost immaculate league form. Their loss was followed by a 0-0 draw with league runners up Borussia Dortmund, and winning their previous three games; scoring seven and conceding none.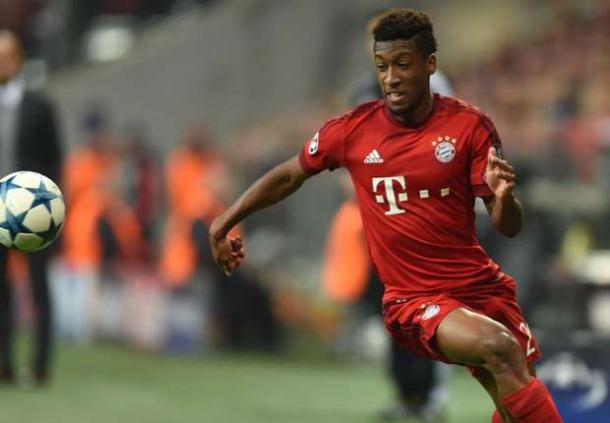 Team News
After being ruled out of Bayern's league clash with Eintracht Frankfurt last weekend, Guardiola has confirmed that Kingsley Coman will be returning to the squad to face Benfica tomorrow. Without Jerome Boateng and Joshua Kimmich in central defence due to injury, newly returning Javi Martinez looks set the start for Bayern. Arjen Robben is also set to miss out as he recovers from illness.
(4-1-4-1) Neuer; Alaba, Benatia, Martinez, Lahm; Alonso; Ribery, Vidal, Muller, Costa; Lewandowski.
Like Munich, Benfica will be without two crucial players at the back, as Lisandro López and Luisão are set to miss the first leg due to injury. Benfica have also confirmed that they will be without goalkeeper Julio Cesar, as young keeper Moraes is expected to make another appearance in the Champions League.
(4-2-3-1) Moraes; Eliseu, Jardel, Nilsson, Almeida; Samaris, Renato Sanches; Jonas, Gaitan, Pizzi; Mitroglou.
Bayern Munich enter the game as narrow favourites due to their experience in the Champions League over recent seasons. However, former keeper to both clubs, Hans Butt has alerted Bayern not to expect an easy contest at the Allianz as Benfica arrive in hot form. It is sure to be an exciting contest as two of Europe's top teams play out for a place in the semi finals.
Kickoff: 19.45 (GMT)