Uphill battle. Wolfsburg will be hoping to overlook their domestic freefall and get on back on track to their impressive Champions League run when they host ten-time winners Real Madrid on a tense night at the Volkswagen Arena.
Contrasting form
Sitting in a pool of their own misery, Wolfsburg have found life difficult following their successful cup-winning season and are yet to shrug off their abysmal hangover after selling one-man tornado, Kevin de Bruyne.
The inconsistent recent form, that has seen die Wölfe fall to 8th place in the Bundesliga, shows no signs of ending. Impressive wins over the likes of Gladbach and Ingolstadt have been overshadowed by poor results to Schalke and recently promoted Darmstadt, in which a late moment of brilliance from André Schürrle stole the show.
Just last week, Bayer Leverkusen made April Fools of their opponents as Wolfsburg were played off the park, in what can only be described as an embarrassment. More ground was lost not only the Champions League, but also the Europa League.
Five wins in their last 10 matches, two of which were over Belgian side KAA Gent, tells its own story of a struggling side.
Over in sunny Spain, Real Madrid are also enduring a relatively poor season, despite sitting 3rd in La Liga.
Madrid's current league predicament may have many other clubs salivating at the prospect of being amongst Spain's finest, but, understandably, los Blancos know they could and should be doing better.
However, the form in the matches of late are something their European opponents can only dream of. Eight wins in the last 10, in all competitions, and scoring 27 goals in the process is something Madridistas will pride themselves on, following their turbulent campaign.
In the last outing, Zinedine Zidane's men exacted revenge on Barcelona in a fiery El Clásico, where a suitably dramatic late goal from Cristiano Ronaldo saw all three points head back to the capital. Despite this impressive win, it looks to have been a case of too little, too late, as the Catalans remain seven points clear with eight games remaining, not to forget city rivals Atlético de Madrid sitting a point ahead in 2nd.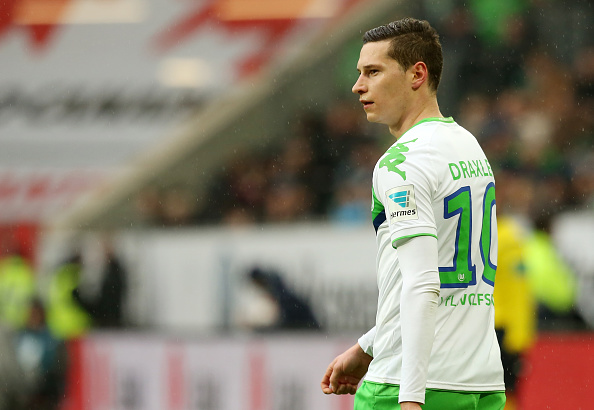 Wolfsburg facing a new challenge, Real well-versed against German sides
There's not much to say on Wolfsburg's record against Spanish teams. In 2009/10 Villarreal awaited them in the round of 32 after transferring from a 3rd place finish in Euope's superior competition. A 2-2 draw in Spain saw the Germans run rampant at home, winning 4-1, thanks to a resurgent second-half performance.
On the other hand, Real Madrid have plenty of recent experience with German clubs. Since being narrowly knocked-out by Borussia Dortmund in the semis of 2012/13, Los Galácticos have bested Schalke, as well as exacting revenge on die Schwarzgelbe and Bayern Munich - the latter tie saw Madrid win 5-0 on aggregate on route to La Décima (tenth European Cup).
Pre-match musings from both camps
Wolfsburg boss Dieter Hecking remained buoyant, despite his side being humbled at the BayArena: "We have a massive chance to show what we are capable of, on a stage that not many expected us to make it to. In football, you have a chance in every game.
"Real Madrid are naturally one of the title favourites, but that's no reason for us to be afraid. We want to seek out our chance." He added, "It is something quite extraordinary to be in the Champions League quarter-finals."
Ex-Leverkusen star Dani Carvajal voiced his thoughts on facing the opposition: "We're going there thinking that it's only a game. We're going to win, not thinking about the second-leg at our stadium [Bernabéu]." Carvajal continued, "We have to go out as strong as possible for the first half hour, try to get on top of the opposition and to get a goals. We know that scoring away from home is very important so we'll go for it."
The Spanish defender then spoke of his knowledge on German fans: "They'll fill the ground [Volkswagen Arena] early, I'm sure of that, they're going to be on top of the game." He added, "We have to raise above all this and try to put in a big performance and think that it's just eleven against eleven and try to win."