Borussia Dortmund await a tense away leg at Anfield after they were held to a 1-1 draw by Liverpool in the hotly-anticipated 'Klopp Derby'.
Divock Origi gifted the visitors with the lead, late in the first half, before Mats Hummels equalised minutes after the restart.
Entertaining half
Following a scintillating rendition of You'll Never Walk Alone from both sets of fans in the Westfalenstadion, the game got underway and neither team looked very comfortable in possession.
Play started to settle with Dortmund fashionably beginning to dominate the ball. Julian Weigl demonstrated his good vision with an aerial ball for the surging Marcel Schmelzer who then cut it back for a flurry of yellow shirts. Henrikh Mkhitaryan got on the end of it, but a magnificent goal-denying block from Mamadou Sakho kept the sides level.
Liverpool then opted to attack, themselves. Vice-captain James Milner's free-kick curled into the Dortmund box, but, despite being open, Dejan Lovren was unable to steer it into the net, with Roman Weidenfeller able to make a simple save.
Congested first-half ending
A goal looked inevitable in the game and that's exactly what happened late in the half: Milner's clever flick-on found Origi and the Belgian managed to hold off Lukasz Piszczek before slotting it past Weidenfeller, albeit with a slight deflection from the defender.
The home side aimed to level things above just before the break and that would've been the case had Lovren not got a crucial block in on Pierre-Emerick Aubameyang's shot, after being expertly threaded through by the Armenian maestro. The Reds countered in a style, all too familiar to the home crowd, and were denied a second as Weidenfeller did well to stop Origi bagging a brace.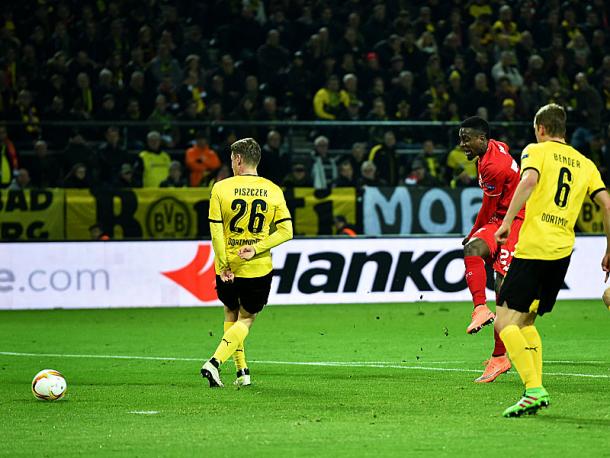 Dortmunder equaliser kills tempo
Liverpool's luck ran out early in the second half, and it was again at the hands of a set-piece. A shortly-worked corner allowed Mkhitaryan to deliver a cross into the box and Dortmund captain Hummels towered over the despairing Adam Lallana to head home the equaliser.
As the Gelbe Wand continued to cheer, Klopp's men immediately went looking about another away goal and they came very close to achieving so via intense pressuring high up the pitch. Weidenfeller stood firm in the face of chaos with Philippe Coutinho and Nathaniel Clyne saw their efforts rebounded, as die Schwarzgelbe failed to clear their lines.
The remaining 35 minutes or so, saw a relative stalemate between each side. The tempo of the game slowed down considerably. Most notably, Dortmund continued to dictate possession, but spurned a few free-kicks in interesting positions, but neither threatened the balance of the match.
Thomas Tuchel's men may rue their missed opportunities, especially given their home record this season. On the other hand, Liverpool also had good chances to win on the night, but will ultimately be happy with a result to take home, in what promises to be an intriguing second-leg in Merseyside.