Bayern Munich stretched their lead over Borussia Dortmund to eight points on Saturday afternoon, as they triumphed 3-1 at the Mercedes-Benz Arena.
VfB Stuttgart put up a fair fight but an own goal from Georg Niedermeier and David Alaba's strike gave Bayern a 2-0 lead.
Daniel Didavi made things interesting with an hour to go, though it would be Douglas Costa who rounded off the scoring.
Breakthrough for Bayern
There was a bright beginning to the game as the Bavarians were through on goal in the opening minutes, only for Mario Götze's pull back towards Franck Ribéry to be cut out at the crucial moment. Stuttgart soon responded with a set-piece, with Filip Kostic's delivery finding Didavi; the latter was denied by a superb Manuel Neuer save, however.
Arturo Vidal's hot-headedness was then the topic of conversation, as the Chilean was booked and substituted in quick succession; much to his dismay. However, that was quickly forgotten when Bayern took the lead. Ribéry went on a fantastic run before drivng to the by-line and fizzing a cross towards the near post, which Niedermeier prodded home into the wrong net. A tense ending to the half followed, but the visitors maintained their lead.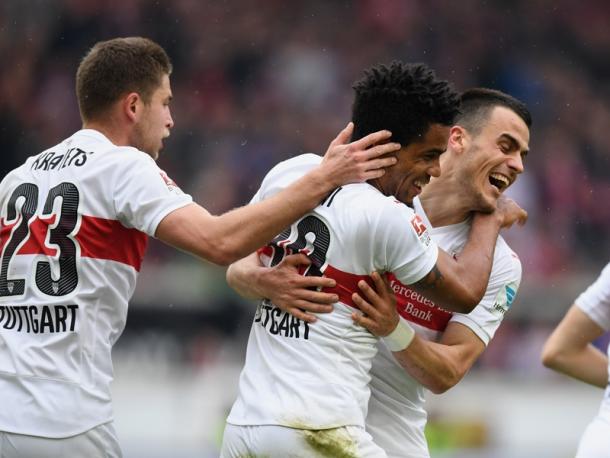 Didavi strike doesn't spark fightback
Things went from bad to worse seven minutes after the restart when Bayern doubled their advantage. A ball into the box wasn't cleared at all well by Stuttgart and Juan Bernat headed it back into the box. Alaba latched onto the well-timed header and flicked the ball inside, before rifling home at the near post to seemingly kill off the hosts.
That would change 10 minutes later thanks to one of the most unlikely goals in this Bundesliga season. Another ball in from Kostic was the cause of angst in the Bayern box, and with Didavi on the ground the last thing the champions would have expected was the Wolfsburg-bound midfielder to score. But a hopeful swing of the boot lifted it over Neuer, and Stuttgart had renewed hope.
This seemed to work against the Swabians, as Thiago struck two sweets shots in the aftermath. The first was well saved, but the second rattled the crossbar. It was appropriate, then, that Douglas Costa's goal came from a long-range bullet. That late stunner sealed the three points, and a much-needed win.