With the possibility to decide the winners and one of the two teams that will go down this weekend, the Frauen-Bundesliga is getting to the sharp end of the season.
Another six interesting games are on the card on Saturday and Sunday, and the televised match is a real treat on Sunday afternoon.
Last chance saloon for Köln against Essen
The first game of the matchday features one of the sides that can have their fate sealed, with 1. FC Köln taking on SGS Essen. If the Billy Goats are beaten by Essen and arch-rivals Bayer Leverkusen pick up a point away at VfL Wolfsburg, then they will be making an immediate return to the second tier.
It was defeat to their Rhine neighbours that has hammered home the predicament. A win in that game would have given renewed hope of beating the drop, but a 2-0 loss was a fifth in their last five; not the form required to stay in the top flight. The Cathedral city side as possess the worst attacking and defensive records in the league.
Things are slightly more positive for Essen, who sit in comfortably in mid-table. They are sixth heading into the final five games of the season, though they know some consistent form could have seen them battling Sand for fourth - four points from their last five in evidence of this.
Recent weeks have been tough on the Westfalen outfit, with Christine Hartmann failing to find the back of the net since December. Lea Schüller has since picked up the baton but a return to form for their top-scorer would be welcomed by all at the club, especially Hartmann herself.
Bremen battling for survival as high-flying Sand visit
Despite a shock win over SC Freiburg on matchday 16, things are just marginally more promising for Werder Bremen than Köln. The Northerners are four points and a place above their fellow strugglers, meaning there are just five games to bridge the eight-point gap to Leverkusen.
What was previously a five-point margin was extended when die Werkself secured derby day bragging rights, while Bremen were beaten by 1. FFC Frankfurt. The team lack an out-and-out goalscorer and the new signings haven't had time to make an impact, leaving them staring relegation in the face.
SC Sand are the envy and model for all the teams at the wrong end of the table. A sturdy defence, impeccable work-rate and goals coming from across the board have seen them shoot up the table and into fourth; for a time it did look like they could have pushed Frankfurt and Wolfsburg during their spells of inconsistency.
While their unbeaten run stretching back to early December may have been ended by the Wolves last time out, they will get a chance for revenge after a stunning semi-final win over Bayern Munich. Their unlikely rise has been led by Nina Burger's nine goals, as well as Jovana Damnjanović's five strikes this campaign.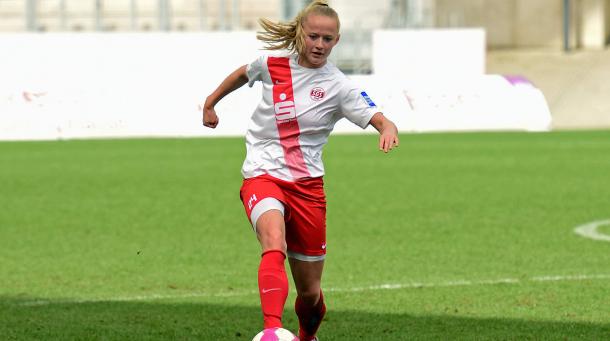 Freiburg keen to get back on track with Jena clash
A tough recent run has seen SC Freiburg's charge up the table halted somewhat, as well as their dreams of a cup win put to bed. That has seen a dip in form to just one win in five, with the rest coming as defeats, including the 2-1 DFB Pokal defeat at the hands of Wolfsburg.
Goals have been the real problem during this period, having found the net just twice during the slump. That compares poorly to the 20 they scored in the eight previous matches. Hasret Kayicki will be keen to end a four-game streak without a goal, while Lina Magull still hasn't found form after her shoulder injury.
USV Jena all but mathematically secured safety last weekend thanks to a 3-1 win over Hoffenheim. They are another side who has gone through the mixer in terms of results this season, though the goals of Amber Hearn and Lucie Vonková have given the fans hope heading into next season.
Their problems have lay in defence this season and just three clean sheets, as well as conceding four or more on six occasions, leaving them with a goals conceded tally that matches Werder Bremen's. This should provide a chance for Freiburg to find the back of the net again, in what could be an interesting encounter.
Postdam and Hoffenheim do battle
Like the other sides in mid-table, Turbine Potsdam and TSG 1899 Hoffenheim are absolutely no different. Potsdam's fall towards the bottom half of the table is probably as surprising as Sand's rise. Even though they've been well below par, Turbine still have the joint-best goal difference outside of the top three.
Undoubtedly the most positive part of the campaign has been Svenja Huth's goalscoring form, which has seen her almost double her career tally (24) with her haul this term (11). Her goals could still fire Potsdam further up the table, with a three game unbeaten run starting to show small signs of improvement.
Hoffenheim are another team who would feel to they have not done themselves justice in a topsy-turvy season of Frauen-Bundesliga action. These two teams are locked on 21 points, though the Sinsheim outfit have fallen by the way side since the Winter Break and have picked up just one win since.
Much like Potsdam and Huth, there is solace to take from individual performances. Martina Moser and Nicole Billa have chipped in with a combined 13 goals in the 2015-16 campaign, over half of the team's total. This game is more about pride for both teams than anything else, with a win giving momentum for the victor to push on to the top half.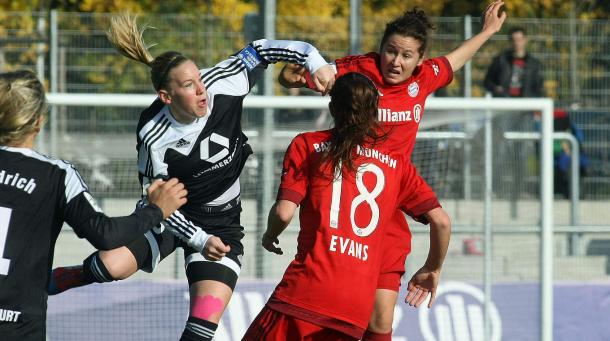 Bayern looking to seal title in Frankfurt tussle
Live on the DFB website from 13:00 BST on Sunday, Bayern Munich take on 1. FFC Frankfurt in a clash of the titans. While no-one has been able to get close to Bayern this season, there is no shortage of desire on both sides to earn a positive result to come from the game; there is little doubt that Frankfurt need a win most.
Starting with the hosts, this is the weekend that could see the Bavarians claim a much-anticipated second title. Currently 12 points clear of Wolfsburg with 15 to play for, the championship is within reach. A win against one of the biggest clubs in Europe would be a fitting way to claim it, although that depends on the Wolves' result.
Bayern will be keen to blitz the remainder of the Frauen-Bundesliga season and finish strongly after being dumped out of the DFB Pokal by Sand. They do still, of course, have an unbeaten record dating back to last season to maintain and will be desperate to make it through the 2015-16 campaign without tasting defeat.
Even though a remarkable record is on the line, this game still holds more importance for Frankfurt. Matt Ross' side have picked up after he took charge, though their defeat to Wolfsburg two matchdays ago could prove crucial in the race for second. While another Champions League win provides a viable route, they'll not want forced down that line.
With Kerstin Garefrekes, Dzsenifer Marozsán and Mandy Ilsacker finding form, this looks like one of the final chances anyone will have to end Bayern's record. Sand pose a threat, though Frankfurt's firepower could prove the difference. Whatever happens, this game should be a cracker.
Wolfsburg welcome revived Leverkusen
While the entire league campaign has been a rollercoaster ride, Wolfsburg fans especially will be forgiven for being emotionally drained. After a rather poor start the team managed to recover and is now on track to claim a top two spot. Their Champions League journey has continued to the semi-final stage, and another cup final awaits in Köln.
However, recent weeks have provided two huge blows to their season. First, the news broke that Caroline Graham Hansen's incredible season had been cut short and that Lena Goessling would join her on the treatment table. Not long after that, Nadine Kessler announced that she would be retiring from football due to her knee problem.
Despite all this, the Wolves have one of the deepest squads in Europe and are still fighting on all fronts. A win over Leverkusen could open up a four-point gap to Frankfurt, should they fall to defeat against Bayern. Ramona Bachmann also scored during the international break, which is also a big boost for her confidence.
As for Leverkusen, they are the team that can wrap up issues at the top and bottom of the table. If they beat Wolfsburg, Bayern Munich need just a point to clinch the title, while a draw would mean Bayern require all three points to claim another championship - but in much less dramatic circumstances than last year.
A point would also ensure that Köln are playing 2. Bundesliga football next year, whilst continuing their impressive recent run. Three wins in four games have shot them out of trouble and just a few points away from securing survival. Whether or not they can manage to pick up some points in Lower Saxony, however, remains to be seen.