In the first game of the week, league strugglers 1. FC Köln fell to their 14th defeat of the season at the hands of SGS Essen.
No respite for Köln
A Lena Schrum own goal opened the scoring in favour of the visitors 10 minutes before half time, Jana Feldkamp doubling their advantage just after the hour mark and Irini Ioannidou added a third just before full time. The result leaves Köln with almost no hope of avoiding the drop
Meanwhile, SC Freiburg's home game against USV Jena was called off due to a water-logged pitch and general soggy conditions.
Werder edge Sand
Werder Bremen faced SC Sand for just the second time in their history, last time out, Bundesliga new-comers Sand had eased to a comfortable 3-0 victory. Once again in this fixture the home side scooped all three points, Werder claiming a slim 1-0 win courtesy of a Cindy König goal early in the second half. The result gives Werder a healthy chance of staying in the German top-flight, having closed the gap to 10th placed Bayer Leverkusen to five points.
League leaders suffer first defeat
Historically 1. FFC Frankfurt have a huge advantage over Bayern Munich, having claimed victory at Munich's home ground twice as often as the Bavarians, however Munich have been imperious this season.
But once more it was Frankfurt who claimed all the points, a lone Saskia Bartusiak header enough to condemn Munich to their first loss of the season in hotly contested game. Unfortunately the bragging rights seem to have come at a cost to Frankfurt as Dzsenifer Marozsán was forced off with twenty minutes left, her season possibly having come to an early end.
With just four games of the season left the result keeps Frankfurt just one point behind VfL Wolfsburg who are nine points behind Munich, whilst it's unlikely that Munich won't win the Bundesliga, they haven't sealed it yet.
No Birthday win for Demann
In the 14 meeting in their history TSG 1899 Hoffenheim were looking for their first win over 1. FFC Turbine Potsdam. Unfortunately for the visitors history seemed to be repeating itself as Svenja Huth put the hosts in front with a quarter of an hour played. Hoffenheim did what they could to rally in the second half and had something to hang onto when Dóra Zeller equalised just before the hour. In a closely contested second half it was once again Potsdam who finished on top, Viktoria Schwalm with the winning goal in the last ten minutes.
Before kick-off, both teams were level on 21 points however the win has catapulted Potsdam above Freiburg and Jena (who had their match postponed) into sixth.
Top of the Popps
Although beaten in the Hallenpokal final last year, Wolfsburg haven't lost to Leverkusen in the league since 2010 and with Frankfurt hot on their heels, the Wolves were looking for maximum points again today.
While Caroline Graham Hansen's season is over, Wolfsburg were given a boost as Lena Goeßling seems to have overcome her recent knock and started today (though the midfielder was withdrawn late in the second half, but more out of not pushing her too much than anything else).
Unfortunately, Julia Šimić was subbed off after just 17 minutes after twisting her knee though. She'll join Hansen and Noelle Maritz in the Wolfsburg treatment room.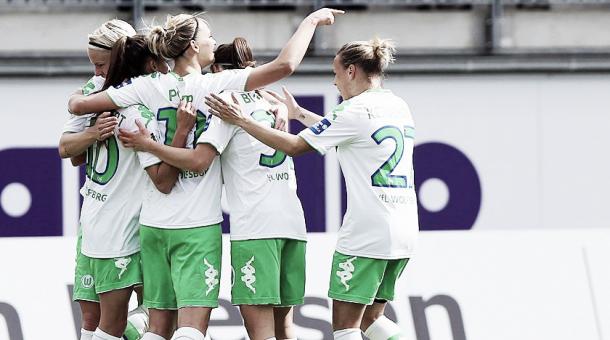 Wolfsburg dominated the game and an Alexandra Popp brace inside of five minutes before the end of the first half was enough for them to once again take all three points off of Leverkusen.