Bayern Munich have continued to build for the future, following on from the new deals for Melanie Behringer, Mana Iwabuchi and Tinja-Riikka Korpela.
The current league leaders have secured Vanessa Bürki, Lena Lotzen and Viktoria Schnaderbeck until summer 2018.
All about the future
Karin Danner, manager of the women's football department at Bayern Munich, was very pleased with the new deals: "They're important building blocks in the team and will play an important role in the future."
It's clear that, like their male counterparts, Bayern are looking long-term, they've reached the top of the pile - having won their first Bundesliga title last season - and they're determined to stay there.
With this season's title is all but confirmed, the Bavarians can look to a bright future ahead and the fans can look forward to seeing their at the Grünwalder Stadion for a while to come.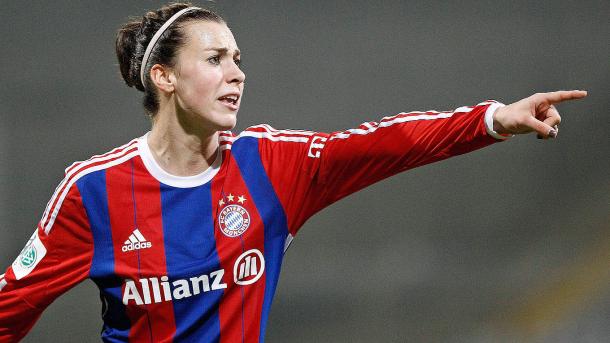 Key players in every sense
Swiss international, Bürki has been at the club since 2006, netting 53 times in 167 appearances. Restricted to a handful of appearances off of the bench this season, Bürki has had to play second fiddle to the likes of Behringer and Sara Däbritz.
However, having secured her services for another two years, it's clear that head coach, Thomas Wörle, rates her abilities on the pitch and will no doubt continue to utilise her later in games.
Having joined from home town club LUV Grazt in 2007, Schnaderbeck has installed herself as a regular in the Bavarian side, featuring in every game of the Bundesliga season for Munich this year. Her consistent performances for club have spilled over to her country form too and she's been entrusted with the captaincy for Austria.
At just 22, Lotzen has worked her way through the youth levels with Germany and graduated to the senior team in 2012. Even with her age and injury problems, Lotzen has a current total of 70 apps for Bayern Munich, having scored for the German champions 23 times.
The young attacker adds an extra dimension to every team she plays for and Wörle will be more than happy that she's committed her immediate future to Munich, having been with the club since she signed at 16, in 2010.
With the European Championships looming next year, Lena Lotzen could easily be the spark that the German national team have been missing since Célia Šašić retired.