Stefan Kießling has agreed a contract extension with Bayer Leverkusen which will see the German stay at the club until 2018 – with the option of a further year.
The two parties came to an agreement on Tuesday morning after speculation in the first-half of the season suggested that the 32-year-old would leave the club after minutes on the pitch were limited.
Kießling's contract was due to expire next season, but it's now likely that the former-German international will end his career in Leverkusen before being given a role at the club off the pitch.
"Stefan Kießling is an absolute role model that we wanted to keep strictly for us and our fans," said managing director Michael Schade. "We have agreed that he will take over a function in the team after his professional career."
The 32-year-old has scored just three Bundesliga goals this season, but remains an influential player at the club with his experience. Playing time in Leverkusen has been limited for the German following the arrival of Javier Hernandez from Manchester United.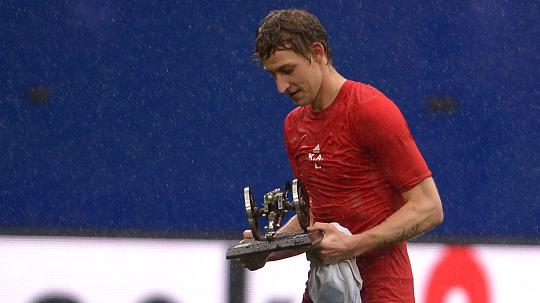 Kießling has scored 126 Bundesliga goals in his 10 year career at Leverkusen, whilst scoring 157 goals during 406 appearances in all competitions.
"I am very happy," Kießling told the club's official website. "It is clear that I will give everything for this club. Of course, it remains my goal to win a title."
Sporting director Rudi Völler says that the contract extension of Kießling sends "a clear message" to its Bundesliga counterparts. "Stefan has always delivered in his past few years with us.
"He is a very important player for us. His leadership and experience are not to be overestimated in a young team like ours."
Race for Champions League football
Bayer Leverkusen enjoyed an impressive start to their Bundesliga campaign, but following the winter break – they went on a four-game winless streak, which caused concern for the clubs hierarchy who want Champions League football.
Manager Roger Schmidt has since found form again which sees them sit third in the Bundesliga with just four games remaining. However it isn't concrete yet as Leverkusen face tough trips to both Schalke and Borussia Mönchengladbach.