It is a top game. Hertha BSC hosts Borussia Dortmund at the Olympiastadion in the German capital. It's the battle of the fourth against the second, both teams are likely to be featured in the Champions League in the upcoming season.
23 years later
Especially at the Olympiastadion, there is a great sense of euphoria and the expectations are very high. The game is described to be the "biggest game of the younger club history" on Hertha BSC's website. The club has produced several advertising posters, which are seen all around the city, pointing out the importance of the game and the determination of the team. The chance to play the final "at home" was not as big as this year for a long time. Berlin never won the DFB-Pokal, the last time they played a final was 1993 -- 23 years ago.
A very good season
This season is very special for the club and the fans. Two years ago, the first Bundesliga campaign after promotion, they finished 11th, last year they were only 15th after 34 match days, with the same amount of points as HSV (who finished 16th). This year is different. Half of the season played, Hertha found themselves in higher spheres. There were third, just six points away from Borussia Dortmund and with - at that time - eight points to the eighth place, which does not allow the qualification for a European competition. Now, they are still fourth and likely to at least qualify themselves for the Europa League. Participating in a Pokal final in their own stadium would be icing of the cake. A very importang icing, though.
The last hope?
For Borussia Dortmund, the Pokal is the last chance to finish the season with at least one title. After their dramatic exit of the Europa League in the quarter final against Liverpool FC and their former coach, Jürgen Klopp, the Pokal stays the only realistic option for Tuchel's men to win a title. Hertha BSC is not an easy opponent, but BVB are still the fancied team.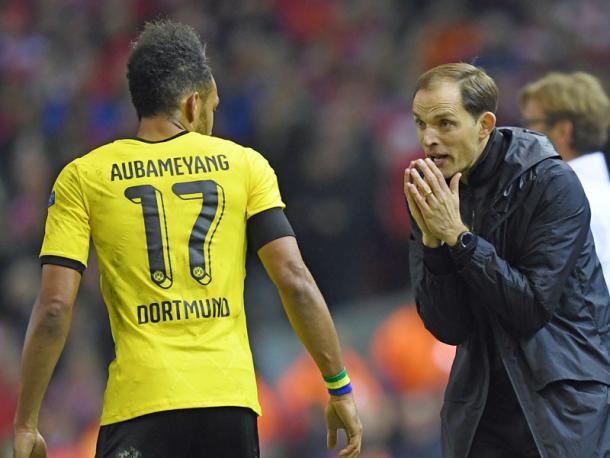 Missing PEA
One player cannot help the Schwarzgelben to ensure the third final participation in a row: Pierre-Emerick Aubameyang suffers from a bone splintering in one of his toes. It is by now not clear, whether he will only be missing this one game or maybe be out for a longer time.
The referee
Deniz Aytekin from Oberasbach will be the referee for this important game. His linesmen will be Benjamin Cortus (Röthenbach an der Pegnitz) and Christian Dietz (Kronach). Peter Sippel from München will be the match's fourth official.
Predicted line-ups
Jarstein - Pekarik, S. Langkamp, Brooks, Plattenhardt - Lustenberger, Skjelbred - Weiser, Darida, Kalou - Ibisevic
Bürki - Piszczek, Sokratis, Hummels, Schmelzer - Weigl - Gündogan, Castro - H. Mkhitaryan, Reus - Ramos