As of Wednesday morning, Manuel Neuer has put pen to paper on a new deal keeping one of the best in the world at the Bayern Munich until 2021. In doing so, he becomes seventh player to extend his contract with the Champions this season.
Deal brings delight
Bayern's shot-stopper commented positively on the extension: "I feel very comfortable at Bayern and I am happy happy we got everything sorted out," before looking eagerly ahead, "We are in the running for a few trophies [Meisterschale, DFB-Pokal, Champions League] and have a great chance to achieve a lot this year." Said the World Cup winner. "That is our goal in the short-term, but also in the coing years. I look forward to the near future at Bayern."
This is Neuer's fifth season with the Bavarians, since signing from rivals Schalke and, suffice to say, he has won over the fans who once protested the signing. Since crossing the divide, the 2015 Ballon d'Or finalist has bathed his new club in trophies and achievements alike - Winning three Bundesliga titles, two DFB-Pokals, one Champions League, in the record-breaking season of 2012/13, and, of course, the most prestigious trophy in the world, the World Cup.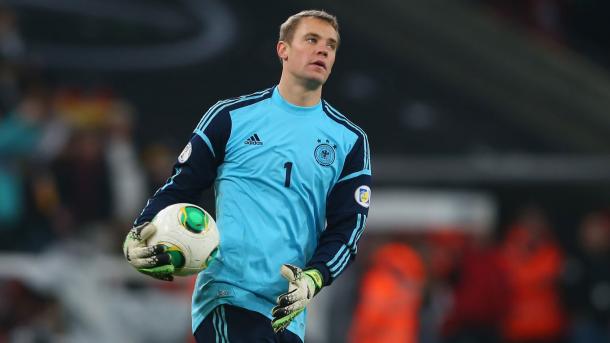 Bayern CEO Karl-Heinz Rummenigge heaped on the praise: "He [Neuer] is the best goalkeeper in the world and we are very pleased with his performances," and added in the club's statement, "Manuel is so dependable in goal and we are lucky that he has decided to stay at Bayern and sign a new deal."
Neuer joins 2021 crew
Since binding his stay until 2021, the enigmatic goalkeeper becomes the fifth player to do so, joining the ranks of Thomas Müller, Javi Martínez, David Alaba and Jérôme Boateng. Furthermore, he is the seventh Bayern player to extend his contract this season - The others being Spain internationals Xabi Alonso and Thiago Alcântara.
As per German tabloid newspaper 'BILD', who were one of the first to break the story, Neuer becomes one of the top earners for the German giants, indicating his new salary increases to the region of 15 million euros per annum.