Goals from Gonzalo Castro, Marco Reus and Henrikh Mkhitaryan booked Borussia Dortmund's place in the DFB-Pokal final, on Wednesday evening.
Hertha BSC put up a performance that was not to their usual standards, in what was a comfortable evening for the visitors.
After their upset in the Europa League, and the Bundesliga title looking more and more likely to be heading to Bayern once again, BVB entered this game with their last hopes of having a chance to win silverware this year.
As for Hertha, they had come to the end of a great run, placing them fourth in the league table, and were certainly looking to end the season with a trophy top top off the year.
Dortmund cruise to an early half lead
In the opening stages of the first-half, Dortmund enjoyed the majority of the ball and little pressure was put upon them by Hertha. With few chances to talk about in the opening 20 minutes, Dortmund suddenly took the lead.
Shinji Kagawa found himself with space in behind the Hertha backline, after attempting to play the ball into the box, it found it's way to Gonzalo Castro on the edge of the area. The midfielder made easy work of the finish placing the ball into the roof of the net.
A couple minutes later, Dortmund had a great chance to make it two. A signature Marcel Schmelzer low cross, found its way to Marco Reus, who may have been caught off-guard and fired the ball over the bar from the penalty spot.
Finally, after 44 minutes, Hertha had their first real chance of the half - and what an opportunity it was. Jens Hegeler received the ball free of pressure in the Dortmund area, however, his attempt didn't threaten Bürki whatsoever.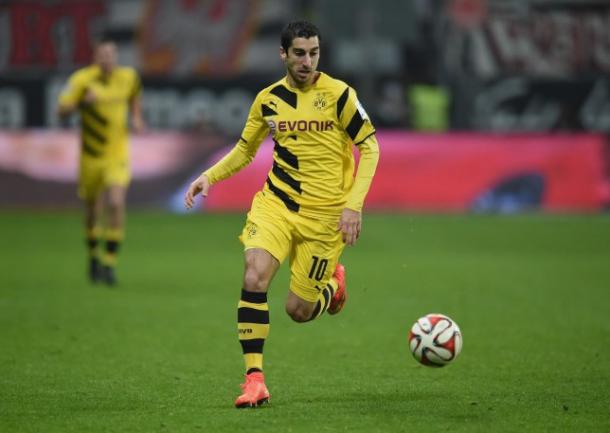 Dortmund secure their place in the DFB Pokal final
With Hertha's start to the half it appeared there might have a game on our hands, with the Berlin based club seeing a lot more of the ball. However, in the 56th minute Dortmund almost had a near perfect goal only for Rune Jarstein to deny it.
Up until the 74th minute, both teams were going back and forth, battling for control of the game. In the 74th minute, Marco Reus all but sealed BVB's place in the final. Once again Kagawa was involved in the play, a little cutback to the German international, Reus, who tucked the ball away.
It was three for Dortmund with their very next chance. Henrikh Mkhitaryan, this time was on the score sheet with a nice finish past the unfortunate Hertha goalkeeper.
Dortmund will face Pep Guardiola's Bayern, in the DFB Pokal final on the 21st May.