Once again SV Darmstadt 98 threw away more points from a winning position, as they fell to Eintracht Frankfurt on Saturday afternoon.
Mario Vrancic had the hosts ahead early on, before Sandro Wagner had a spot-kick saved by Lukas Hradecky.
That proved to be crucial as Frankfurt were revived after the break. Makoto Hasebe and Stefan Aigner turned the game in their favour to seal a huge three points.
Vrancic gave Darmstadt an early lead
Despite a rather mediocre, patient start to the game - the game suddenly burst into life with Darmstadt's opener. A kind break saw Marcel Heller burst down the right and drive towards the by-line before cutting the ball back into the centre. Mario Vrancic was on hand and the midfielder duly swept home to give his side a vital lead.
They were dealt a blow soon after, however, as Fabian Holland was brought on to replace the injured Slobodan Rajkovic. That was forgotten about almost immediately when Haris Seferovic fouled Konstantin Rausch in the area. Sandro Wagner, in spite of his remarkable form, had his poor penalty saved by Lukas Hradecky.
Frankfurt were slow to issue a response, and it wasn't until Seferovic had a close-range header brilliantly blocked by Christian Mathenia's foot that they looked like scoring. Aside from another Seferovic attempt in the moments that followed, the Frankfurt attack were far from firing on all cylinders.
Marco Fabian and Szabolcs Huszti were failing to create the necessary spark, and a series of handbags saw the latter yellow carded in frustration. The rest of the half passed by without incident, and Darmstadt were well on course to ensuring spot in the Bundesliga next year.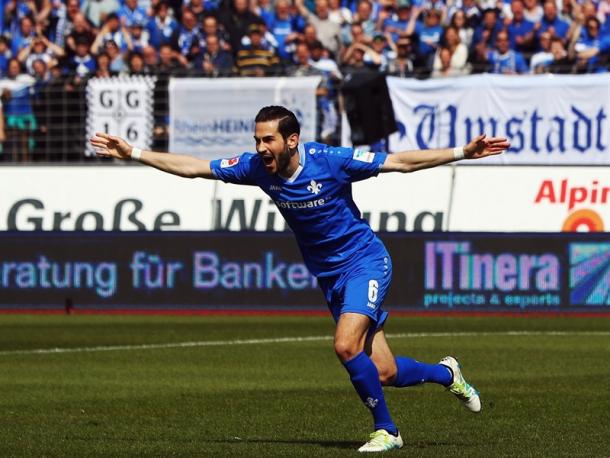 Eintracht turn things around to take the lead
Niko Kovac had seen little in the way of attacking intent during the opening period and knew change was needed to spur them on. Stefan Aigner replaced Mijat Gacinovic at the break and that seemed to alter their mindset, with Huszti sending a powerful 25-yard drive screaming past the post.
A looping header from Seferovic went narrowly over the bar before Anis Ben-hatira was called back for offside when he looked in line, with Aigner unhappy that has tap-in was ruled out as a result. The tide had turned and it was seemingly just a matter of time until Frankfurt got on level terms.
10 minutes into the second half, that was the case. A corner was poorly cleared by Vrancic and fell kindly to Makoto Hasebe who, 20 yards from goal, thundered a half-volley towards goal. It took a kind deflection off of Luca Caldirola, wrong-footed Mathenia and found the top right corner; parity restored.
Frankfurt had another goal disallowed, this time correctly, in what was a worrying time for Dirk Schuster's side. Darmstadt did manage to settle, however, and a solid 20 minutes followed where they were able to regain a foothold in the match.
It was all going smoothly and heading towards a draw, but Eintracht had other ideas. Huszti had been trouble for the hosts' all game, and finally his technical talents paid off. A wonderful free-kick to the back post was missed by all but Aigner, who slid in to home past Mathenia and give them an unlikely lead.
Darmstadt pushed for an equaliser but couldn't quite find a crucial reply, with Tobias Kempe seeing his shot dribble mere inches past the post. Instead of being eight points ahead of eight points clear of Frankfurt, the Lilies ended the day just two above the Eagles. With Werder Bremen still to face VfB Stuttgart, it is anyone's guess as to who will be joining Hannover 96 in the 2. Bundesliga.