After missing out on the chance to seal the title this weekend, all Bayern Munich's attentions have turned to their crunch clash with Atlético Madrid.
André Hahn's second-half equaliser meant they would have to wait at least another week to claim a 25th Bundesliga crown.
While they just need two points from their remaining two games to claim another league win, their situation is much more precarious.
Saul Niguez's stunning strike in the first leg at the Vincente Calderon has Diego Simeone and the Madrid club in the ascendency ahead of the return leg.
Another turnaround at home?
Bayern haven't made things easy on themselves in this year's Champions League campaign, having narrowly navigated the previous two rounds.
The Bavarians advanced 3-2 on aggregate against SL Benfica, but it took an inspired second-half showing to take down Juventus in extra-time.
No doubt that the baying home crowd played a role in that win, and CEO Karl-Heinz Rummenigge feels they will be needed again on Tuesday.
He told Sky Sport Deutschland: "With 70,000 fans in the stadium, we'll give everything and put on a great battle, and I hope this battle will lead us to the final in Milan."
Rummenigge believes "from experience" that Bayern will "deliver more" having been a "little dissatisfied" with their recent performances.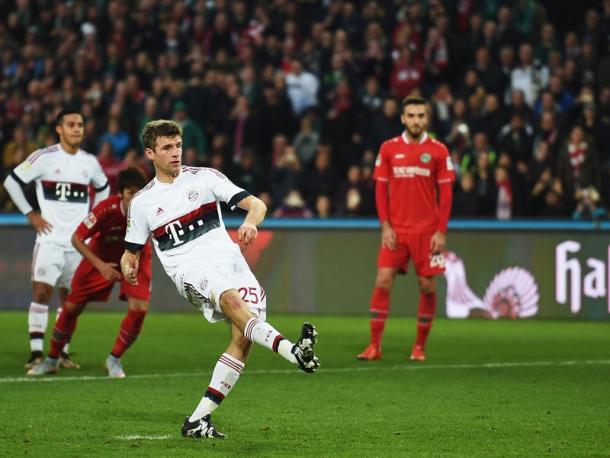 Müller hoping to cook up a storm
Thomas Müller grabbed Bayern's goal on Saturday against Borussia Mönchengladbach, and looks set to start after being confined to a cameo role in Madrid.
"We must recognise that in recent games we've lost the secret ingredient to our game," the forward commented.
Müller being Müller, he then went on to turn it into a metaphor: "We have to investigate what's missing and add it to the recipe on Tuesday."
The enigmatic forward feels "things aren't coming off for [Bayern] as easily as they did before".
That maybe the case, but it is imperative that the Bundesliga champions-elect get the job done by whatever means necessary under the floolights on Tuesday.
Quotes via Football Espana