That's all from us this evening as the Atléti celebrations will go on long into the night. Bayern are heart-broken. We'll have a report, reaction and more to come - stay tuned, good night and good evening!
FULL-TIME! BAYERN MUNICH 2-1 ATLÉTICO MADRID (2-2 ON AGGREGATE) - ATLÉTICO ADVANCE ON AWAY GOALS.
90+3' Coman wastes a huge chance to shoot at the back post but Simeone forcefully pushes the man beside the fourth official - that could mean trouble for him. Koke off for Savic.
90+2' More corners for Bayern, will one finally pay off?
90' We are back underway and we will have FIVE minutes of added time.
89' Oblak has decided to lie down in the middle of the six-yard area.
88' Almost the third! An Alonso corner picks out Alaba on the edge of the area, and his deflected volley brings a brilliant save from Oblak!
87' Lewandowski's shot is just past the post but Oblak holds on anway. This is intense!
SAVED AND JUSTICE! That's nothing more than Bayern deserve and that swings the emotions and momentum once more! Torres denied by Neuer in similar circumstances to Oblak and Müller!
PENALTY TO ATLÉTICO - And it shouldn't have been! Shocking decision from Cakir, who may have just put Atléti through to the final. Torres was clearly outside the area when fouled.
83' Coman comes inside and shoots, as Bayern continue to come forward. It's backs to the wall stuff from Atlético.
82' It's constant ifs, buts and maybes from the Bayern attackers as they push foward in search of an elusive goal. Griezmann off for Partey.
77' The verve has returned! Lewandowski sends a flicked shot just wide and Bayern are back with the crowd with them. This has the potential to be a grandstand finish.
GOAL FOR BAYERN! Lewandowski heads home his 39th goal of the season after Alaba's cross is headed back across goal by Vidal, and the Pole has no problem in finishing off. Level on aggregate, Bayern ahead on the night, but Atléti lead on away goals.
73' Bayern change - Costa off for Coman. Can he spark the change needed?
70' Lewandowski has a volley saved and Oblak dives on the rebound just before the Pole can tap in at the near post.
68' Alonso has a hopeful hit from outside the area well saved by Oblak - it's looking like a dull ending to a huge game.
64' More pressure from Bayern, but Martinez's header is comfortably over the bar. Müller beginning to spark up again.
60' Chance! Juanfran rifles one across goal, but that was promising play by the visitors. It all looks like the first leg again, but Bayern are more than capable of turning this around.
58' That goal has definitely quietened the crowd at the Allianz Arena. Bayern need a moment of magic to get them raised again - they need two goals to progress now.
GOAL FOR ATLÉTI! They have the advantage now and Bayern have been stunned on the break! They didn't look like troubling the hosts at all, as Torres feeds through Griezmann and he fires confidently past Manuel Neuer. 1-1 on the night, 2-1 to Atléti on aggregate and that's a massive away goal.
51' Stumbles from Müller and Lewandowski see a promising break down the right come to nothing for Bayern - Atléti still look rattled.
50' More pressure from the hosts as the game ebbs and flows. Vidal has a shot blocked and Carrasco clears for a corner, with Martinez firing a header over the bar.
48' First set-piece chance for Atléti to test Neuer from out wide, though the Bayern 'keeper claims well - ordinary start to the game.
Second-half! One change at the break, as Carrasco comes on for Augusto - that'll see Koke or Saul move inside.
HT - The minute of added time flies by without incident and we reach the break with Bayern ahead. They deserve to be ahead and it could have been more had Müller's penalty not been stopped by Oblak. Atléti haven't got going - here's hoping for a similarly exciting second-half!
43' Bayern resembling a Klopp team in the way they've hunted down the ball after losing it tonight - it has been a joy to watch. Not long until the break now.
38' The two managers seemingly exchange words from technical areas, that's the first time we've seen Simeone rattled over the two legs. Ribery also gets involved, but it all calms down.
35' Let's recap - Bayern went ahead through an Alonso free-kick before Gimenez hauled Martinez down from a corner. Müller stepped up and was brilliantly halted by Obalk - what a breathless few minutes!
IT'S SAVED! Oblak the hero as he denies Müller from the spot with a superb save - that could very well be crucial!
PENALTY FOR BAYERN! Atlético have imploded!
GOAL FOR BAYERN! After the wall finally gets sorted out, a deflection on Xabi Alonso's free-kick leaves Oblak with absolutely no chance. It's 1-0 Bayern and 1-1 on aggregate - game on!
29' A poor tackle from Augusto gives Bayern a free-kick in a really, really dangerous area. 20 yards from goal, who'll take it?
27' Guardiola's men unhappy as two decisions go against them and then Atléti take their time over a corner. It proves to be a blessing as it's a huge waste - the break ends with Lahm smashing over the bar.
24' Pressure! Bayern have a Lewandowski drive blocked out for a corner, which is cleared only as far as Ribery. He drives it back in but Oblak can't hold on, with Lewandowski sending the rebound into the stands. This is good from the hosts.
20' SAVE! That's the first time Bayern have brought a meaningful save from Oblak, as a Boateng pass splits the Atléti defence to find Müller. He squares for Lewandowski, but is denied on the angle.
18' Oblak produces a remarkably relaxed save from a hard-hit Vidal drive from 25 yards - that was top corner bound, but the Slovenian stopper saunters across to catch it.
16' Müller's miss-kick volley almost falls kindly for Lewandowski, but the ball falls just behind the striker. Bayern beginning to threat from wide areas.
14' First action of the evening for Manuel Neuer, as he comfortably holds on to a Gabi drive from outside the area.
12' Chance! A wonderful, bending cross from Costa picks out Lewandowski but the Pole glances past the post under pressure from Juanfran. Bayern will be hoping for more of that combination.
10' Perhaps it's a case surprise on Bayern's part, as it's been quite open so far. The first corner of the game provides little for the home support to get excited about, and is easily cleared.
8' For all the energy in the early stages, it's been a game lacking in any real quality as a series of poor touches continue to cut out any chances for either side.
5' Loud cries of 'Bayern, Bayern' ring from end to end as the crowd aim to spur their side on to victory. It's been a game that has yet to see any shot on goal so far.
2' Plenty of early pressing and pressure for Bayern, with Costa having an early shot blocked. This looks a lot better than the first leg already.
Kick-off! It's loud, and it'll only get even louder as the night goes on. We're underway!
19:43. The players are on on the pitch now as Cakir leads them out. it's buzzing this evening - here's hoping for a game to match!
19:40. Superb choreo from the Bayern fans - it's an incredible atmosphere at the Allianz this evening - the teams are about to come out.
19:30. Just 15 minutes to go and we're seeing the teams go through their final preparations. We'll re-join you as the teams come into the tunnel!
19:25. Müller has 15 goals in his last 17 Champions League games - while Lewandowski is on a three game drought, his longest since joining Bayern - can the two combine tonight to see Bayern through?
19:20. A win for Bayern tonight would equal Manchester United's record of 12 home wins in a row, and secure their place in an 11th European final - the first under Guardiola.
19:15. The Bavarians also have a superb record at home in the Champions League - their record boasts 11 wins in 11 games and a goal difference of 41-6.
19:10. The hosts do, however, have two of the most in-form forwards in world football. Müller and Lewandowski have scored 47 of Bayern's 75 Bundesliga goals this season; an incredible number.
19:05. Bayern are up against it this evening, with 20 of 29 teams of the teams who won 1-0 at home in the first leg having progressed to the next round.
19:00. Aside from Robben's injury, it would be fair to say both teams are at full strength. This has the feeling of a game that could be remembered for quite a while, fingers crossed that it is.
18:55. No real surprises in the Bayern line-up as Thomas Müller does indeed replace Thiago from the first-leg side. Juan Bernat drops out to allow Jerome Boateng to take his place in defence.
18:50. The big news, then, comes from the visiting camp. Diego Godin - having played no part in recent games - comes straight into the starting line-up in place of Stefan Savic.
18:45. And Atlético Madrid's starting line-up: (4-4-2) Oblak; Juanfran, Godin, Gimenez, Filipe Luis; Saul, Gabi, Augusto, Koke; Griezmann, Torres.
18:40. Team news time! First up, Bayern Munich: (4-1-4-1) Neuer; Lahm, Martinez, Boateng, Alaba; Alonso; Douglas Costa, Vidal, Müller, Ribery; Lewandowski.
If you're looking for a more in-depth look into the game, check out Rosie Tudball's excellent preview. For all the pre-match musings from Karl-Heinz Rummenigge and Thomas Müller, then look no further than our pre-match comments piece; it does include a cooking reference from Mr. Müller.
And Bayern Munich, who should field a similar side to the one in Madrid: Neuer; Lahm, Martinez, Boateng, Alaba; Vidal; Douglas Costa, Müller, Thiago, Ribéry; Lewandowski.
With that in mind, here's how the two team could line-up - starting with Atlético: Oblak; Juanfran, Gimenez, Savic, Filipe Luis; Saul, Gabi, Augusto, Koke; Torres, Griezmann.
At the weekend, for the fourth time in a row, Atlético won 1-0. This time it was Antoine Griezmann who nabbed the winner to keep the heat on league leaders, FC Barcelona. Diego Simeone was able to field a largely rotated side in the game, with just four players retaining starting berths from the Bayern win on Wednesday. They are level on points with the Catalan giants, and would love to pip them to the title having already dumped them out of the Champions League.
It was a disappointing day at the office for Bayern, as they failed to wrap up their 25th Bundesliga crown on Saturday. André Hahn's second-half strike pegged back the reigning champions and meant they would have to wait at least another week before picking up the Meisterschale once again. Multiple changes were made by Pep Guardiola, with just Neuer, Juan Bernat and Kinglsey Coman surviving the rotation.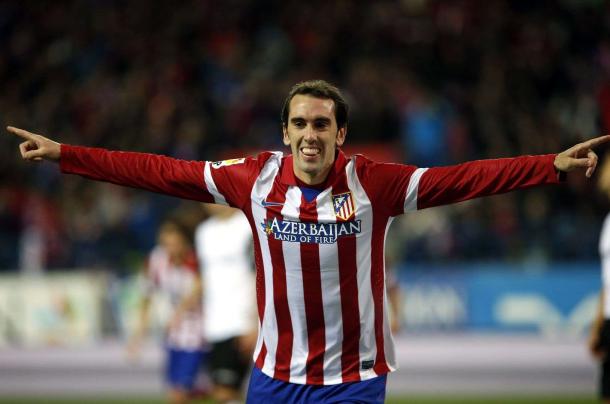 Atléti also have little to worry about, even if Diego Godin may miss this game. He wasn't part of the squad against Rayo Vallecano and neither was Tiago Mendes. However, given the superb showings from Stefan Savic and Augusto Fernandez, they have little to be worried about. Yannick Ferreira Carrasco is fit again, but may not start.
The injury problems for Bayern are minimal and after Jerome Boateng started against Borussia Mönchengladbach, they should have a full-strength squad to pick from. Only Holger Badstuber and Arjen Robben remain out, yet those two are more long-term injuries and the Bavarians would have already been planning without them.
The tie is evenly positioned at 1-0, in favour of the Spaniards, after Saul Niguez produced - arguably - the moment of the current Champions League campaign. After picking the ball up in the heart of midfield, he proceeded to weaved in-and-around the Bayern back-line before curling past Manuel Neuer. Both sides came close to scoring after that and struck the woodwork, although Jan Oblak's clean-sheet remained in tact to send Atléti to Munich with a slender advantage.
Good evening and welcome to VAVEL UK's live coverage of Atlético Madrid's mammoth clash against Bayern Munich in the second leg of their UEFA Champions League semi-final. The two teams tussled in Madrid last week, and will do battle once more to see who will be heading to Milan later on in May.