As a superb season comes to an end for FC St. Pauli, the club delivered more good news to their fans on Monday morning.
The Kiezkicker announced that Ewald Lienen had extended his contract by a further year, until 2018. Thomas Meggle has also done the same.
Lienen has been the enigmatic driving force behind their success this season, and has been given the chance to carry that forward into the coming campaigns.
Massive improvement
The 62-year-old took the reins in Decemeber 2014, with St. Pauli bottom of the league and staring the 3. Liga in the face.
However, a dramatic run from April saw them win five of their remaining eight games - including against RB Leipzig and 1. FC Kaiserslautern - to finish 15th.
Since then, Lienen's discipline and stability has brought the team on leaps and bounds to realistic promotion chasers.
While themselves and VfL Bochum may have fallen short in the final months of the season, both sides seem strong candidates to be gunning for a Bundesliga return next year.
Aside from his three-game spell in charge of Olympiakos, only with 1. FC Köln (1.49) did Lienen average a better point-per-game tally than his current time with St. Pauli (1.48).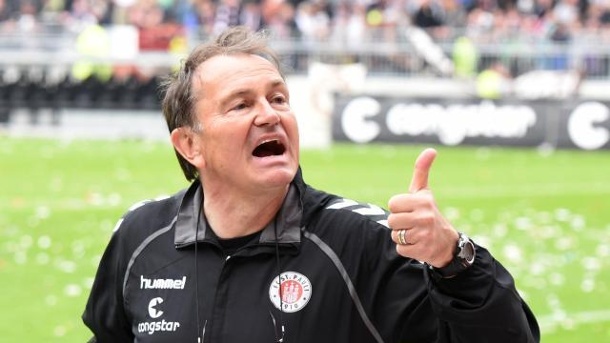 Lienen, Meggle and Göttlich give their thoughts
As the news was announced the three key men at the club had their say on the manager's extension.
Lienen, speaking to the club website, said: "I have never hidden the fact that I feel very comfortable and very happy here, working together with the board."
He continued, "As well as the staff at the office and those who come to the Kollaustraße. I look forward to being able to continue on this path together."
Thomas Meggle, sporting director, added, "The collaboration with Ewald in the last 18 months was absolutely superb, it has gone very well."
Lastly, Oke Göttlich - Club President - said: "We want to build on what Ewald Lienen and Thomas Meggle have built at the Kollaustraße, and develop an ambitious team."