Despite the dire situation VfB Stuttgart find themselves in, there has been a massive statement made by two key players.
Christian Gentner, the club captain, and Daniel Ginczek have both prematurely extended their contracts with the Swabian outfit.
Gentner will now remain with Stuttgart until 2019, with Ginczek committed until 2020.
Captain fantastic
Perhaps the biggest vote of confidence was that the skipper will remain. He was given the role after Serdar Tasci departed for CSKA Moscow.
Gentner joined Stuttgart's academy in 1999 as a 14-year-old and quickly rose up the ranks and made his debut six years later.
He spent another two years in the side - where he won the Bundesliga - before being picked up by VfL Wolfsburg; another league title would follow.
Gentner signed a three-year deal with the Wolves and when that was up, he headed back to the club where he started off.
Having made 275 appearances across his two spells at the Mercedes-Benz Arena, it only looked like a matter of time before he breaks the 300 mark.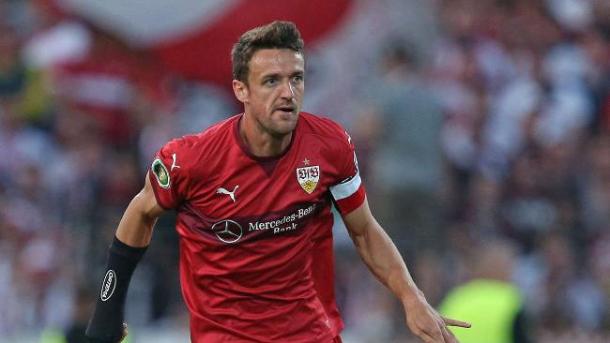 Ginczek absence a massive blow
The loss of Ginczek after the striker hit such good form earlier in the year has, without doubt, played a part in Stuttgart's poor season.
Four goals and three assists in the first eight games at the beginning of this campaign saw him finally show why he was so highly-rated during his youth.
Still, at just 25, Ginczek still has plenty of time to develop and go on to great things - though injuries have hampered progress recently.
There is some good news for Stuttgart, however. The forward scored 18 goals and added three assists in his one 2. Bundesliga season on loan at FC St. Pauli.
Therefore - if they do drop down to the second tier for the first time in 40 years - they will already have an immediate advantage with these two in the team.