That's all from us this evening, four long hours after we started. We hope you've enjoyed a real marathon, Ameé Ruszkai has your report here. Congratulations to Bayern, hard luck to Dortmund. Good night and goodbye!
COSTA... SCORES! BAYERN ARE CHAMPIONS AGAIN, 4-3 ON PENALTIES!
REUS... SCORES! Reus sends Neuer the wrong way. 3-3, it's Costa to take.
Mueller... SCORES! Top corner, that's how you take them. Didn't even look at the ball. Reus must score. 3-2.
AUBAMEYANG... SCORES! Comfortable and well struck penalty high into the net. 2-2.
KIMMICH... SAVED! Buerki has given Dortmund hope, how far off his line was he though? Still 2-1.
SOKRATIS... MISSES! It's bleak for BVB now, as Sokratis rattles the outside of the post.
Lewandowski... SCORES! He sends the 'keeper the wrong way. Bayern consolidate their advantage - 2-1.
BENDER... SAVED! Neuer gets down easily to Bender's penalty, a tired one at that.
Vidal... SCORES! Just, Buerki almost got a hand to that.
Kagawa... SCORES! Straight down the middle, 1-0 BVB.
Penalties: Reus and Lahm toss, it'll be at the BVB end. Dortmund will also take first.
Penalties: That's that for normal time. Three and a half hours after we started, we're still here. Dortmund won the last shoot out between the two - who'll triumph this time round?
FULL-TIME - Bayern Munich 0-0 Borussia Dortmund (AET)
118' Some promise from Durm and Kagawa down the left but it's cut out by Lahm. At the other end, Sokratis does well to shut out Coman.
114' Ribery is now back on the Bayern bench, in case you were worried.
113' Bayern pile on the pressure and it takes a good save from Bürki to tip over a deflected cross. The BVB stopper does well moments later to halt Alaba's strong effort.
112' Bender is back on his feet and the physios might still be treating Ribery behind the advertising boards.
109' Coman on for Ribery, as the latter hobbles over the advertising boards to safety. Sven Bender now down.
106' Final change for BVB, as Kagawa replaces Castro and we're back playing again.
105' We're at half-time in extra time. Will we get a winner before we head to penalties?
104' That's the closest we've come in extra time! Mkhitaryan collects a raking pass from midfield and flashes past the post on the angle, with Aubameyang almost meeting it at the back post.
99' Sokratis into the book for a rather tame tackle on Lewandowski, more likely to be for accumulation than anything else.
97' Durm is somehow up again after having his ankle accidentally stood on by Douglas Costa. The slow-mo replays make for painful viewing, but he's back up again.
94' Superb block! Bayern do brilliantly to work the ball into Lewandowski and Durm comes out of nowhere to slide in to intervene just in time.
90' We're back underway, again, in Berlin. Will we get a goal in extra-time?
FT: We're heading for extra-time and it's no great surprise given how tough it's been to create a clear-cut chance. Shades of 2014 again, hopefully there is some entertainment in the next 30 minutes.
90+1' Three minutes added on, then we're into extra-time.
89' Sokratis takes the ball from Ribery but a foul is given, so he protests by talking to Marco Fritz's stomach. It's been that sort of game.
85' THAT WAS THE CHANCE! Aubameyang is put through on goal by a raking BVB counter but can't get over the ball to send his half volley on target. Massive let off for Bayern.
81' 10 to go and despite the best efforts of both sides, we're still goalless. Bayern have been by far the better side but it has been a struggle.
78' Second Dortmund change - Hummels is done as a BVB player and captain as Ginter comes on. Reus now the captain.
74' To cap things off, Hummels goes into the book. 15 or so to go, still no closer to a breakthrough.
73' And now Mats Hummels is down. Thankfully, he bounces back up quickly. Dortmund starting to look leggy.
70' It isn't Erik Durm will replace Schmelzer as he hobbles off, a sad way to end an immaculate season.
68' Schmelzer down injured for Dortmund and it doesn't look good..
65' Chance for Bayern! Müller is held up by both Sokratis and Hummes before he lays off to Lewandowski, who blasts well over the bar.
63' A brief spell of nothingness is broken up by Reus trying to find Aubameyang with a header, although it falls kindly for Boateng to clear. Still no goals in Berlin.
57' Reus finally shows what he can do! The wide man skips down the pitch before coming inside and playing through Aubameyang, only to see the Gabonese forward fire over.
56' Bayern really beginning to push now and Dortmund are finding it hard to cope. Ribéry the latest to go close from a goal-mouth scramble.
52' INCHES AWAY! Bender makes an absolute mess of trying to deal with a long ball and smashes it straight into the air. Ribery collects the loose ball and crosses towards Lewandowski, but he can't quite finish.
49' It's really rather hard to see the players on the pitch, as the smoke still clears. Mkhitaryan asks Fritz to produce another yellow card as he is fouled but nothing comes from it.
47' Vidal goes into the book for a hefty challenge on Castro, who has been in the wars today.
Second half! Only a momentary stoppage, we're back underway!
HT: We're back and kick-off will be delayed ever so slightly because the Dortmund support have let off a rather sizeable smokebomb.
HT: A fairly even half after all the hype and fuss before hand. Both 'keepers have made saves and both teams have come close, but nothing major just yet. We'll join you again in time for the second half!
45+1' HALF-TIME: BAYERN MUNICH 0-0 BORUSSIA DORTMUND
45' One minute added on at the end of the first-half.
44' Chance for Sven Bender! A training ground free-kick is headed back into the area and Bender finds himself on the end of it, but he doesn't connect properly and it's a simple catch for Neuer.
42' Replay shows Ribery actually stuck his finger in Castro's eye. The Frenchman is lucky there wasn't more made of that. Kimmich also booked for a rash tackle on Reus.
38' Handbags develop on the touch-line after Ribery goes steaming in to Julian Weigl, a rather stupid thing for the Bayern midfielder to do. Castro also booked for his part in it.
35' What a save! Manuel Neuer does superbly well to keep out Mkhitaryan's shot after Reus' initial drive had been deflected. The offside flag was raised, but Neuer did his job.
34' Chances at both ends! Bürki denies a Douglas Costa curler in a less than convincing manner but not before Aubameyang shoots wide at the other end.
32' Schmelzer's ball can't clear the first man. It's been that sort of game so far, not much to write home about.
31' Castro fouled by Vidal just outside the box. Perhaps something for Schmelzer or Mkhitaryan to work with here..
27' Aubameyang sees more of the ball and more space to run in to but Kimmich and Boateng double up well to kill the danger. The former is already showing what a quality footballer he is.
25' Marco Reus seems a tad disinterested tonight. He hasn't been great on the ball and fails to see Mkhitaryan taking a free-kick quickly and the chance is gone.
22' Chance for Müller! He rises highest to meet a corner from the left but can't keep his header down, and it flies wildly over.
18' May have been too positive too soon with this one. It's all gone very 2014 all of a sudden, with Bayern's midfield a hive of pressing activity. Dortmund beginning to see more of the ball in more promising areas.
14' After a lively start the game has slowed somewhat, though that has 18'allowed Dortmund to gain a foothold. Plenty of passes attempted to wide areas, the majority haven't been on the mark.
11' That's the first time we've really seen Aubameyang making strides down the pitch and he wriggles into space on the wing before crossing towards Reus. His ball was too long for his team-mate, however.
8' Marco Fritz curtails a promising Bayern attack for a handball call on Ribéry, the right decision but Lewandowski was making strides into the BVB box.
6' Aside from that shot, not much has happened so far but it already has the feeling that this will be an open encounter. Both teams keen to come forward, which is a nice change from the final two years ago.
4' Thomas Müller fires in the first shot of the game and, from very little, has Bürki reaching to ensure it arrows over the bar. An early warning for Tuchel's team.
3' Dortmund aren't going to hold back today, a misplaced pass in midfield and they were already trying to feed Aubameyang. At the other end, an organised BVB back-line catches Lewandowski offside at the half-way line.
2' Guardiola is already out on the edge of the toucline, gesturing and pointing at his players. Bayern have had all the ball so far as BVB eventually win it back from a hopeful long ball towards Lewandowski.
1' Kick-off! We're underway in the 2016 DFB-Pokal final. Here's hoping for a good game!
18:55. Another woman leads the players and referees out onto the pitch with the Pokal in hand. Dortmund's end full of yellow, Bayern unveil a 'With pride for your town and team' choreo. Lovely stuff.
18:50. The pre-match show has begun with some ladies in some questionable dresses doing twirls in the centre of the pitch as BVB fans continue to wave their flags.
18:45. Just 15 minutes to go now, and we're almost ready to see the teams out onto the pitch. We'll have a report with you after the final whistle, as Ameé Ruszkai takes care of that with her usual competence.
18:40. The flags are out in force in the BVB end, as the players go through their final bits and pieces before heading back for one final motivational moment with their managers. Dortmund will be hoping that they can halt their losing final record at two, and not extend it to three.
18:35. The Olympiastadion is almost fit to bursting now as we inch ever closer to kick-off. Be sure to tweet @VAVEL with your predictions for this evening's game.
18:30. Dortmund are well-known for their fanbase, but along with the 80,000 in Berlin - most without a ticket - there are also 14,000 in the summer gardens next to the concert hall.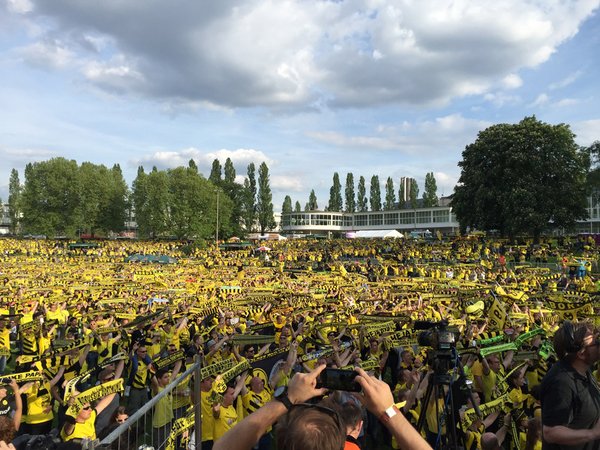 18:25. It's the two best Bundesliga teams, defences and attacks going head-to-head this evening. Dortmund outscored Bayern 82-80, while FCB conceded half the amount of goals BVB did - 17 to 34. The most important stat, however, was that the Bavarians finished 10 points clear at the top of the table.
18:20. Interestingly, some people have Dortmund down to play a three or five at the back. It's more likely to be five, but does Tuchel want to forsake his three central midfielders for extra defensive or attacking emphasis?
18:15. So, with 45 minutes to go we have our line-ups and now the attention turns on the game itself. It's Guardiola's last game at Bayern and Hummels' final time as BVB captain before he makes the switch south. Who will be victorious? Can Hummels give the Dortmund faithful a trophy as he departs?
18:10. There are less surprises to the BVB line-up, but Tuchel has gone defensive and opted for Sven Bender in place of Shinji Kagawa. He, seemingly, wants to set his stall out in midfield.
18:05. So what can we take from the teams? For Bayern, Javi Martinez was a doubt but hasn't done enough to work his way into the starting line-up and Jo Kimmich slots in there. No Mehdi Benatia, though, could be a sign he's off in the summer. Thiago takes Xabi Alonso's usual place at the base of midfield in big games, most likely to keep tabs on the likes of Mkhitaryan.
And now Borussia Dortmund: (4-3-3) Bürki; Piszczek, Sokratis, Hummels, Schmelzer; Bender, Weigl, Castro, Mkhitaryan, Aubameyang, Reus.
Team news time! We'll start with Bayern Munich: (4-1-4-1) Neuer; Lahm, Kimmich, Boateng, Alaba; Thiago; Douglas Costa, Müller, Vidal, Ribery; Lewandowski.
For all this and more, be sure to check out Rosie Tudball's in-depth preview on today's game, as well as a look at their runs to the final.
The referee on Saturday will be Marco Fritz from Korb. He took charge of both Bayern and Dortmund as recently as late April, where both teams won to-nil.
Borussia Dortmund predicted line-up: Bürki; Piszczek, Sokratis, Hummels, Schmelzer; Weigl, Castro; Mkhitaryan, Kagawa, Reus; Aubameyang.
Bayern Munich predicted line-up: Neuer; Lahm, Javi Martinez, Boateng, Alaba; Xabi Alonso; Douglas Costa, Müller, Vidal, Ribery; Lewandowski.
Mario Götze will not be fit to face his former club on Saturday evening, as the attacking midfielder was ruled out with a fractured rib. Javi Martinez and Xabi Alonso were doubtful coming into the game but - with both completing the final training session - the pair should be fit enough to start. If they aren't fit to play, Bayern have plenty of replacements that will not hinder their chances whatsoever.
As far as team news goes, Borussia Dortmund will be without three players for the game. Ilkay Gündogan had successful surgery on his dislocated kneecap in recent days, and is expected to be out for around five months. The other absentees are more long-term, with Neven Subotic (thrombosis), Jo-Hoo Park (overexertion) missing.
These two teams are well-acquainted when it comes to the showpiece game in Berlin, having met as recently as the 2013-14 game. Mats Hummels, who is playing his last game for Dortmund before joining Bayern, scored a goal that never stood in normal time. The men from Munich went on to win 2-0, with goals in extra-time killing off the Westfalen outfit. Bayern and Dortmund have been involved in six of the last eight finals.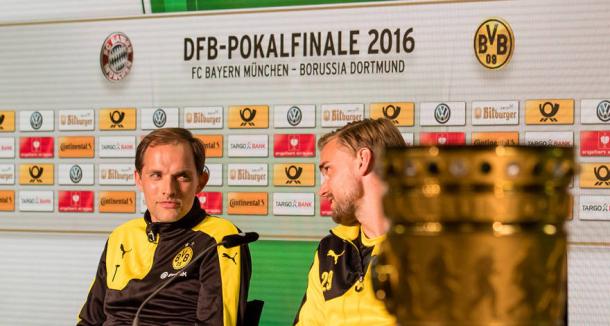 While this will be Guardiola's second and final appearance, BVB will hope this is the first of many finals for Thomas Tuchel. He took the race for the title down to the penultimate day, as well as reaching the quarter-finals of the UEFA Europa League. While those two trophies went to the wayside, there is full focus on claiming the cup to try and cap off what has already been a remarkable season.
Tonight's game will be the final one in charge for Pep Guardiola, who leaves Bayern are three years at the helm. He departs with three Bundesliga titles to his name and, currently, one DFB-Pokal triumph. There was no European glory - except for a European Super Cup - but the UEFA Champions League eluded him. However, Guardiola leaves with a largely favourable reputation for the incredible squad he has built in Bavaria.
Hello and welcome to VAVEL UK's live coverage of the 2016 DFB-Pokal Final from the Olympiastadion, Berlin. The two most successful sides in recent German football history will go head-to-head on Saturday evening, as Bayern Munich take on Borussia Dortmund. It is a massive occasion for many reasons and we'll bring you plenty of build-up, views, team news and other goings on ahead of kick-off at 19:00 BST.