In what will be Pep Guardiola's final game as Bayern Munich manager, the Bavarians face Borussia Dortmund in the DFB-Pokal final.
The clubs finishing first and second will battle for 90 minutes in an attempt to win the trophy and to draw a line under this season, as it comes to a close. Guardiola has won one DFB-Pokal in his three-year spell at Bayern and will be hoping for one to add to his collection. Thomas Tuchel has transformed the form of Borussia Dortmund last season, into title contenders and a threat in Europe. This will be Tuchel's first final in charge of Dortmund, as he continues to write his script as their manager.
Dominant from the start
The competition started back in October, and the top two teams in the Bundesliga showed their dominance throughout. Bayern defeated Wolfsburg 3-1 in the second round, BVB faced 2. Bundesliga rejects, Paderborn, winning the game a massive seven goals to one.
In the round of 16, the teams lowered their margins of victory, as Bayern edged past Darmstadt in a 1-0 home victory. BVB continued their cup run in Augsburg, winning 2-0.
Both of the sides in the final scored three in the quarter finals; Bayern defeating 2. Bundesliga team Bochum, and Dortmund eliminating Stuttgart with a 3-1 victory.
The two continued their similarities in the semi-finals, both keeping clean sheets; Dortmund won 3-0 against Hertha, Munich defeated Werder Bremen 2-0.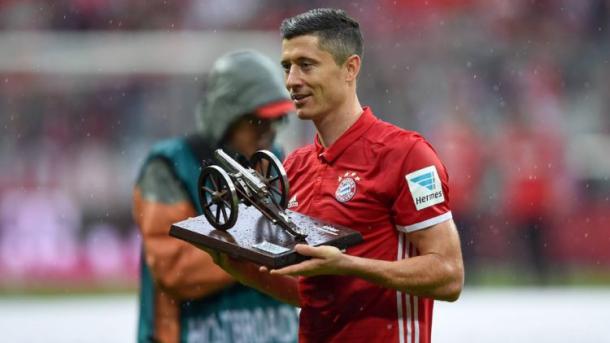 Leading the line by example
Dortmund will have the topscorer of the competition in their side this evening, Henrikh Mkhitaryan; the Armenian has five goals in this season's tournament.
Bayern Munich will bring with them the Bundesliga top goalscorer, Robert Lewandowski who has found the net a remarkable 30 times this season, the first player to hit 30 in the Bundesliga since Cologne's Dieter Müller scored 34 in 1977. Dortmund striker Pierre Emerick Aubameyang has also enjoyed a high scoring campaign, scoring 25 in the Bundesliga this term.
Team news
Former BVB man, Mario Götze will be forced to sit out the final after suffering a fractured rib injury. Xabi Alonso and Javi Martinez have found fitness after being a doubt earlier this week; they both completed training.
Borussia Dortmund will be without Ilkay Gündogan after the German dislocated his kneecap in training a few weeks ago, ruling him out for the European Championships and an estimated five months on the sideline following his recent surgery. Mats Hummels will play his final game as a Dortmund player and captain, as he follows in the footsteps of Mario Götze and Robert Lewandowski in making the move from BVB to Bayern Munich.
Predicted line-ups
Bayern Munich: (4-2-3-1) Neuer; Lahm, Boateng, Benatia, Alaba; Alonso, Vidal; Ribery, Müller, Costa; Lewandowski.
Borussia Dortmund: (4-3-3) Bürki; Piszczek, Hummels, Sokratis, Schmelzer; Weigl, Kagawa, Castro; Reus, Mkhitaryan, Aubameyang.
Both managers will be more than eager to bring the DFB-Pokal back to their homelands. Pep Guardiola will be dreaming of signing off at Bayern Munich as a domestic double winner, while Thomas Tuchel will look to mark his first season with a trophy after missing out on the Bundesliga and the Europa League.