As we reflect on what was another thrilling Bundesliga season, we must turn our attention towards a certain Karim Bellarabi. The 26-year-old has lit up the Bundesliga once more this term, following his high scoring campaign in 2014/15. The dynamic winger has left defences shaken this year with his outstanding performances contributing massively to Bayer Leverkusen's third place finish.
Experience gained elsewhere
Things haven't always gone smoothly for the German. After signing for Leverkusen in 2011, he was sent out on loan in 2013, joining Eintracht Braunschweig for the season to broaden his knowledge on what it takes to play in the top division of German football.
If his short spell at Braunschweig taught the winger anything, it was how to improve his game on a defensive level; he returned to Leverkusen a stronger, fitter and multi-dimensional player. His improvement on loan earned him a solid starting spot at Leverkusen, and he hasn't let his performance level slip since.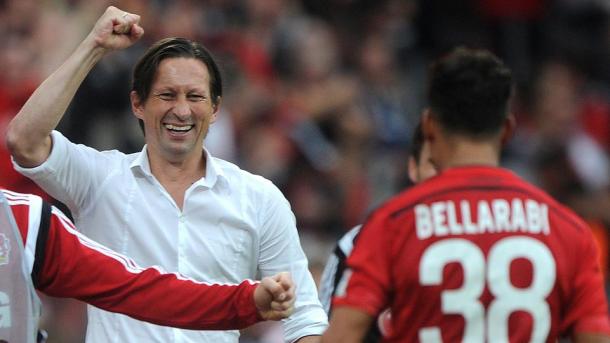 An inspired campaign
This season has really opened the eyes of the world to the talent that Karim Bellarabi possesses; part of this is down to Roger Schmidt's building in attack, developing his own brand of football at Leverkusen that has shifted the North Rhine-Westphalia-based club into the top three of the Bundesliga.
Speaking in pre-season, Roger Schmidt had heaps of praise for the winger's development at the club, stating: "He has made our game idea his game idea."
Bellarabi has particularly improved his game on a creative level, setting up ten goals for his teammates, in comparison to the six he assisted in the season before. His chemistry with fellow German, Julian Brandt and Mexican international, Javier Hernandez has expanded the winger's game to create and provide. The German has scored five goals this term, the majority of which came in the second half of the season, pairing with the ignition of his team's form after the winter break.
Performance of the season
Although there have been many performances that could highlight the brilliance of Karim Bellarabi this season, though his showing in Köln was a real indicator of how the winger has stepped up his game this season.
His partnership with Julian Brandt and Chicharito proved to be too much for 1. FC Köln to handle on the day, as he assisted the two goals in Werkself's 0-2 win back in April. Bellarabi assisted the first, lobbing the ball into young Brandt who volleyed the ball home for the opener. Soon after the creative flare of the German struck again, as he set up Chicharito to take three points back to Leverkusen.
The West Berlin-born winger has also been included in Joachim Löw's provisional squad for the upcoming European Championships; everyone associated with Bayer Leverkusen will be hoping for Bellarabi to continue his terrific form at the competition in preparation for the next Bundesliga season.