Joshua Kimmich has heaped praise on former Bayern Munich boss Pep Guardiola for everything he did for the young German.
The 21-year-old had a visibly strong relationship with the new Manchester City manager and claimed he owes him everything.
Kimmich full of praise
"First of all, I owe him [Guardiola] for me being here," Kimmich told Goal.com. "He has always given me chances to prove myself."
The German international emerged as a solid option for the Bundesliga champions, playing in both midfield and defence under Guardiola. His progress throughout the campaign earned him a call up to Germany's 27-man provisional squad ahead of Euro 2016 before making his debut against Slovakia on Sunday.
Kimmich's versatility provided Guardiola with another enticing option and he spoke about his former boss' decision to select him in big games, including, the Champions League knockout stages: "He trusted me as a centre back and not only in the Bundesliga against bottom-half opponents but also in the Champions League, in the round of 16 and the quarter finals. In the league game against Borussia Dortmund too." He went on to say that when trusted that much by his manager, "you play much better."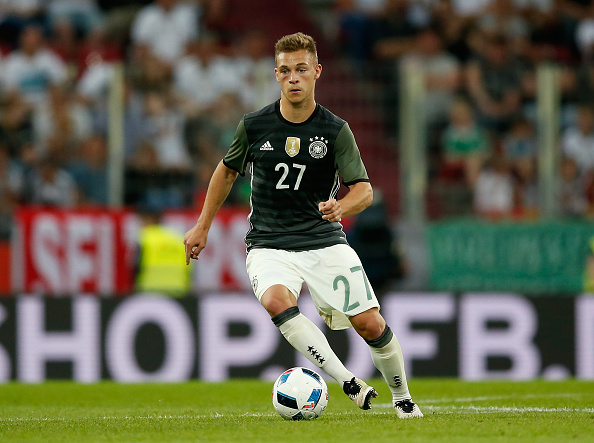 What about the future?
Kimmich will likely be used in a similar fashion under Carlo Ancelotti next season and praised his incoming coach, but he did say he "would have liked it if Guardiola had stayed longer."
"In football, it is normal that coaches and players change. There is always a new enviroment and you have to prove yourself again and again."
The German will be hoping to have impressed Joachim Löw enough so that he avoids being one of four players cut from the provisional squad. Despite making his debut on Sunday, a young Germany side were beaten 3-1 by an impressive Slovakia side.