Just a month after signing the next three years of his career away to RB Leipzig, Ralph Hasenhüttl has declared his ambition for the recently promoted club.
Matching aspirations
Following his hugely influencial three years at Ingolstadt, it wasn't long before Hasenhüttl was employed once more, taking the job of another club that currently sits between the 2. Bundesliga and the Bundesliga. Leipzig were promoted to the top tier of German football after an overly successful 2.Bundesliga campaign seeing them finish second, five points behind SC Freiburg.
Following an interview with kicker, Hasenhüttl revealed his ambitious plans for his new club…plans far from relegation talk. "One day I want to be playing for titles and even compete in the Champions League," declared the Austrian coach.
Following Leipzig's million dollar makeover courtesy of Red Bull, the club has shot up the leagues of German football, and their new manager certainly believes that the newly promoted club should not stop there.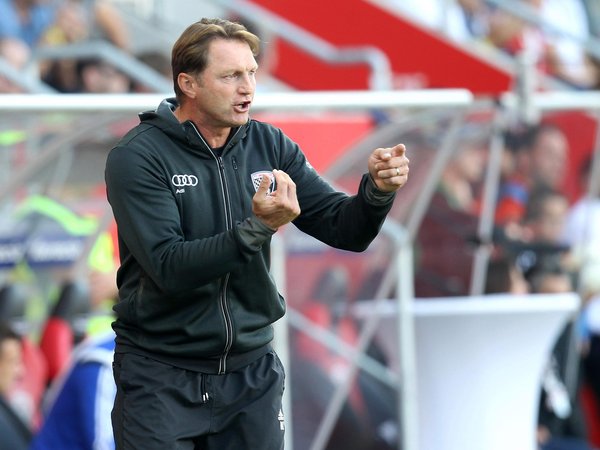 The sky is the limit
The ambition that Leipzig have assured Hasenhüttl with, will also be kindly received from coach to club, following his masterclass managerial success at Ingolstadt. Die Schanzer were staring relegation from 2. Budesliga in the face at the point of Hasenhüttl's appointment; he was quick to transform things, earning the club promotion to the Bundesliga, and firmly keeping them there in the space of three years.
The transformation of Leipzig has certainly left Hasenhüttl licking his lips as he looks towards the near future at the club: "Not many teams in Germany have the chance to challenge at the top and perhaps win the cup."
The Austrian would be right in saying so, considering the annual inevitability of a sizeable gap between Borussia Dortmund, Bayern Munich and those below them, the two teams often stealing the headlines when the Bundesliga is concerned.
Hasenhüttl believes that his new club can break the irksome ruling of BVB and Munich, concluding his interview with: "The potential here is huge."
A well-backed club combining with a manager's achievements that are nothing less than remarkable; an exciting time ahead for RB Leipzig and the Bundesliga, it seems.