As Germany gear up for their huge Euro 2016 quarter-final clash with Italy on Saturday evening, Toni Kroos has been giving his thoughts to the media.
The midfield maestro has seen the best and worst of die Nationalmannschaft against the Italians, and he will be hoping for a more positive result this time.
Kroos and the Germany squad are desperate to bring their eight-game winless run against the Italians in tournaments to an end; that is a given.
What way will Germany line-up?
Kroos began by saying, "It's obviously important to win so we can progress in the tournament. For me, it's no surprise that Italy are unbeaten."
He admitted that it will be Germany's "toughest test so far", but was thankful for some extra rest in the build up. He feels this match will "require a bit more energy and power".
The Real Madrid man says it is "good that [Germany] have several options" when it comes to their defensive line-up; but will it be three or four at the back on Saturday?
Kroos thought the three "worked well" during the 4-1 friendly win in March, explaining it was "no coincidence" they lined up that way.
He did, however, add: "But it's the coaching team's decision [as to how they will play]."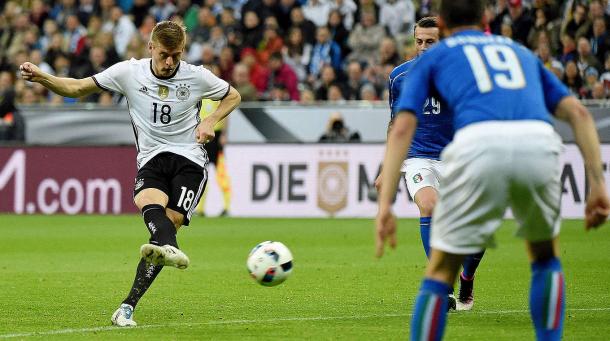 Kroos confident of getting the right result
On whether or not the friendly triumph was "significant", the midfielder commented: "This is a European Championship quarterfinal - that's a completely different game."
Kroos praised the Italians for being "incredible compact, and very clever" as well as boasting "a real calm presence" in defence.
The 26-year-old believes this has been "internalised over the generations" and is the reason for their success in major tournaments.
He concluded, "German teams have always struggled to play against them. I'm very, very optimistic for Saturday."