Germany manager, Joachim Löw was giving nothing away to the gathered media during the build-up to their crunch clash with Italy.
The Germans have not beaten their bitter European rivals in a major tournament to date, a run stretching back eight-games.
However, with the winner being tipped to go on and take the Euro 2016 crown, there has never been a better time to end the rotten run of form.
Quick to pay tribute to Italy's options
Löw has spent the week focusing on the Italians, analysing their play to try and gain an upper hand come kick-off.
Having seen their other games, he admitted they "don't just have defensive qualities" but also "good attacking solutions".
"Of course they know how to defend," he continued. "We've prepared for that and analysed a few other things. I think we're well prepared."
Löw believes it is "about a balance in between defence and attack". Not being too quick to come forward, but stating: "You must create chances."
He explained, "You must take them because against Italy you may not have as many as against Northern Ireland."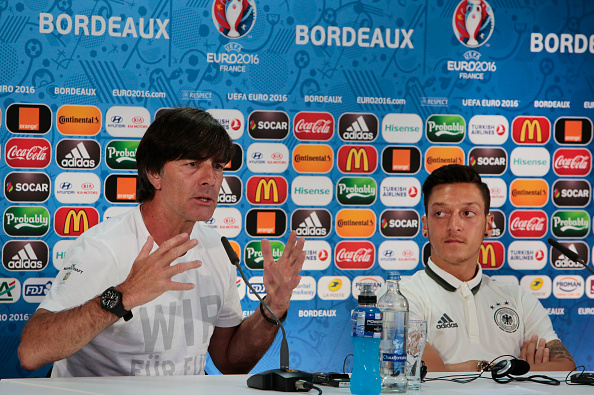 Löw hoping to play to Germany's strengths, and cut out Italy's threats
"We're confident because we're aware of our strengths," he added. "But it's about the opposition as well – the stronger they are, the more we have to address their strengths."
Löw, more than likely hoping he doesn't, admitted he is "not sure" whether or not Danielle de Rossi will play.
The Germany boss credited Italy for being "very flexible in their line-up" and that always meant there could be "a surprise" in their team selection.
He concluded, "I consider him a very important player for them, but in the end the Italians always have a solution."
Quotes via UEFA.com