Subject to the final few details being ironed out, Carlos Zambrano will be leaving Eintracht Frankfurt this summer.
The defender, who has been subject to constant speculation surrounding his future since last season, looks to be heading for Rubin Kazan.
Rubin have, according to kicker, triggered a clause in his contract with a €3.5m bid. As to the length of his contract, that is still being discussed.
Schalke, St. Pauli and the Frankfurt switch
Zambrano's German adventure began with Schalke 04, rising through the ranks to eventually make his first-team debut during the 2009/10 season.
He made 20 appearances across the Bundesliga and DFB-Pokal as a teenager, before moving on loan to FC St. Pauli.
Despite his best efforts, Zambrano couldn't keep the Hamburg-based side in the league. His loan spell continued into the 2. Bundesliga, but injury limited him to just 10 games.
Even with his fitness woes, St. Pauli snapped him up permanently only to see Zambrano leave for Frankfurt a month later.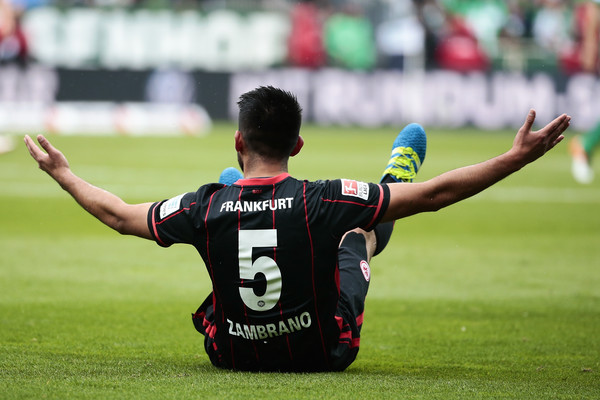 Four years follow in Frankfurt
Since his arrival at the Commerzbank Arena, Zambrano has gone on to feature in 117 games and will leave without scoring a solitary goal.
Known for his aggression, the Peru international has regularly been at the wrong end of the Bundesliga's yellow card table; picking up 39 yellow cards in 101 games.
He was a part of the Frankfurt side that made such a shock rise up the table after promotion in 2012-13, reaching the UEFA Europa League group stages.
Their European adventure came to an end at the round of 32 stage, as they were dumped out on away goals after a dramatic 5-5 aggregate draw with FC Porto.
Bruno Hübner, the cub's sporting director, said: "We thank Carlos for his work and commitment and wish him well for the future."