After an impressive 2015-16 campaign, it was announced today that French forward Anthony Modeste would be extending his contract with Bundesliga team, 1. FC Köln.
The four-year deal laid waste to the multiple rumours that suggested a move to Serie A side Sampdoria was on the cards, thus allowing fans to breathe a huge sigh of relief.
Modeste has his say
Modeste spoke to the club website afterwards and pledged his loyalty to Köln, saying: "I am happy that I can remain a player of 1. FC Köln for the coming years"
He continued, "I apologize to the fans for causing some confusion in the past few weeks. But I am a guy that only looks forward."
The Frenchman confirmed he is "focused for the new season" and is looking forward "to get started again with this team".
Modeste concluded, "The only thing that matters now is what happens on the football pitch."
This is all promising stuff, and fans especially will be pleased to hear the words after his prolific first season at the club.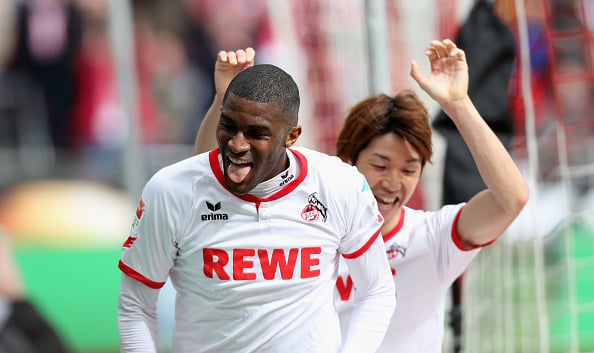 Stöger and Schmadtke both delighted
Despite the clear sense of confusion surrounding the future of Modeste, head coach, Peter Stöger has remained seemingly immune to it.
Stöger stated, "I was very relaxed and under the impression that he would always remain one of our players."
The head coach was quick to credit his sporting director, also: "Because Jörg Schmadtke was consistently in touch, I knew that Tony and FC would find a good resolution."
Stöger evidently believes in the philosophy of Köln which he - and his team behind the scenes - have carefully nurtured for a number of years.
Rightly so as well, players such as Jonas Hector have pledged their allegiance to him since becoming head coach in 2013 which emphasises the success of their work.
Jörg Schmadtke also gave his thoughts on the news, reminding everyone the 15 goals that Modeste scored in the previous season.
He also told of how the club "decided to offer Tony (Modeste) an extension to his four-year-deal" earlier than planned, due to how "valuable he is to our team".
Reason to smile
This is undeniably a good sign for the Billy Goats. In the past Köln have faced the brunt of losing players such as Lukas Podolski and have subsequently fallen prey to relegation because of it. Therefore, the contract extension by Modeste marks a stronger and potentially more prosperous future for Köln.
Whether the striker will be able to fire as successfully as he did last season is another story, but the foundation for the club to grow and continue its success is what is most important. All football fans can all agree that holding onto key players is paramount for long term success.