Just two days after confirming the arrivals of Russell Canouse and Nils Quaschner, VfL Bochum have been busy - once again - sorting their squad for next season.
This time, that comes in the form of a contract extension for centre-forward, Peniel Mlapa.
The 25-year-old was originally tied to a two-year deal when he joined last summer, but Bochum have extended that by a further two seasons until 2019.
Time to step up
It now looks highly likely that there will be no new striker at the Vonovia-Ruhrstadion next season, with Mlapa now committed for the long-term.
The Fritz-Walter Medal winner scored five goals in 31 games last season, but has big boots to fill following Simon Terodde's departure.
This will be the first time a club have shown such faith in Mlapa and could be just what he needs to rekindle the form of his youth.
Mlapa's extension may mean that Johannes Wurtz is likely to play a back up role, leaving Cagatay Kader as the third choice forward.
Wurtz and Mlapa have been in fine form during the first two pre-season friendlies, with Bochum scoring 20 goals in just two games.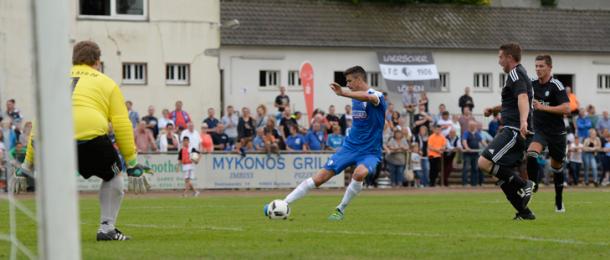 Mlapa and Hochstätter have their say
Sporting director, Christian Hochstätter believe that Mlapa has shown "what potential he has", highlighting that could have been hampered having to "switch to the wing".
Hochstätter explained, "Now he can play in the centre and we are convinced that he is where most valuable to us."
Mlapa gave his thoughts on the move, admitting he was "very happy" that he decided to stay.
He continued, saying that the team has "taken to [him] really well" and that he "feels great" in Bochum.
The striker added, "I know that I must return this form of appreciation through performances and I want to help the team to get better and achieve our goals."