After exceeding all expectations with last year's fourth-placed finish, FC St. Pauli have a big task on their hands in attempting to better that with a shot at promotion this term.
No longer an underdog, they are instead one of the pre-season front-runners for the 2. Bundesliga title, but how will they handle the pressure?
Last season - All odds defied
Following their relegation from the Bundesliga in 2011, bar their good go at an immediate return to the top flight in 2011-12, St. Pauli have endured a series of rather lacklustre mid-table seasons in the second tier.
Add to this 2014-15's relegation scrap, with just one point separating them and a relegation play-off spot at the end of the season, and last term's promotion charge was even more unlikely.
Die Freiburter der Liga finished fourth at the end of the season, one place but a significant 12 points off of a shot at promotion in the form of a play-off with Eintracht Frankfurt.
Their shortcoming? Dropping points against the struggling sides. Their record against the bottom eight was shocking for a team pushing for promotion, with just 19 of 48 points taken from the 16 games.
Defeats at home to relegated duo SC Paderborn 07 and FSV Frankfurt were the worst of a terrible bunch of results, with the latter even doing the double over St. Pauli while Paderborn took four points off of them.
The campaign was exciting and exceeded all expectations, but both the club and the fans will be disappointed that the thing that held them back from achieving even more was as simple as winning the 'easy' games on paper.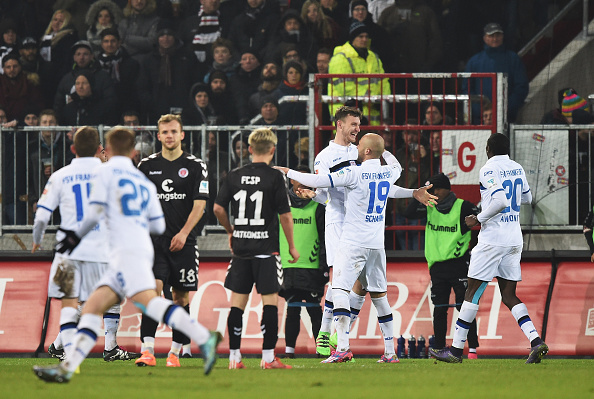 This season - Top three to be the aim
St Pauli have a big task on their hands now this season in replicating last season's form. After 2011-12's promotion push, they slumped to 10th the following campaign and will be hoping to avoid a similar decline this term.
Of course, the failure to immediately return to the top flight cost them a number of players in the summer of 2012, with top-scorer Max Kruse their most harmful and significant loss. This year, they will not have the same problem to deal with.
Lennart Thy and Marc Rzatkowski are big losses, but Ewald Lienen has done some good summer business to ensure these blows are cushioned.
There is no reason why promotion is not only a realistic target, but a likely outcome this season for St. Pauli, with them to be one of the front-runners for the title in fact. They and 1. FC Nürnberg will be expected to battle it out having just missed out on a place in the top flight last term, with fifth-placed VfL Bochum and recently relegated VfB Stuttgart predicted to join the race.
All that is left to be seen now is how the club cope with this pressure, with their promotion charge last season built upon little-to-no expectation.
Transfers out - Depth takes a hit in the transfer window
As aforementioned, Thy and Rzatkowski's departures are big blows to St. Pauli. The former had been a key player for his side ever since joining them from Werder Bremen in 2012, but his performances caught the eye of his previous employers and earned him a return to the Bundesliga with them.
Rzatkowski, meanwhile, was only out-scored by forward Thy from midfield last term, with seven goals to his name as he established himself as one of the first names on the team sheet at the Millerntor.
Sebastian Maier is another loss that may be felt, the 22-year-old midfielder having joined Hannover 96, but after only just managing to start more than half of the season's games - 19 out of 34 - it's the depth and competition he adds that will be missed most; something that can be readily replaced.
Enis Alushi has been released too, with a complete overhaul taking place in midfield with three significant departures - him, Maier and Rzatkowski having played 81 league games between them last term.
Another two outs for St. Pauli include Ante Budimir and John Verhoek, but with neither attacker having made an impact during their time with the club, their moves simply free up space in the squad for better and more effective players to move in.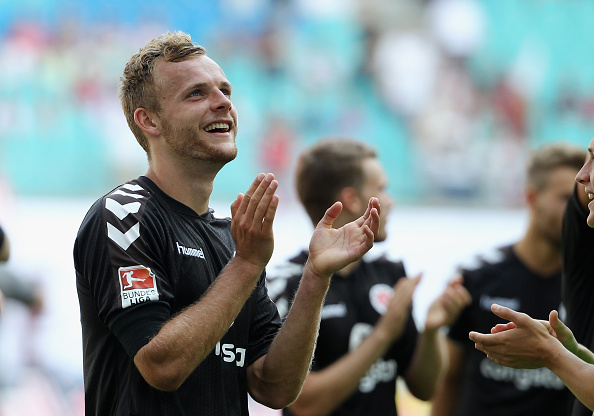 Transfers in - Lienen bounces back with plenty of business
St. Pauli had a relatively sturdy defence last term, the fifth-best in the league in fact, but there is always room for improvement at the back, especially for a team that don't score many goals.
The majority of their transfers this summer have concerned the back line then. Full-back Vegar Eggen Hedenstad arrives from SC Freiburg off the back of a strong season on loan in the second tier with Eintracht Braunschweig, while Christopher Avevor returns to the club he spent a season on loan with in 2012-13.
Teenager Jacob Rasmussen completes the trio of defensive recruits, the 19-year-old arriving from Schalke 04's youth set-up with a very promising reputation to boast.
However, recruits going forward are required too given the players who have left the club. Midfielder Richard Neudecker, another teenager with tons of potential, arrives from 1860 Munich looking for more playing time, with the departures of Maier and Rzatkowski paving the way for him to make an impact.
Waldemar Sobota has also signed a permanent deal with the club, having spent last term on loan from Club Brugge, ensuring the team don't lose further depth out on the wings. St. Pauli have then added to that with the arrival of Enver Cenk on loan from Turkish club Basaksehir, a wideman who will be looking to follow in Sobota's footsteps and make an impact to earn himself a move to Germany.
As for the players to provide the goals that Thy and Rzatkowski did, Aziz Bouhaddouz and Marvin Ducksch have been identified as capable doing so.
The former scored nine goals for a struggling SV Sandhausen last term, one of which came from the spot in the side's 3-1 win over St. Pauli in October. He has proven himself a reliable goal-scorer up and down the German football pyramid over the years, and will be hoping to fire his new club to the top flight.
Ducksch, meanwhile, has chosen St. Pauli as the starting destination for a new chapter in his career after leaving Borussia Dortmund. The 22-year-old ended his 14 year stay with BVB this summer and will be looking to show everyone what he learned in that time by hitting the ground running with St. Pauli.
A strong and powerful footballer, he may come across as simply a target man good at holding up the ball, but his great feet mean he will conjure up magic of his own too.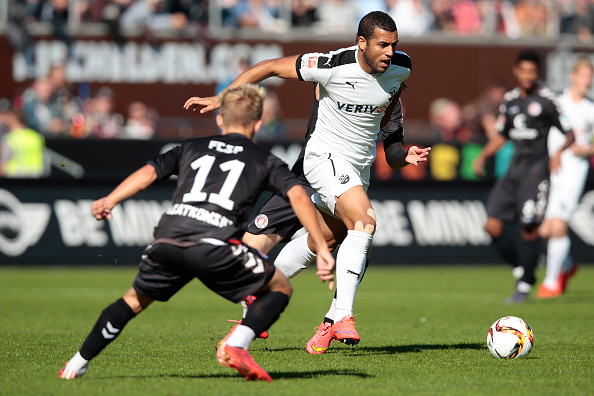 Pre-season - Summer preparations hardly inspiring
Pre-season has hardly been the best for St. Pauli so far, with one friendly remaining and that coming tomorrow against La Liga outfit, and UEFA Europa League holders for three seasons, Sevilla.
Defeats to Borussia Dortmund, 3-2, Czech side Zbrojovka Brno, 1-0, English second tier outfit Cardiff City, 2-1, and Borussia Mönchengladbach, 5-4 on penalties after a goalless draw, have left Die Freiburter der Liga's fans with little to cheer about in the build up to the new campaign.
Positives, however, come in the form of building fitness, letting the team gel and giving fringe and young players the chance to shine. For example, with a lack of goals in the team last term, 20-year-old striker Nico Empen has staked a claim for an opportunity this season already, impressing by bagging a brace against Dortmund.
With plenty of ins and outs, the results might not be there, but Lienen will simply be pleased that his team have been playing plenty of minutes together as they look to form some cohesion ahead of next week's big kick off.
The squad - Clean sheets should be no problem, but where will the goals come from?
The defence is clearly St. Pauli's strength this season, and it was last term. If they can shave a few more goals off of the conceded column after a host of new signings, they should progress up the standings in the process.
Lienen has done the sensible thing by ensuring his team have a positive foundation to push on from here, with building from the back always a sure bet.
However, the lack of depth going forward is a concern. Starting in the middle of the park, the first team have just five senior midfielders on the book, which hardly bodes well for a side that like to play with three in the centre.
The likes of Marc Hornschuh and Jan-Philipp Kalla, plus new signing Hedenstad, can switch from full-back to cover in this area if desperately needed, but such a requirement would only further highlight the lack of depth in the position and certainly wouldn't be ideal.
Having lost three midfielders, Lienen has brought in two though and still has time to bring in at least one more before the transfer window closes - even if it's not before the season starts.
The attack is similarly thin though. Thy's departure is obviously a huge blow, but Rzatkowski scored his fair share of goals as well last term. Lienen has signed two centre-forwards to make up for these goals lost, but with Budimir and Vethoek also leaving, the cover for injuries and absences in the striking department is another concern.
Neither Kyoung-Rok Choi nor Fafà Picault exactly strike fear into opposing defenders, and so Lienen will have to hope to have an injury-free season in his squad this term going forward, or sign another attacking threat before the window ends. Cenk has arrived to bolster the team out wide, but he's not known for his goal-scoring, more his chance creating, and St. Pauli need to ensure they have the players to convert these opportunities.
This should, however, mean youngster Empen gets his chance.
Looking at the squad in general, St. Pauli should have few problems keeping clean sheets this term, but the balance of the team is not right and fans will hope their manager isn't yet done in the market this summer.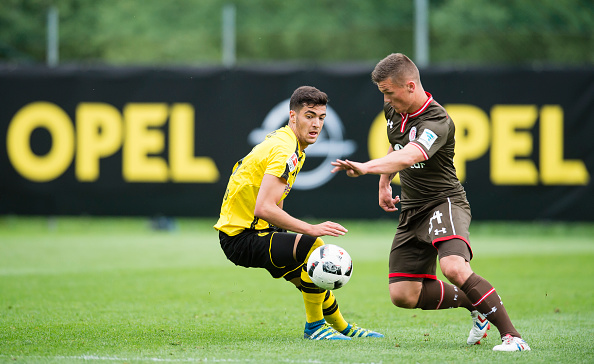 More signings required - Who could they yet bring in?
If Lienen wanted to kill two birds with one stone, signing a goal-scoring midfielder would do just that.
Suat Serdar enjoyed an impressive campaign with Germany's under-19s this summer at the Euros and enquiring about a season-long loan for 1. FSV Mainz 05's teenage midfielder is one way that the St. Pauli boss could go to bolster his squad.
Amara Conde was also part of the same squad this summer with Serdar, and the VfL Wolfsburg midfielder is another man that is likely to be sent on loan this season, having enjoyed a solid campaign with the Wolves' under-19s last year.
Meanwhile, Idrissa Toure is another teenager with plenty to offer. The RB Leipzig man didn't get a look in when his club were promoted from the 2. Bundesliga last term, and so is unlikely to in the Bundesliga as well.
Toure has never been on loan and has only played as high as the fourth tier with Leipzig's reserves, so a temporary switch to the second tier could not only benefit St. Pauli, but the youngster himself as he looks to gain experience.
Any of these three would add undoubted potential and talent to Die Freiburter der Liga's promotion push, but if Lienen wanted to go another way he could press Leipzig for Rani Khedira instead.
The 22-year-old has played 41 games in the German second tier over the past two seasons, but could see his playing time restricted in the Bundesliga due to the amount of midfielders that his side have at their disposal.
Still young and with plenty ahead of him, Khedira will want plenty of minutes to help him reach as much of his potential as possible, and may see St. Pauli as a better place for him to do this if Lienen registers an interest.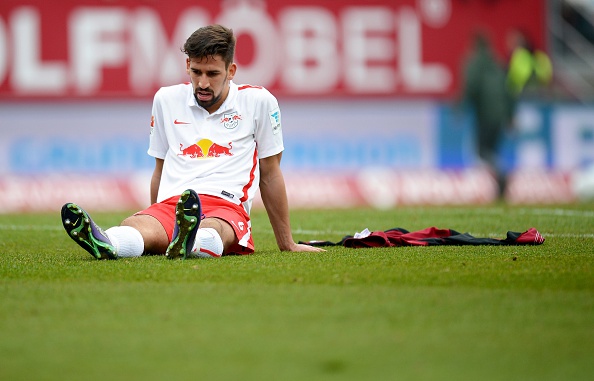 Key players - Significant figures at opposite ends
One man who will be itching to go this season is Ryo Miyaichi, the Japanese winger to be like a new signing for St. Pauli after spending almost the entirety of last term on the treatment table.
His creativity, flair and eye for goal will benefit the team massively, with them in need of offensive power even more now after a couple of significant departures.
He showed what the team had been missing when he bagged a brace in St. Pauli's final game of the season, a 5-2 win over 1. FC Kaiserslautern, and if he can consistently add these high quality contributions to the team, he could be the difference between the top three and fourth.
This season is also going to be a big one for Christopher Buchtmann. After the departure of Rzatkowski, the onus is on him to step up in central midfield and be that link from defence to attack, driving forward with the ball and pushing the front line to make those runs for him to find.
The 24-year-old will be looking to chip in with a few more goals too. His former midfield teammate bagged seven last term, while Buchtmann himself notched up just two. However, he will be expected to share the goal-scoring burden more this term, as well as the responsibility of dictating play for his side.
Goals are arguably the only thing missing from his game for him to move to the next level, and he will hope that a few more this coming campaign can take his team up that next step - to the Bundesliga.
At the opposite end of the field though, Robin Himmelmann is just as important to this team. After playing every minute of 2. Bundesliga football for Die Freiburter der Liga last term, the goalkeeper penned a new deal this summer in one of the club's best bits of pre-season business.
The 27-year-old kept 17 clean sheets in 34 games last term and with no departures, only additions, to the back line in front of him, he will be keen to better this in 2016-17.
A splendid shot-stopper, an authoritative presence and a man who commands his area, there are few goalkeepers in the league better than Himmelmann and his saves could prove particularly crucial this term, such are St. Pauli's aims for the season.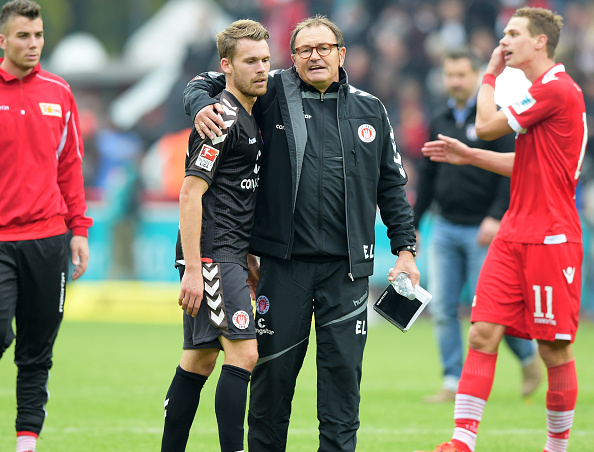 The boss - Can Lienen go one better?
Lienen will begin his second full season in charge in charge of St. Pauli this August, and his third in general after taking over in December 2014.
The club have reaped the rewards of sticking by their man too after a tough 2014-15 season. They could have easily given him the sack after they survived a seriously close relegation battle by the matter of just one point, but Lienen repaid their faith the following campaign with a promotion push and a fourth placed finish.
Just like the team as a whole though, Lienen now has to deal with expectation and pressure as the club look to push on from last year's charge and go one further by finishing in the top three.
The 62-year-old coach has never enjoyed incredible success in his managerial career, but neither the job he did last season nor his experience cannot be ignored. He now needs to build on such strong foundations to take the club to the next level.
What is clear is that he has the backing of the club after signing a new deal, and a good relationship between the coach and the hierarchy will be key for any success.
Will they meet expectations?
Looking at Lienen's squad, the numbers for each area of the pitch for the first team are not massively different to last term.
Depth looks a concern, but the side are not actually significantly lighter in personnel this season and certainly not in quality.
However, last season was not a concrete success. St. Pauli exceeded expectations, of course, but they did not achieve anything other than a lofty finish in the standings.
This year, promotion is the aim and to achieve that, the team needs to be better than it was last year, not the same.
Thus, Lienen needs to be busy in ths transfer market this month. The season may start next week, but business behind the scenes should not conclude when pre-season preparations do. They conclude when the transfer window concludes.
If Lienen can add another one or two players to this squad, then St. Pauli can certainly put forth a serious title challenge. Another midfielder is a required, while an attacking player is also needed - one who can score goals, regardless of whether their preferred role on the front line is out wide, through the centre, or as a number 10.
If the manager can get that business done in the next four weeks, then St. Pauli can get the business done on the pitch this season.