Bayer Leverkusen have always been an 'almost' club. Having not won a Bundesliga title ever since their inception, they have even been dubbed as 'Neverkusen' due to their unenviable history of never having won the German first division title. The last time Die Werkself came close to winning the title was in 2011, when they finished second in the league behind Borussia Dortmund, who finished seven points ahead of the men from Western Germany.
Since then, Leverkusen have held the tag of being the bridesmaid. But could the 2016-17 season be the one when something changes for Roger Schmidt's men?
A third place finish last campaign was followed by delight over the emergence of young Julian Brandt and the impressive Chicharito, but the absence of a central midfielder was felt throughout the season after the departure of Gonzalo Castro to Borussia Dortmund, the retirement of Simon Rolfes and the now retired Stefan Reinartz's move to Eintracht Frankfurt.
The third place was achieved after the likes of 1. FSV Mainz 05 and Hertha BSC became surprise contenders for the Champions League spots as Borussia Mönchengladbach, who have now signed Christoph Kramer, recovered commendably well under André Schubert. Hakan Calhanoglu and Karim Bellarabi continued to impress for Schmidt, whose task of gaining Champions League football was made easier by VfL Wolfsburg's surprise falter.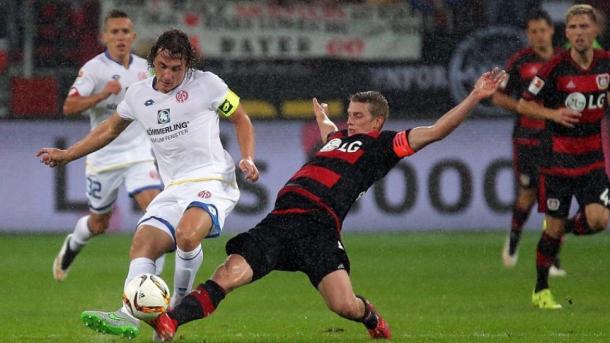 Midfield issues
Injury woes for Lars Bender played a part in escalating the midfield issues, which were resolved by either playing Kevin Kampl in there or by trying out Ömer Toprak in the heart of the park. There existed a clear lack of control in the midfield area as teams found it easy to cut through the midfield, overrunning it in a way that was unseen with Rolfes and Reinartz in there. Andre Ramalho still is getting to grips with Germany since joining last year, but he is becoming increasingly more comfortable.
The midfield issues prompted Schmidt to snap up Julian Baumgartlinger from Mainz for a fee in the region of €4m. Mainz, who are already dealing with a mini-exodus - have already let go of Johannes Geis to Schalke, Shinji Okazaki to Leicester City and Loris Karius to Liverpool - parted ways with one of their best performers of the previous season. A battler who reads the game really well and knows how to carry the ball out of central midfield areas, Baumgartlinger was a vital cog in the wheel for Austria in Euro 2016 as well, even though his side bowed out in the group stages.
Striker problems
Stefan Kießling, who is 32 now, isn't getting any younger with every passing day. The lanky forward's goal-scoring form is suggestive of his falling stock as he found the back of the net only five times in 30 appearances. His increasing age makes him unsuited for Schmidt's counter-pressing playing style, that is meant for the younger players such as Bellarabi, Calhanoglu and Chicharito to adhere to. Josip Drmic was dispatched to Gladbach as Chicharito shone to make sure that the absence of a quality forward wasn't felt. But it is quite clear that Kießling is past his best.
To get rid of the imminent striker issues, Leverkusen roped in Kevin Volland from Hoffenheim, who is more mobile, quick and energetic than the declining Kießling. Volland's versatility is something that makes him a better fit for Schmidt's system than arguably any other quality striker in the Bundesliga.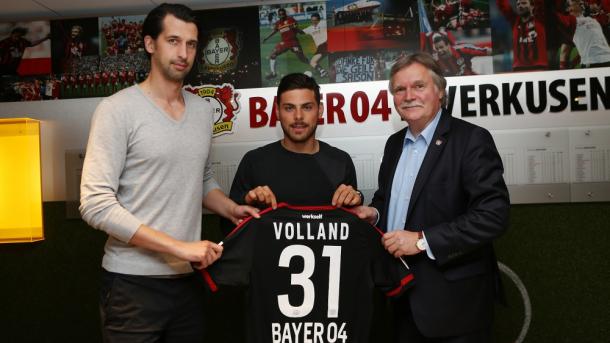 The young German, who was also a reported target for Premier League giants Liverpool and Tottenham, was one of Hoffenheim's key performers alongside Eduardo Vargas and on-loan striker Andrej Kramaric, who has now been acquired on a permanent basis by Julian Nagelsmann, and the impressive young defender Niklas Süle. The €15m transfer fee is a clever piece of business for a man who has represented Germany at the senior level and could be just what Die Werkself need.
Bellarabi is being linked with a move to Borussia Dortmund, following Henrikh Mkhitaryan's exit to Manchester United, and if reports from Germany are to be believed but BVB are said to be desperately after Andre Schürrle, who had an in-and-out season for Wolfsburg until the back end of the campaign.
Bellarabi is arguably Leverkusen's most important player right now and losing him to direct rival would be a disaster. Volland's capture could be enough to replace Bellarabi, but Brandt's emergence has been something of a massive boost. The youngster's energy on and off the ball, pace and impressive dribbling abilities is something that is a product of Leverkusen's high pressing system and the winger is set to take the Bundesliga by storm soon.
Defensive solidarity
Jonathan Tah, who joined from Hamburg last season, and Kyriakos Papadopoulos are more settled than ever, after having featured regularly for Leverkusen, if not together then alongside Toprak and Ramalho. Tah's performances rewarded him with a Germany call-up as he ended up replacing the injured Antonio Rüdiger for Euro 2016.
Papadopoulos' stint at Schalke has made him a better player and the defender almost seems to be recognizable by medieval period Greek warrior, who define his combative and determined playing style. Then there's young Tin Jedvaj, who was a part of the Croatian side that made it to the knockout stages of the Euros.
He's still 20 but enjoyed a much improved campaign last season, making 15 appearances for Leverkusen. Toprak is being linked to Dortmund, if reports from Germany and Turkey are to believed, but replacing the 26-year-old won't be a big problem considering the depth that exists in the side.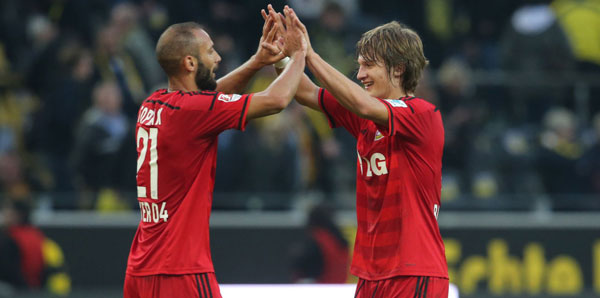 Can they pip Bayern and BVB?
In Schmidt, they've got a manager who knows what he is doing. He's got the tag of making his players play to a specific strategy or tactic, due to which the side has a tactical identity appended to it. Last season, they came very close to beating Barcelona in the Champions League group stage but the game ended 1-1.
Throughout the game, we saw glimpses of superb counter-pressing from the Leverkusen lot as the Catalans struggled to play the ball out of their own half during the first-half. This consistency in pressing the opposition high up the pitch has to be maintained more often than they did last season. There were clear signs of exhaustion numerous times and to maintain the consistency, team depth has to be taken into consideration.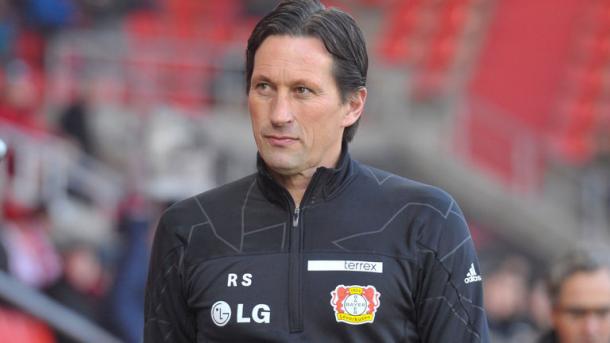 The team has a good amount of balance and quality in there, barring the need for depth in full-back areas and up front. They've got a good amount of stability in the side, that is contributing to success already. Dortmund have already let go of Mats Hummels, Henrikh Mkhitaryan and Ilkay Gundogan, while Neven Subotic is set to leave as well.
Although, Tuchel has brought in a set of young stars such as Emre Mor, Sebastian Rode, Ousmane Dembele, Raphael Guerreiro and more but the stability that exists in the Leverkusen side doesn't linger at Westfalenstadion. They're still looking to strengthen multiple positions on the pitch, apart from guarding the sale of their won players. So, the club is being engulfed by uncertainty already.
Winning the league would obviously be tough, considering the two-horsed race hardly ceases to end. A third placed finish looks to be the most Leverkusen can achieve as the players that Dortmund have signed won't have any burden of expectation to perform, considering their fee and also by taking into account that this is Germany and not England.