By mutual consent, Matthias Sammer and Bayern Munich have parted ways, the club announced on their official website, before the contract's expiry in 2018.
Sammer missed the end of Bayern's recent double-winning campaign having discovered a "tiny circulatory disorder of the brain" during the April of the same season and, despite being "healthy again," clarifies he wants to take a rest from football, as well as his current, 24/7 job.
Sammer's statement
Farewell message: "I'd like to thank FC Bayern München and the people with whom I had the pleasure to work, for a fantastic time and for understanding my decision."
He added, "In this period the team have won ten major titles with an enormous dominance and consistency."
Sammer called it "an unbelievable experience", before saying: "For the time being I also say goodbye to you, to the fans and all those who have accompanied me."
He concluded, "It was an honour. Servus!"
Not long after rivals — and former club — BVB won two consecutive Bundesliga titles, Sammer replaced Christian Nerlinger as sporting director in July 2012 and, since then, has been a vital cog in the Bavarians' hierarchy management. The 48-year-old oversaw the most successful era in the history of the club; winning four Bundesliga meisterschales, three DFB-Pokals and a UEFA Champions League, as well as several minor trophies.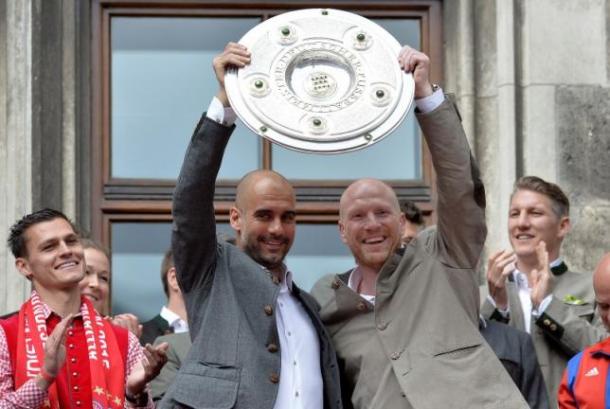 A stalwart of German football
Back in his playing days as a holding midfielder, Sammer spent much of his career in Germany, representing Dynamo Dresden, VfB Stuttgart and Borussia Dortmund, where he was also bathed in silverware and trophies alike.
Perhaps the pinnacle of his footballing career was winning Euro 1996 with Germany, in England, and being named the Player of the Tournament.
Having retired, the ex-international flirted more with his olds; managing Dortmund and Stuttgart from 2000 to 2005, where he won another Bundesliga title with die Schwarzgelben.
Bayern CEO Karl-Heinz Rummenigge cleared up any following rumours, saying: "Matthias Sammer's position will not be occupied for the time being. We will distribute his assignments within the existing structures at FC Bayern, as we have been doing since April. Then we'll decide who succeeds him, without rushing things."