After leading Germany to the semi-final's of the European Championships, before getting eliminated by France, German head coach, Joachim Löw has confirmed he will remain as head coach for the 2018 World Cup.
Löw has been head coach of the German national team for 10 years, building and developing the new era of German talent following the retirement of a number of national icons, calling for a period of transition from old to new.
European glory cancelled out by France
Die Nationalmannschaft crashed out of the European Championships last week, as they lost 2-0 to France in the semi-final. Despite dominating the game, the World Champions were unable to score goals, allowing France to steal the headlines and advance to the final.
Löw was criticised throughout the competition, not only for his touchline antics but his squad selection before and during the competition. Following Sami Khedira's injury in the quarter-final's against Italy, Löw opted for Bastian Schweinsteiger to run things in deep midfield, which did not work out as the 31-year-old was steam rolled by the youthful energy of France's midfield.
Having been struggling for fitness for a few months now, and with Julian Weigl sitting on the bench, it was wondered why Löw backed Bastian to perform in a game as critical as the semi-final.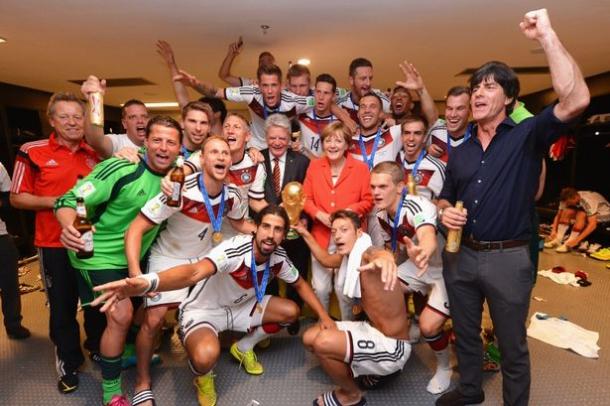 Looking ahead to further possible glory
Still, Loew's team bowed out of the competition, and now look towards retaining their World Cup title in Russia. The DFB twitter account confirmed the news of Loew's stay, as it read that Löw was 'turning his attention towards the 2018 World Cup.'
The German manager won the biggest prize of them all in 2014, as part of a tremendous feat in Rio where the Germans slayed the south American climate and some of the World's best national teams. Löw played the tournament to perfection, adjusting his tactics and team in an attempt to see out each opponent. He did just that, as Germany were victorious over Argentina in the final, winning 1-0 in extra time.
It's been difficult for die Weltmeister to find their feet after such a huge triumph, however, we wish Löw and his team the best of the luck in their quest to keep the World Cup in Germany.