Germany under-19s take on their Portuguese counterparts in what has become a vital Group A clash in the 2016 UEFA European under-19 Championship.
Neither team could claim a victory in their opening game, meaning this has become a crucial fixture in terms of qualifying for the semi-finals and the FIFA under-20 World Cup.
The two nations face off at the sold-out Mechatronik Arena, in what could be a fantastic exhibition of football.
Hosts held to nil by Meret
Despite attracting a record crowd to a UEFA under-19 finals game, Germany couldn't find a way past Alex Meret. The Udinese stopper played the role of chief party-pooper, dealing with anything thrown at him. Meret's two saves from Janni-Luca Serra's headers were as breathtaking as they were important.
The 1-0 defeat was unfair on the Germans, and Guido Streichsbier has emphasised that the team do not need to start from scratch. They will, however, need to be on top form again if they are to get the better of Portugal. A side that will provide more of a defensive test, it could prove to be an exciting encounter.
Given how effective Serra and Cedric Teuchert were individually, Streichsbier may opt to play both up front. That would see Philipp Ochs pushed into his more natural left-wing position. Max Besuschkow could also be pushed wide in order to allow Suat Serdar to play through the middle and affect the game more than he did against Italy.
Empis earns share of the spoils for Portugal
It was a very mixed bag for Portugal during their opening game draw with Austria. They could count themselves to come away with a point after Arnel Jakupovic gave the Austrians an early lead. Austria put in a dominant performance and hit the woodwork twice, but Pedro Empis' leveller meant they had to settle for a draw.
Emilio Peixe could take heart from the way his side finished the game and the fact they fought hard against well-drilled opponents. However, he knows that a win is vital to their chances of making it into the semi-finals. With Italy to come in their final game, Peixe will want qualification firmly in their own hands.
It's unlikely to see too much in the way of changes for Portugal, with consistency seeming to be the one issue they have; in terms of keeping up that attacking threat for 90 minutes. They will, however, be hoping that one of their brightest starlets, Gonçalo Rodrigues can shine bright against the hosts.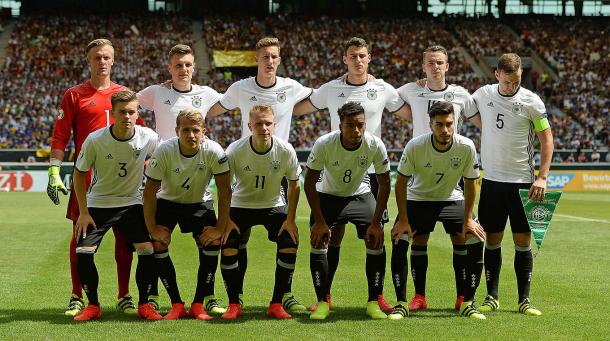 What they're saying
Lukas Boeder was the man to face the media following defeat to Italy, but he tried to remain positive after the 1-0 loss in Stuttgart.
He believes they "played well", before explaining: "We managed to cut out many Italian attacks and build play well from the back. The only exception was that one attack."
Despite defeat, Boeder remained positive, "We don't need to change our entire game. All we need to do is cut out their counter-attacks and be more clinical in attack."
The Bayer Leverkusen starlet believes that Portugal "will operate much more offensively than Italy", adding that Germany "need to be a lot stronger in defence" as a result.
Boeder feels this will allow Germany to "have more room to create chances on goal". He concluded, "I am convinced that we will able to take advantage this time round."
Predicted line-ups
Germany under-19: (4-4-2) Reimann; Neumann, Boeder, Gimber, Mittelstädt; Besuschkow, Serdar, Henrichs, Ochs; Teuchert, Serra.
Portugal under-19: (4-4-1-1) Pedro Silva; Empis, Ferreira, Dias, Yuri Ribeiro; Gonçalves, Pedro Rodrigues, Gonçalo Rodrigues, Buta; Carvalho; Ricardo Ribeiro.
Quotes via DFB.de