On Thursday, Eintracht Frankfurt announced that Alexander Meier had extended his contract through to 2018.
His deal was set to run out at the end of this coming season, but has now put to bed any rumours of a switch to the MLS in summer 2017.
Now, Meier still has the chance to go on and further write his name in the Eagles' history books.
A Frankfurt legend
The 33-year-old joined Frankfurt in 2004 and has gone on to enjoy great success with the club, scoring 131 goals and adding 53 assists in 353 appearances.
Meier is currently 10th on the club's all-time Bundesliga appearance list (248) and fourth on the scorers' chart (87).
After a stuttering start to his career with FC St. Pauli and Hamburger SV, Eintracht snapped him up for a relatively small fee 12 years ago.
He has stuck with the club through thick and thin ever since, including the lows of relegation and the highs of a UEFA Europa League campaign.
Now, heading into his final few years, he will be hoping to edge closer to 100 Bundesliga goals and 300 games for his club.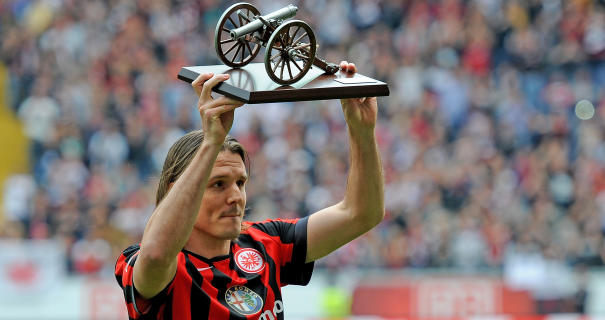 Hübner, Bobic and Meier give their reaction
Speaking to the club website were Bruno Hübner, Fredi Bobic and Meier himself, as the news was welcomed warmly by all.
Bobic explained: "When the subject came up, it was very important to me - especially in view of the future - that Alex Meier continues prematurely with Eintracht."
Sporting director, Hübner added: "Alex Meier has done a tremendous service to Eintracht and has an extremely important role in the entire environment and to the fans."
Meier commented, "The city, the people, the fans in the stadium - everything is just right and I'm pleased that the club continues to give me confidence; I hope that I stay fit."